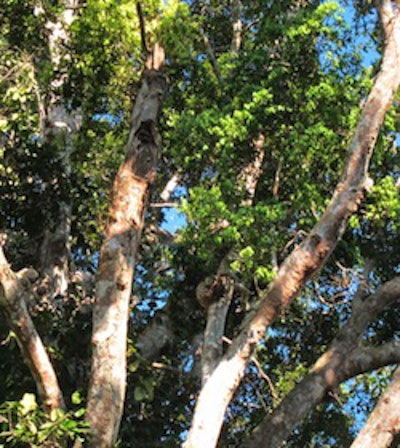 Ever get confused about what kind of cherries grow in Brazil? If you're a fan of vitamin C, you might think it's acerola, a cherry-type fruit (shown at left) you'll find mostly available in drinks. If you're in the flooring business, you might think it's jatoba, which is often marketed under Brazilian cherry… but although it has an edible seed pod, you won't find jatoba in many drinks. After all, the tree (below right) is nicknamed "stinktoe" or "old man's toe" because, well, that edible seed stinks.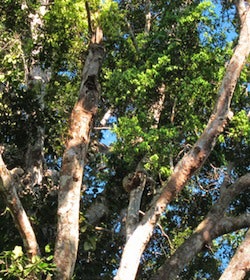 Jatoba is sold as Brazilian cherry because it's red. That's pretty much it. It's reddish and when it was first introduced to the U.S. market, calling it Brazilian cherry gave consumers a hook, a way to remember it, even a way to pronounce it. Using a familiar name to market something unfamiliar can be a good sales strategy. It can also be clever business strategy-by renaming something, a supplier can often hide their source. Or perhaps multi-market, by clustering a number of species under a umbrella term of "Ironwoods" or "Tropical Mix." A company can also rebrand something with a less-than-positive original image. Consumers who won't touch eucalyptus often really like Lyptus.
Sometimes this can be "green"-encouraging the expansion of lesser known species is often very good for the forest. It can also make certain plantation woods more acceptable-Malaysian oak is often easier to market than rubberwood.
Of course sometimes it can be deceptive, with people thinking that they are buying something other than what they are. It can also lead to confusion when people are seeking to either get a specific product or avoid a specific product or perhaps avoid material from a certain country or government. It's also particularly confusing when the same species (rubberwood) can be sold under a variety of names: Malaysian oak, Indonesian ash, Asian oak, or the same marketing name such as "African mahogany" can sometimes be applied to multiple species like sapele, khaya, sipo…. Or when you have multiple, well-established names for the same species, like meranti, lauan, and Philippine mahogany.
(Ever count how many "mahoganies" are on the market? Along with oak and walnut, it's probably one of the most common marketing names.)
Interestingly, some marketing names do fade away in favor of the real name. I think "jatoba" is now sold just as often or even more often than "Brazilian cherry," and "acacia" is probably more popular than the "Asian walnut" that was often used to describe it early on. As people recognize that these woods are actually special unto themselves, and aren't like a cherry just because they are red, or like a walnut just because they are brown, they want to make sure they have the real thing. People are buying acacia because that's actually exactly what they want-it is not a substitute walnut. It's acacia.
As a wood professional, I recognize the need and value in marketing names, but I also believe we have a duty to educate the world. I would often encourage companies marketing with both names, such as "Brazilian cherry (jatoba)" and "Malaysian oak (rubberwood)." Or at least be willing to supply the info if asked.
While marketing names are more common with imported woods, I've seen a variety of North American species being sold under a variety of names as well. Beetle killed pine has been cleverly marketed as "Blue Pine," "Denim Pine," and other assorted descriptions. Heat treated maple or birch is sometimes sold under a variation of "Cherry Birch," "Cherry Maple," or sometimes with descriptions designed to give it a distinctively tropical flavor. I've seen other types of treatments lead to new names as well. Sometimes grades get branded so they become treated almost as if they independent species, distinct from the others of their kind.
Marketing names have a great place in the wood industry, but recognize them when you see them!
(Photo credits: Acerola fruit: Eric Gaba; Jatoba tree: Elizabeth Baldwin)