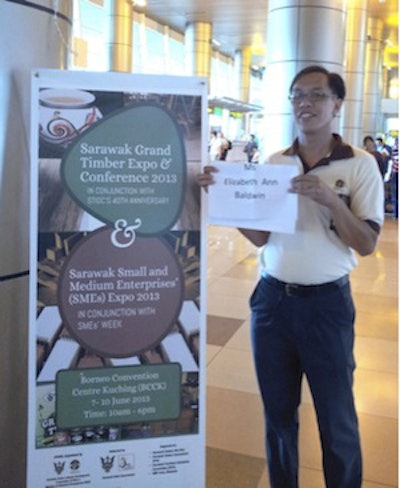 I recently spent about 80 hours traveling to spend about 60 hours in Sarawak, Malaysia. But it was worth it-I really enjoyed the trip and made several great connections. I was invited by the Sarawak Timber Industry Development Corporation (STIDC) to present at their International Conference on Timber in Kuching, Sarawak, Malaysia.
The conference was designed to educate local producers on the different market conditions and regulations around the world. For example, there was a very interesting speaker from the Australian government, outlining their new legality regulations. Other speakers looked at the Chinese and Korean markets, and I spoke on U.S. conditions-specifically, Lacey, CARB/EPA formaldehyde regulations, and both the plywood and flooring dumping cases.
Part of the conference was in celebration of STIDC's 40th Anniversary. The STIDC plays a major role in ensuring the legality of material coming out of Sarawak. If you are interested in production there, I encourage you to review their website-they provide a great deal of information on how to procure legal material. Another great resource for buyers!
Oh, and if you get a chance to go over, take a few hours and visit the Orangutan Rehabilitation Center. Created by the Sarawak Forestry Corporation, a company established by the state government to position Sarawak at the forefront of sustainable forest management and conservation. Its functions include:
Sustainable forest management and conservation
Reforestation and rehabilitation
Management of protected and totally protected areas
Enforcement of forestry and forestry-related legislation
Conducting scientific research on Sarawak's rainforests and its products
Training and education of employees, stakeholders and the general public
Providing customers of Sarawak's forest products with reliable information and support
A few pics from my trip: