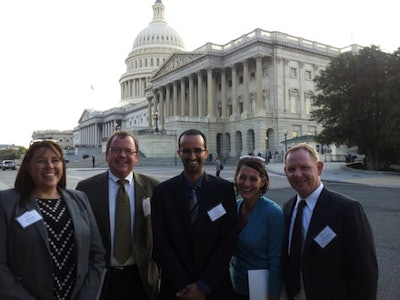 Greetings from DC! Well, actually, as I type this, I've fled DC, but that's the location appropriate for this week's story.
You'll recall that this last month has been a series of blogs with the common theme that you need to take action to make the changes you want. It was very nice to see so many flooring people actually participating in the process this year at the Hardwood Federation Fly-In. There were, I'm told, over 60 people from all hardwood industries there, with some of the greatest attendance for the first time ever by NWFA member companies.
A large part of this was because the NWFA BOD held its mid-year meeting the day before the Fly-In, and many of the members stayed over for full participation. I think it's terrific that more and more people are getting involved.
I'd like to repeat a very positive message offered by Jamey French of Northland Forest Products. He said that he wanted to people to "promote what you believe in, not what you're against." He noted that so much of what we see in DC (and elsewhere in the country) is anti-something. These days, it seems that we're always in opposition. He felt it would be a great change of pace if all of us could instead offer encouragement of the good things we see. Tell people what we like. Tell people what we want to see happen and why-what we want to build up, not what we want to tear down. It was a good spin on the old adage to "bring me solutions, not problems."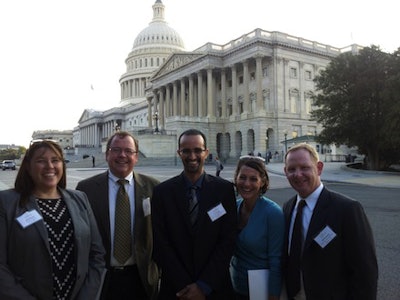 A Fly-In is a chance for industry to get heard. It's also a chance for us to get to know one another in related industries. The Federation is a special organization because it is an association of associations… Member groups include, of course, the NWFA, but also lumbermen from the NHLA and HMA and plywood folks from the HPVA, and many others. So we learned more about the issues (be they the larger regulatory ones or the more general market ones) from each other, finding common ground in many places.
I want to offer a shout-out to my fellow blogger, Avi Hadad, who walked the Hill with me and was much fun to be with. (Regular readers of both columns will be pleased to know that he'll happily harass me as much face-to-face as he does in writing!) It was his first Fly-In, and I think it amazed him how accessible our government can be. (You can see his blog posts about the Fly-In here.) I also had a great time getting to know better Julie Russell of Glitsa, who had helped catch many of my typos in the formaldehyde taskforce's work this summer.
And I'd also like to thank in particular Paul Davis of Columbia Forest Products, who gave me an excellent history lesson of the industry and how we got to where we are today. I hope I can persuade him to guest blog on several issues in the near future. He is also likely to be tutoring me on a whole new field of regulations/standards in the world of fire ratings, so I should thank him in advance for his patience and support.
Oh, and speaking of guest blogs, NWFA BOD member Joe Rocco of Artistic Floors by Design Inc. has volunteered to give me several posts on green in his market. Joe, you ready?