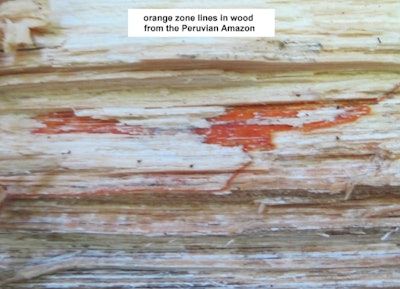 OSU professor Sara C. Robinson has been telling us about her research into "spalting." (See Part 1 and Part 2 of our posts so far with Sara.)
Sara, as noted, I've always associated spalting with American maple—you told me you're going beyond maple, yes?
Since all wood can decay, all wood can spalt. We collect fungi from a variety of hardwood and softwood species, both locally, across the continent, and throughout the world. It is true however that thus far, maple spalts the most reliably, but not the fastest. Beginners experimenting with spalting will find it easiest to begin with sugar maple (Acer saccharum) over other wood species.
One of the best parts about spalting research is that we aren't just limited to North America. In fact, we've found a number of excellent spalting fungi in our field sites in the Peruvian Amazon—things like green and orange zone lines, purple pigment and some deeper forest green pigments. Part of that work involves sequencing the fungi we collect, and it has been really neat to see that all the fungi that work well for spalting are actually related to one another, no matter how far apart in the world we collect them.
Two of my PhD students that are in the lab right now are from Peru, and were brought here specifically to work on this new collection area. It has been a lot of fun for them as well, as Peru doesn't know much about its fungi other than edibles, so these two students get to take all this knowledge and techniques home with them, where they hope to start up a spalting industry as well.
That's great that you are going international. Do you do something for beginners too?
You can sign up now. I run workshops for the community on DIY spalting and working with the extracted pigments.
Or if you prefer, I just finished writing a book as well, along with co-author Hans Michaelsen, tracing the history of spalted wood in arts and crafts from the 1400s through modern day. There are plenty of DIY guides, microscopic images, and discussions of modern research to keep scientists interested as well. The pictures in it are really astounding. For anyone interested in spalting, whether through art history or modern craft, it should be a really enlightening read, if I do say so myself.
Can you create your own spalting?
Of course! It is incredibly simple to do. All you need is some wood, some wood-inhabiting fungus, some water, and some time. You can always speed the process up by using pure cultures of fungi and keeping the heat and relative humidity of the air high around the wood.
Zone lines are by far the easiest type of spalting to get (black zone lines, anyway). They just take two (usually) decay fungi of relatively similar growth rates and desire for antagonism. Pigments can be trickier, although there are some fast growing ones, like Scytalidium cuboideum. Pairing the right fungi with the right wood is key, as that can help expedite the process.
There are some wood species that spalt more quickly than maple, such as birch, aspen, cottonwood and poplar. Unfortunately there is a fine line with these species between spalt and mush, and that line is about three days long. Add to that that woodworkers generally don't like to do much with most of those species, and you can quickly see why spalted maple dominates the market.
If a flooring company wanted to make a spalted floor, could they do that?
There are many ways of spalting wood, but yes, spalted flooring is no more difficult that spalting anything else. Most flooring companies that have gone down this avenue have opted for spalting veneer over solid hardwood. This has benefits in terms of time, certainly, if you are interested in zone lines. For the pigments, the thickness of the wood doesn't really matter at all.
Does the spalting weaken the wood?

Answer: Decay fungi do degrade the wood, but spalting in theory means you stopped the decay before it got too severe (otherwise we would just call it 'rot'). In general, wood with white rot and zone lines should not be used for anything structural. Pigmented wood, like blue stain, is generally sound and can be used for structural building, although note that its permeability can be somewhat altered.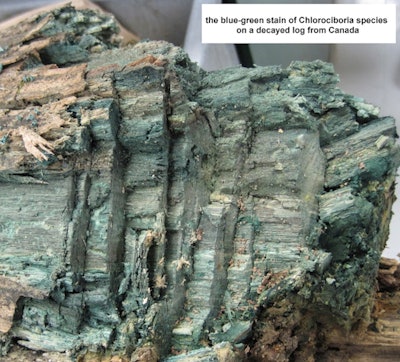 What's your favorite color?
The blue-green of Chlorociboria species will always be my favorite. I'll never forget the first time I saw it in the woods.

For more information, see Sara's website: www.northernspalting.com.