So Canada is now getting CARBonized! Before they finalize the details, you have a chance to add your thoughts to their proposal here.
The standard to control formaldehyde emissions from composite wood products is being developed by CSA, the Canadian Standards Association. (Americans will think of them as a Canadian ANSI.) The standard will be voluntary at first, but there is speculation that it may be adapted in the future by the Canadian government and become mandatory.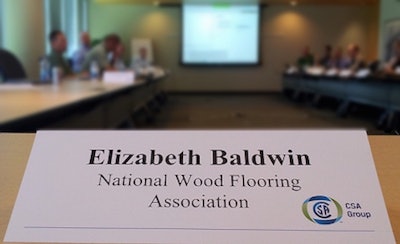 The committee originally planned to tackle a whole slew of VOC's along the lines of a CA 01350 program. However, wisely (in my opinion!) they decided to take things in bite-sized chunks and work first on formaldehyde alone. And like the upcoming EPA regulation, they decided to base this heavily on the CARB program, which means the industry should have little trouble complying quickly.
The resulting draft, CSA O160-VOC – Emissions Standard for Composite Wood Products: Formaldehyde, is now available for public and stakeholder feedback.
Note that this currently covers ONLY the four composite wood products regulated by CARB: MDF and tMDF (thin MDF), plywood and particleboard. It does NOT have a provision requiring downstream products to be labeled as "compliant" through the use of these certified products as components in their construction. This means that no flooring (or kitchen cabinets or doors or any other downstream production) will be marked as CSA compliant for formaldehyde at this time. This issue was discussed during the meetings, but as noted the decision was made to go at things step by step, and the committee decided to keep the standard narrowly focused on these four raw material items only.
The review system provides for comments per each section. You register and then as you review, you can comment immediately per section. See how it works: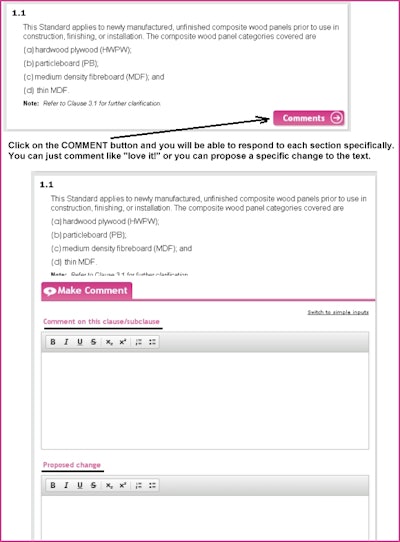 If you have trouble, there's a help link that provides more information on how to register and use the site.
The standard is a lot easier to read than CARB so please, go take a look. You have until January 10, 2016, to review and comment, so get it done now while you're thinking about it…