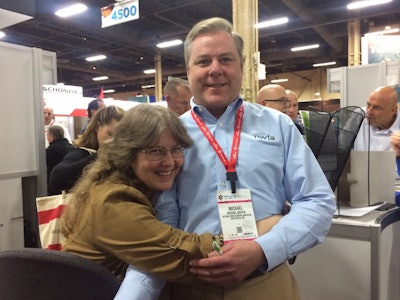 I don't know if everyone's made it home from Vegas yet … no, I'm not thinking of some flooring industry version of "The Hangover," but more like the "The Day After Tomorrow" where the East Coast freezes over… On my return, I only had one flight cancellation and two delays and I count myself lucky—I still made it home on the day I left. Hope everyone else enjoyed their extended travel!

Anyway, I had a fun time at Surfaces, and here are the pics by my editor (and favorite paparazzi), Kim, to prove it.
Michael Martin of the NWFA may run, but he can't hide from me. I caught him and held on until we checked off all the fun green issues on the table for the industry: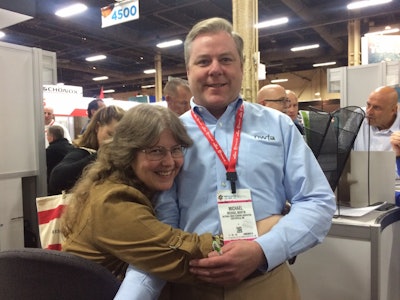 On the other hand, other members of the NWFA team, Brett Miller and Anita Howard, were happy to snuggle up for a minute: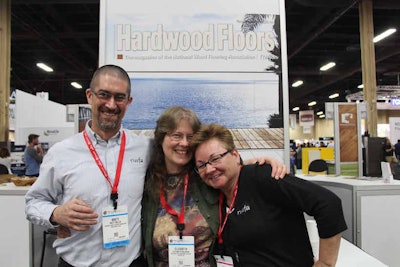 Tommy Maxwell, VP of the NWFA Board of Directors, always gets a hug: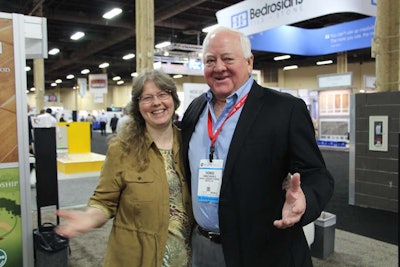 Here's a Green Girls Team: Alex Taylor and Camille Moyers of Benchmark International: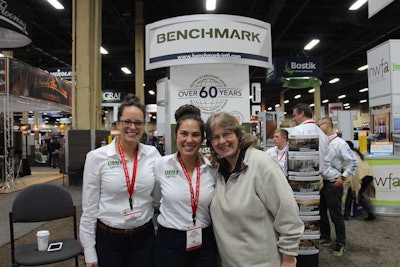 Their colleague Joel Oser gives us a thumbs up:
The team at Basics Coatings cornered me—and guys, don't forget that you promised me a green blog on finishes!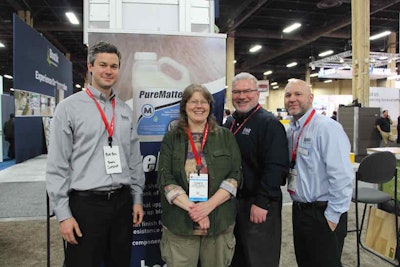 I had to stop by to say hello to my good friends Jonathan Train and (NWFA BOD member) Brenda Cashion of the Swiff-Train/Earthwerks team: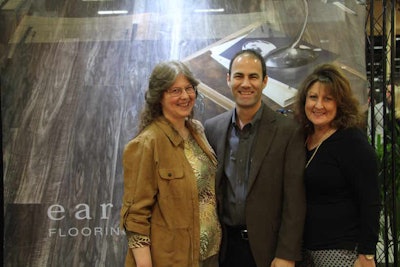 This is Mr. Huarong Lyu and Ms. Chris Lyu of Layo flooring with my most wonderful colleague Jamie Newman of Metropolitan. I must note that Mr. Lyu made sure Kim stepped back far enough to get "Layo" central to the picture! In fact, I think we're a bit blurry and the company name is in focus. Now that's a smart marketer!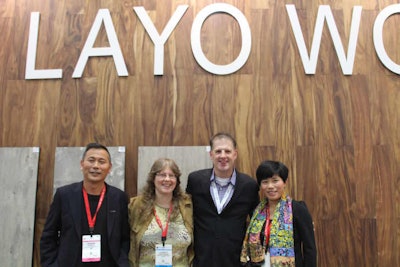 To show I did more than just run around visiting people, here's a small business note: The show organizers had a "Trend Hub" set up and they suggest that blue is the new gray and parquet designs are coming back: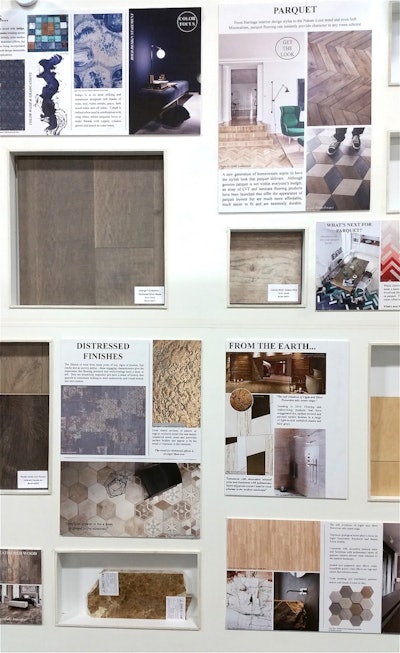 And finally, getting out of the show entirely, I was lucky enough to meet Chef Susan Feniger, co-owner of the Border Grill. I've enjoyed her food for years, both in Vegas and LA, and it she was as nice as that smile suggests she must be. Next year be sure to stop by for some chips and salsa! [Note from the editor/paparazzi: The guacamole there is to die for—don't miss it!]