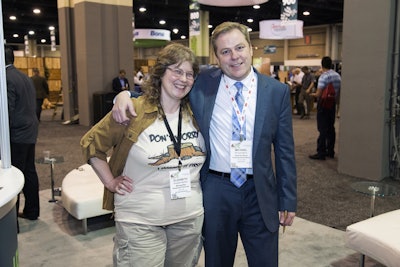 I think everyone knows how much I appreciate the work associations do. Associations help us speak as a collective voice about our industry, be it to consumers, to regulators, or to the world at large. Associations help establish shared standards, train us in our responsibilities, and of course provide us with networking opportunities. I hope everyone appreciates their associations and participates as much as possible. I am always thankful that Metropolitan sponsors so much of my time for association work (including doing this blog) and gives me the opportunity to connect with associations, as illustrated below in the last set of pictures from the NWFA Expo in Charlotte:
First, a salute to the NWFA, our hosts. For the third year in the row, Michael Martin and I got a snap in the infamous "hugged it first" shirt. I tried to find Anita Howard, but she was working behind the scenes almost the entire show. Michael gets, as always, a big hug and thanks for putting up with me…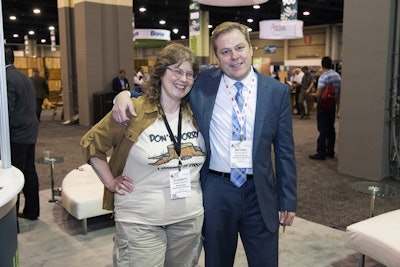 Next, here's John Hester of the NHLA. John's working on a project to help the NHLA provide proper scientific identification of U.S. wood species. Red Oak, as everyone knows, is a common marketing name for dozens of species, and the NHLA needs to help companies better identify their material for Lacey purposes. Looking forward to seeing an update on that project soon, John!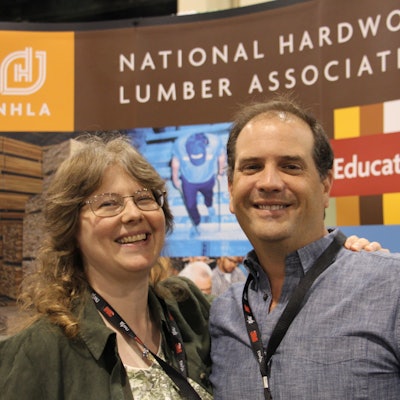 Tom Inman of the Appalachian Hardwood Manufacturers and I always like to catch up at these shows. He keeps me well supplied with chocolate, of course, and his group helps keep the industry well supplied with good wood.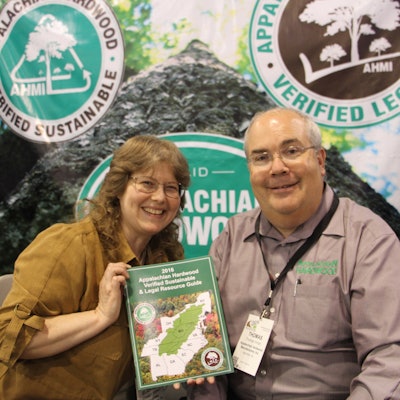 This is perhaps my favorite pic of the show. Joe O'Donnell of the IWPA and Cary Moon of the Hardwood Federation, coming together for the good of the industry as a whole!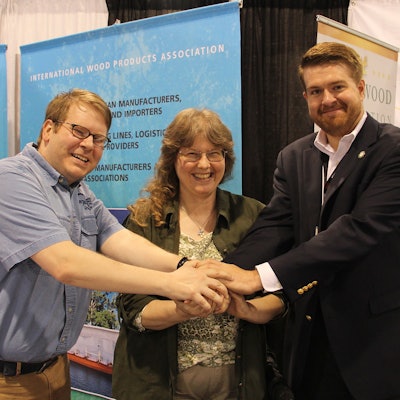 Among other things, the IWPA is a great resource for information on CARB and Lacey compliance and the Hardwood Federation is working hard to protect the great U.S. resource—I've blogged before about their work on the Northern long-eared bat listing and the efforts to help fund Forest Service reform. Both organizations will have their Fly-In this September, and Cary and Joe had plenty of time to discuss ways everyone can work together to better industry conditions for all of us.
So here's the NWFA for bringing us all together in Charlotte and a general salute to all those who work to make this an industry strong. Thank you, all.
Oh, and just FYI everyone, next week it's back to one of my regular themes, the need to combat chemophobia, and then it's a look at Celebrity Carcinogens … Keep reading, all!