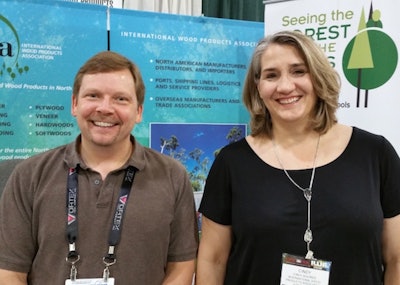 The IWF is not a big show for the flooring world. In fact, it was my first time there. I enjoyed my walk through the machinery hall, seeing not just the familiar woodworking machines, but all the new technology, including a number of robots that definitely seemed to have personalities of their own. (I think most of them enjoyed their work, but one or two looked like they might join the Terminators when the machines rise up against us!)
The other hall was mostly raw material suppliers and organizations. I didn't take too many shots, but I did grab a few to share, mostly of course, of the Associations that are out there representing the wood industry:
I saw Chuck Arnold of the Kitchen Cabinets Manufacturers Association and Cindy Squires of the International Wood Products Association getting together to discuss a wide variety of compliance issues:
I was very pleased to meet Lorna Christie, the new Executive Director of the National Hardwood Lumber Association. She seems to have tremendous experience and some great ideas and I wish her all success:
I also visited with the NHLA's John Hester. Here he did his best to pretend he was part of their colorful backdrop. I think maybe he's tired of me taking his pictures at trade shows!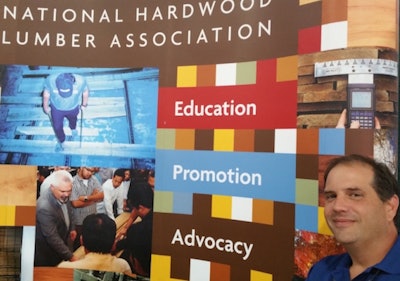 Tom Inman told me to go take pics of his volunteers so I did. I found Mark Vollinger, of WM Cramer and Anthony Hammond of Roy Anderson Lumber were doing time in the Appalachian Hardwood Manufacturers booth: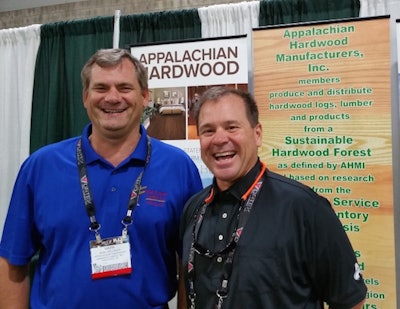 There was a "University Row" along the back wall, and I chatted with everyone there. This is Phil Mitchell of NC State University, who I hope I've persuaded to do a few "Getting Technical" blogs for me in the future on wood and moisture issues: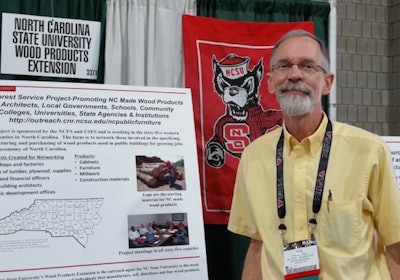 Here is Philip Bibeau of the Wood Products Manufacturers Association: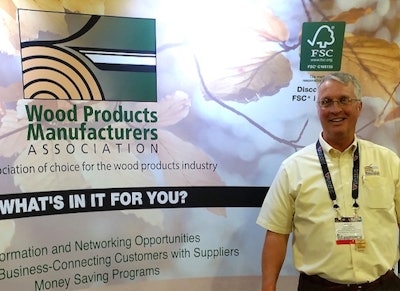 He had the best business card holder for a wood guy:
And to represent the private sector, I grabbed a shot of Bronson Newburger of Clarke Veneers and Plywood and Scott Berchiatti of Holland Southwest International (Bronson had the best chocolate at the show…and one of the more interesting panel products too, although it wasn't anything suitable for the flooring industry):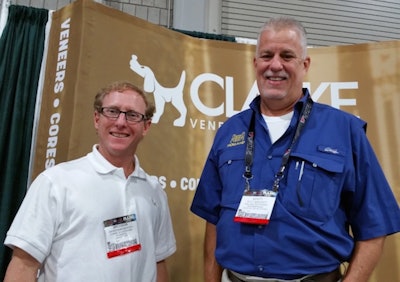 And our colleagues at the National Wood Flooring Association had a pavilion for the first time; here's their booth: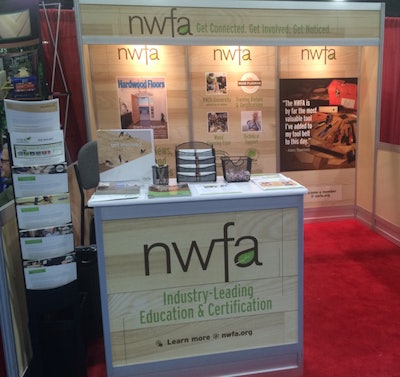 Finally, here are a few shots for fun. During my visit, I was lucky enough to be invited to a reception held at the Atlanta Aquarium. In the reception hall, there were several windows into some of the large tanks. Pictures were a challenge, but perhaps these two shots will be enough to encourage you to visit and see for yourselves.
The beluga whales seemed as interested in the humans as the people were in them. It sometimes seemed as if they thought we were the exhibits in the zoo and provided for their entertainment: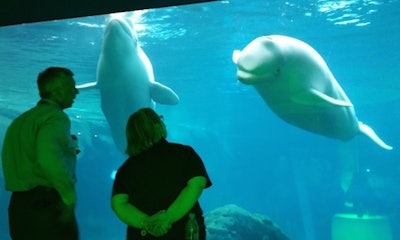 The whale sharks were incredible. Some went alone and some were accompanied by an entourage (this picture doesn't come close to illustrating the size and power of this beautiful animal):