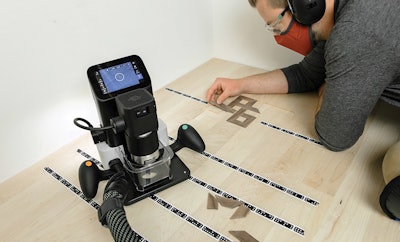 Shaper Origin is an intuitive handheld CNC router that brings digital precision to the craft of woodworking. When combined with its fixturing companion Shaper Workstation, the complete package from Shaper makes it easy to align and index your workpieces with precision and tackle even the most difficult projects with ease.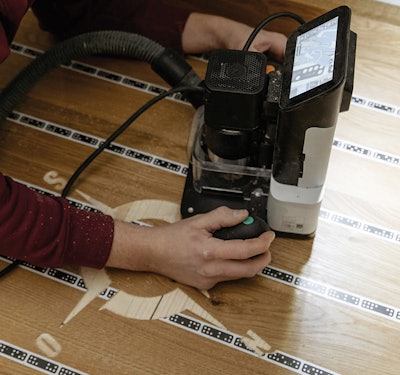 Origin's portability and adaptability makes it the perfect tool to work on-site and on installed pieces. Origin combines the speed and portability of a traditional router with the precision of a CNC machine. Need a quick Dutchman patch? Simply scan the section of floor with Origin's onboard camera, align your custom patch, and cut away.
If you're installing hardware in a finished floor, Origin's Offset Feature makes it a breeze to sneak up on the perfect fit, and you can cut the negative and the patch from a single file, stored digitally and available whenever you need it. Say goodbye to your router templates forever!
And if you're taking on more ambitious projects like medallions and inlaid aprons, Origin's ease of use means that you won't need to overhaul the workflows that you've developed over time. Origin makes it easier to do what you do best.
New Software Makes Designing On-Tool Easier Than Ever
Shaper Tools recently released another free system update to the Shaper Origin, and it's revolutionized how users create designs on-tool. The update—called Inverness—brings a raft of new and improved layout capabilities.
From mirroring objects to precise positional placement of designs to pinch-to-zoom viewing in every Mode, this latest update makes it easier than ever to design and cut complex projects on Origin—without ever needing to use a computer!
ShaperHub is Now Visible to the Public
ShaperHub is Shaper's online community for exploring, creating and sharing projects built with Origin and other tools. Only Origin users can save their files to ShaperHub, but projects on ShaperHub are now available for anyone to download. See for yourself what other Origin users are making with Origin at www.shapertools.com/hub.
Risk-Free 30 Day Trial
Want to see how Origin will work for you? Take advantage of our 30-day free trial and spend a month with Origin in your shop. If you decide it's not for you, simply return it for a complete refund—all you pay is return shipping!
Watch Origin in action on YouTube.
This article was paid for by Shaper Tools.