It is so common these days to use power tools. For even the shortest, most delicate task in woodworking, we have a power tool designed just for it. Trust me, I know because whenever my dad insists on hand-nailing or anything crazy like that, I run to my van and pull out a pneumatic tool. I think we are so used to power tools that it really affects our workmanship and state of mind. Is it just me, or do you get annoyed when it takes you more than five seconds to go get a nail set and set a nail? Why can't they make a power nail setter? Funny, I know, but so true. It is important for a floor mechanic to understand basic woodworking skills, like chiseling to a line or using a plane. It comes in handy when your power tool is broken and you need to get something done with just the use of hand tools. Here are a few very simple examples; please feel free to share your own.
Plunging into a Floor at a Straight Line
Let's say you want to replace a board and you need to cut the end joint straight (something most of us would do using a multi-tool or a router). First, score the floor board with a sharp utility knife or X-Acto-type knife with light strokes. Guide the knife with a steel ruler: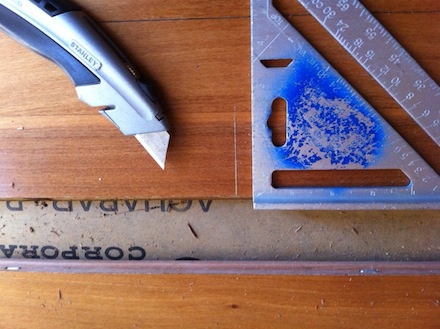 Gradually score the face until you are about 1/8" deep  (3.175mm). Then from the scrap side score at an angle into the line. That will create an angled V-shaped groove: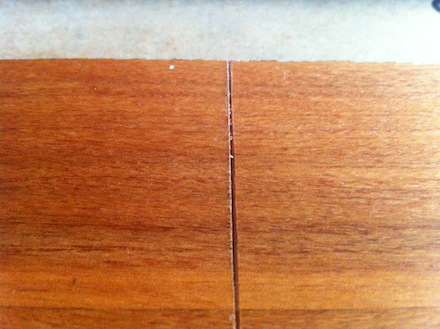 Keep on scoring the straight line until you reach about 3/16" strong (4.762mm). Again, remove the material at an angle cut. Now use a chisel to complete the cut.
Creating a Round-Over, Eased-Edge or Micro-Bevel Profile
Most would use a table saw, a router with a round-over bit and an orbital sander to ease the edge. For a micro-bevel, hold your floor board at waist height on a flat surface. I use the tabletop of my table saw with the blade fully down and the table saw unplugged. Use a block plane to create a micro-bevel on the long edge. If you tear the grain, rotate the piece 180 degrees and plane from the other side.
For eased-edge, use a sanding block to ease that edge.
For a round-over, use the block plane at small increments to create a semi round-over. Then use a folded-up abrasive to round that edge nice, consistent and smooth.
Undercutting Door Jambs
A multi-tool is good for undercutting door jambs ...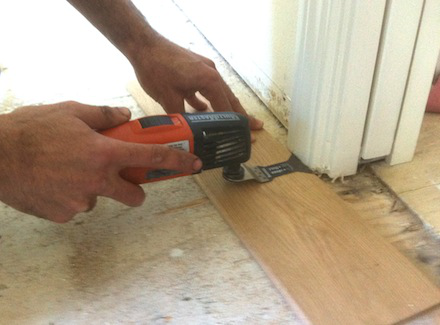 ... but you can also do this easily with a Japanese-style saw. Place a piece of the flooring next to the door jamb to be cut and guide the saw on top of your hardwood piece: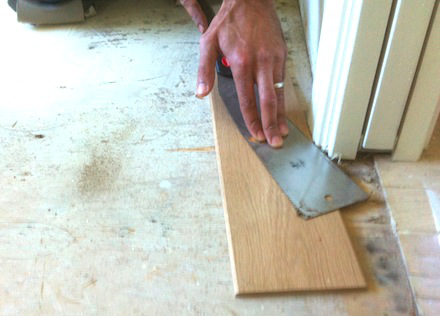 Take light strokes and listen to the saw. Oftentimes you will hit a nail inside the door casing. Stop cutting, set it and keep on cutting. Unlike your power saw, your hand saw will not work through the nail.
It is good to know how to perform one task in two different ways: using hand tools and power tools. Once you have performed a task using hand tools alone you will have a better understanding of how your power tools work and how the wood responds.