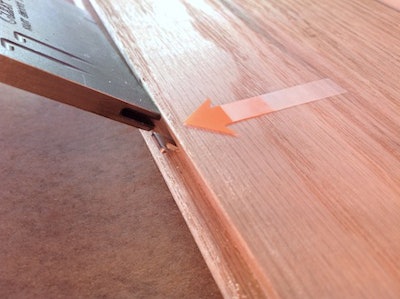 Two posts ago I mentioned that I keep my Cleat Card in my tool belt. That led several people to ask, "What's a Cleat Card?" So, for those who don't know, here's my answer:
It's a better way of setting cleats. It's made of heat-treated steel with a durable "black oxide" finish (it's a coating created with a chemical bath under very high heat that gives the metal a consistent matte black color with low sheen. It measures 3½" long, 2" high, and ¼" thick (about the size of a credit card). Its bottom edges are beveled at a 50-degree angle on each side. It has a "descending nail channel" that starts at ½" deep with an indexing bevel and runs out at the 5/8" long grooved anvil. (It has a deeply machined mark at that intersection-a visual to the start of the anvil). It also has a deeply machined logo for a tactile indicator of what end you are grasping without looking at it (think nail bags or pockets).
To use the Cleat Card, you lay the Cleat Card lengthways and at a 45 degree angle on top of the tongue and into the nail channel of the flooring with the opening of the Cleat Card's nail channel next to the "high" or "proud" cleat. Then you simply slide the cleat card over the high cleat. The cleat will make contact at some point in the nail channel. You continue sliding the cleat card while tapping the top with a hammer (this action resembles swiping a credit card … Cleat Card…. Get it?). As the cleat is hammered down, it is supported by the walls of the nailing channel. The rectangular shape of the cleat resists bending from side to side. After the cleat gets through the nailing channel it is correctly "set" by the anvil. This all happens with one fluid movement while tapping with a hammer or mallet. Here are a few pics: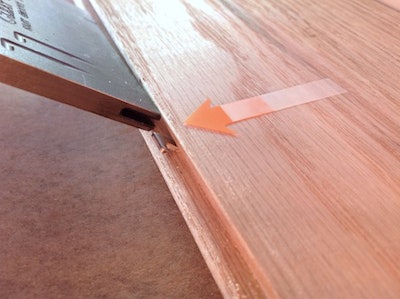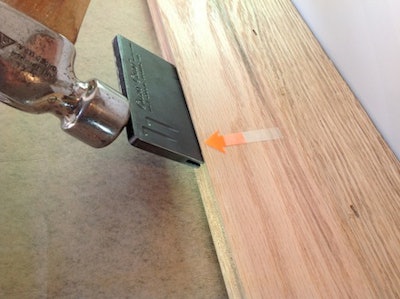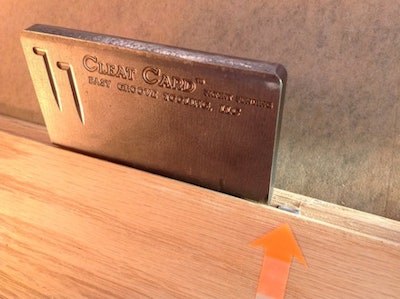 The Cleat Card is patent-pending.
Benefits?
Cleats sticking up to ½" high? No problem.
The cleat card does its job without contacting the face edge of the flooring, making it impossible to dent the flooring edge while properly setting that high cleat.
It can set cleats close to a wall-as close as the second board out.
It sets 16- and 18-gauge cleats. (Although it was designed for cleats, it will also set an 1/8"-high staple.)
There's a 38-second instructional video
on YouTube here
.