You're scrolling down your social media feed, liking posts by other pros, when all of a sudden you see someone installing a floor with… What the #$%& is that tool?!
Tools in this industry can be as wacky as the personalities it attracts, so we decided to compile a collection of some of the most interesting and rare tools we've seen lately, from the ingenious to the WTF.
---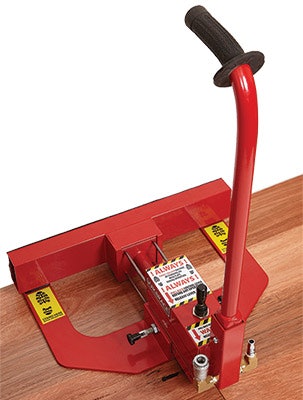 Better Timber Flooring Australia's QuikBrace Floor Clamp
Leave it to the Aussies to do things differently. The QuikBrace Floor Clamp, sold by Better Timber Flooring Australia in Fyshwick, Australia, pulls flooring boards together tightly using pneumatic air pressure. The device can be used for glue-down or nail-down flooring over a plywood or concrete subfloor and can also be used over a joist system.
It works like this: The installer racks one row at a time for a nail-down install or as many as seven rows for a glue-down install. The QuikBrace has two grips on its baseplate; they are placed on the edge of the last plank. The device needs to be anchored to the ground to create force, so the device has a block of spikes the user hammers into the subfloor in front of the plank. For installations on concrete, a scrap piece of wood is face nailed across the section of planks being tightened, and the spikes are anchored into the scrap wood. Then the user stands on the baseplate, flips the toggle switch and pneumatic air pressure pulls the boards together. Voila.
The device also features a "wall foot" attachment (pictured)—a rectangle that presses against a wall to tighten end boards.
Better Timber Flooring says that, after learning how to use the machine, wood floor pros will be able to install a floor much faster—saving 20 seconds per lineal meter, the company says—compared with simply kicking a board into place and using a mallet to tighten the fit. Want to see this contraption in motion?
Retail: $1,320
---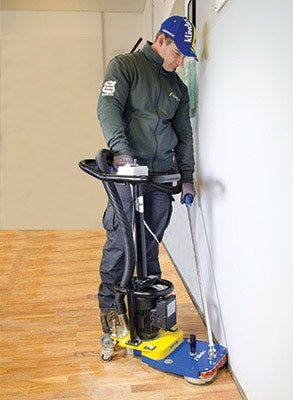 Klindex's MiniTimba
Edging got your back sore? Klindex, the sanding equipment manufacturer from Italy, manufactures the MiniTimba—an edger of sorts operated from a standing position. While it has a vacuum connection and adjustable wheels, like any standard edger, its sanding process is anything but typical: It features two counter-rotating sanding heads and a guide system to let users get very close to the wall. The user can steer the machine using the handles or a new directional swivel rod attached to the front of the MiniTimba. Klindex says it's easy even for operators with little to no experience to use it, so you can still make the new guys edge—it's just safer for the floor (and their backs).
Retail: $3,894–$4,544
---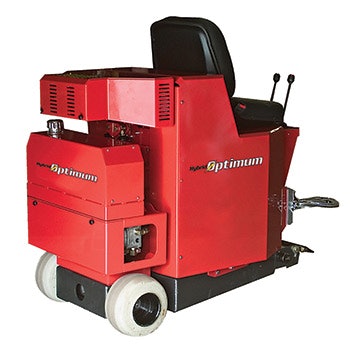 Taylor Tools' Bronco
Tearing out flooring is tiring work … unless you're riding the Bronco. Imagine putting a floor stripping blade in front of a riding lawn mower and you've got the idea. Its hydraulic blade, pushed by a 20-hp engine, can tear up 300-400 surface feet of floor covering per minute. The company says most competitors in this space offer hulking machines, and the Bronco is lithe by comparison. It's 29 inches wide, which means it will fit through most doorways and onto most passenger elevators. The propane-powered Bronco weighs 1,240 pounds and the battery-powered Hybrid Bronco weighs 2,050 pounds, so they can be transported by a standard garden trailer or a truck rated ¾ ton or heavier (using a forklift).
Suggest list price: Propane $26,896; Battery $34,292
---
Fang Ind. LLC's Fang Tool
Invented by a wood flooring pro so he could be quicker and more efficient on jobs, the Fang tool is like a Swiss Army Knife—what doesn't it do? This ingenious tool from Jeffrey Fain easily pulls misfired staples or cleats, and it sinks those too low to pull. It pries flooring away from baseboards without damaging the base or hardwood and can help close gaps in the field. Fang can also remove leftover staples when removing an old floor. Finally, it has a unique chisel feature that contractors can use for shaping boards and tapping out a damaged flooring plank without disturbing adjacent boards. "It's always interesting to hear different flooring installers' favorite uses for Fang, and the new creative ways Fang has been used, from spacing deck boards to general demolition," Fain says.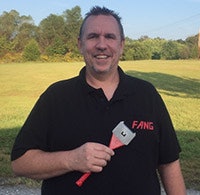 Retail: $69.99
---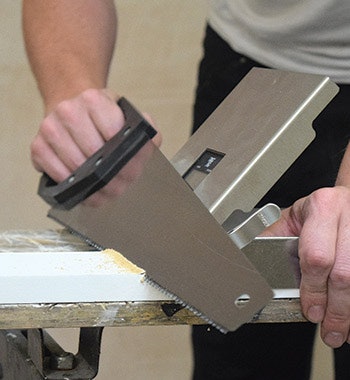 TrigJig's Base Digital Miter Tool
The TrigJig Base lets wood floor professionals measure and cut miter angles for baseboards, and it really shines for non-90 degree corners. Users start by placing the TrigJig against an inside or outside corner. The device's magnet position sensor measures the angle and calculates the cut angle. The device is then adjusted to the angle displayed on the LCD screen and locked into position. The user can then cut the exact angle on a board by placing a handsaw against the device's magnetized body plate or by transferring the measurements to an electric miter saw. TrigJig also has a model for measuring and cutting crown molding.
Retail: $141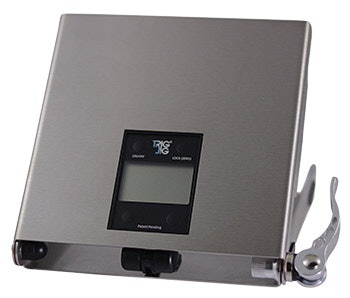 ---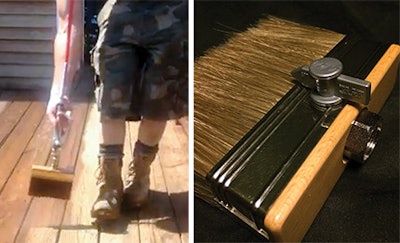 The Dipless Brush by Lawrence Ash
The Dipless Brush was invented by Lawrence Ash as a way to eliminate the need to ever dip a brush or refill a reservoir. It uses airless spray technology to push liquid through either a 3-, 4- or 5-inch brush. Although its primary use is for staining and oiling decks and fences, its secondary use, Ash says, is for applying polyurethane, lacquer, shellac or oil to wood flooring. The Dipless Brush will also attach to a spray pole to allow wood floor pros to apply finish with their brush while standing up. The inventor is looking for investors. Watch Ash use the Dipless Brush:
---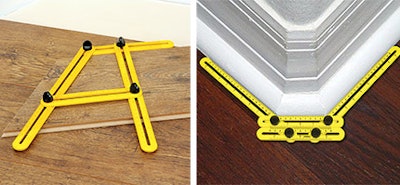 General Tools' Angle-Izer Template Tool
The Angle-Izer is a social media darling and for good reason—it allows wood floor pros and woodworkers of all kinds to easily measure and recreate angles they come across on the job site. For example, say the room where you're installing flooring has one angled wall. You could use the Angle-Izer to measure the angle and easily transfer that angle to your piece of wood flooring. The Angle-Izer has four separate measuring wings that allow you to measure all the cuts and angles you'll need and transfer them to your flooring piece simultaneously. Best of all, it's inexpensive.
Retail: $8
---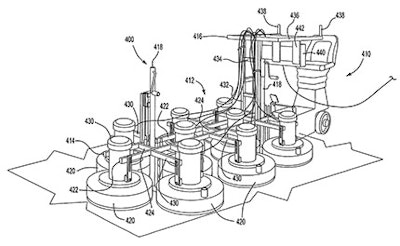 OnFloor's Many-Headed Wood Floor Sanding Machine
Looking at the sketch of machine on the right, you might be thinking, "If you cut one head off, does another one grow in its place?" The answer is no, but we don't fault you for thinking so. This is a patent filed in the early 2000s for a rider wood floor sanding machine with nine planetary heads housing three sanding pads each. Let's get this out of the way first—no, it was never built.
The machine was a solution to speeding up the sanding process on large jobs. The idea was that the front group of three sanders would use a low grit, the next set a medium grit and the last set a high grit. Theoretically you could be done sanding in one pass. The operator would also control how close the sanding pads got to the walls, with the goal of removing the need to use an edger along walls. The sanders would also have different attachments, so it could effectively replace a drum sander, orbital sander, square buffer sander, diamond grinder, scarifier and carpet scrubber. And this multi-headed hydra would have been propelled forward by an "off-the-shelf" powered vehicle, such as a Floor Mack Ryder. The machine would have done it all, but, alas, it was too good to be true.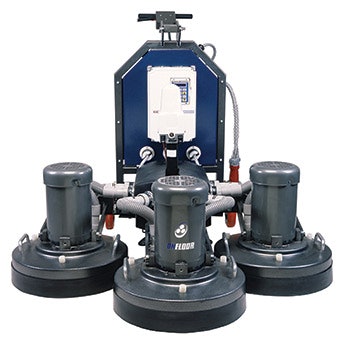 The patent was filed because OnFloor was creating three-headed machines with similar capabilities at the time, and the company wanted to cover all its bases, OnFloor Sales and Marketing Manager Travis McCutchen says. However, the company soon realized the many-headed machines, while they garnered great interest, did not sell nearly as well as the three-disc machine that originally put the company on the map. (They sell that same machine under an OEM agreement to one of the most-recognized paints and coatings brands in the country.)
OnFloor has since shifted away from researching and developing multi-headed machines and is redirecting its efforts toward its single-headed offerings, especially in the wood flooring industry.
But McCutchen still gets a kick out of talking about the Frankenstein sander: "It is a pretty intriguing contraption."
Retail: $Infinity
---
---
Have you invented a tool or modified an existing tool or piece of equipment to make your life as a wood floor pro easier? Or have a suggestion for our next collection of unique tools? We'd love to hear about it. Contact us at editors@woodfloorbusiness.com.
Updated since original posting to correct the price and weight of the Bronco from Taylor Tools.