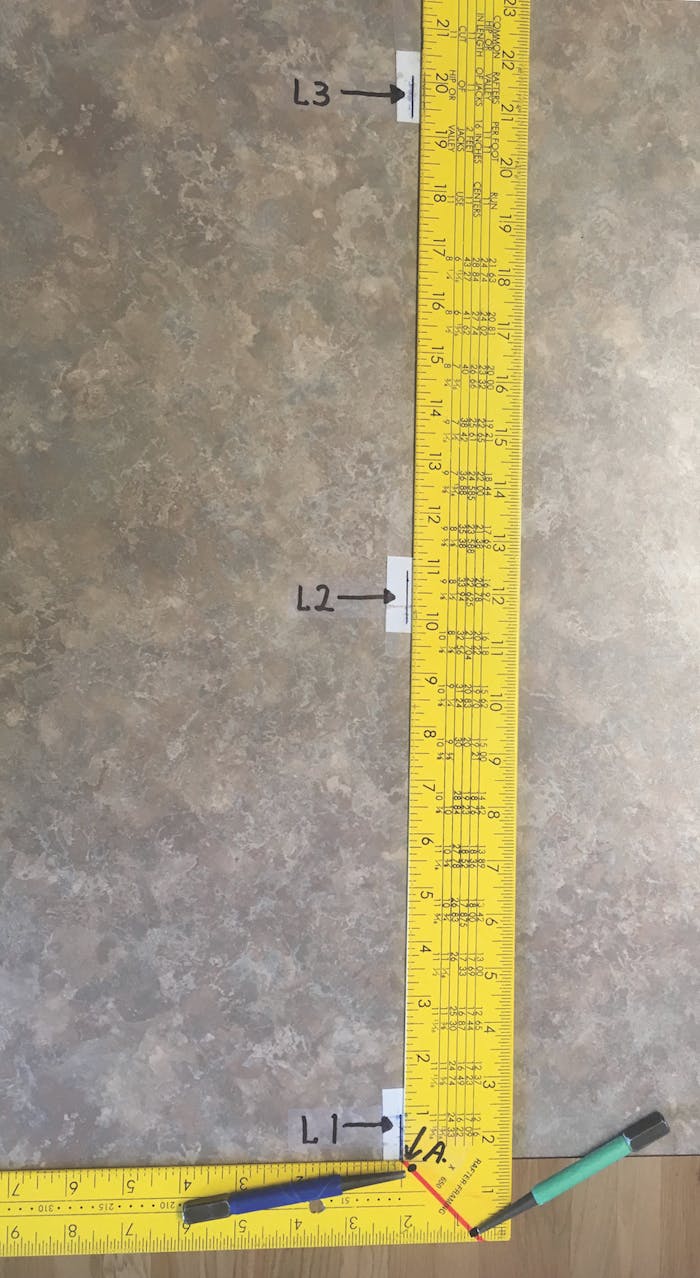 Joe Clarke of Joe Clarke Hardwood Services in Columbus, Miss., shared this tip he learned from Mark Scheller:
Does your flat square really indicate square? If not, here's how to set it to 90 degrees.
Locate a true straight-edged flat surface, such as a machined table-saw top or flat-surface edge kitchen countertop, with a straight edge approximately twice the length of the short blade of your square. Place the short blade firmly against the table or countertop edge, then mark the square at the inside corner (Line 1) and at a point near the full length of the long blade at the inside edge (Lines 2 and 3). Use a fine lead mechanical pencil for accuracy. Now flip the short blade to the opposite position pointing right or left. Place the inside edge of the long blade against the corner mark previously made. Hold the short blade against the straight edge of the table. If the lines originally made near the full length of the long blade (Lines 2 and 3) now line up on the inside edge of the long blade, the square is indicating true 90 degrees. If the long blade is to the right or left of the original Lines 2 and 3, then a true 90 degrees is not indicated. Observing the edge of the long blade in relationship to the lines indicates whether the angle needs to open or close.
To open or close the angle, use the 45-degree diagonal line from the inside corner to the outside edge of the narrow short blade (the red diagonal in the photo). Place the tool flat on a firm flat surface. To open the angle, firmly strike the tool with a hammer and nail set at approximately 1/8" distance from the inside corner and along the diagonal line (where the blue nail set is in the photo). To close the angle, strike the tool at approximately 1/8" distance from the outside edge of the short blade (where the green nail set is). Check the angle change using the previously drawn reference lines. If additional change is needed, flip the square to the opposite of the original side and repeat the procedure by moving the point of contact of the nail set approximately 1/8" more central to the short blade on the same diagonal line. Continue to flip and strike to correct until you have a true 90 degrees.
See Joe Clarke explaining this trick in a step-by-step video:
See a collection of previous job-site tips on our Pinterest Trick of the Trade board. Do you have a Trick of the Trade to share? Email it to WFB.