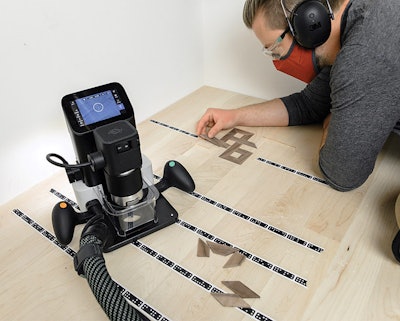 Owning a CNC machine can be an incredibly empowering tool for any small business, but typically these machines live in the shop, not the job site. There's one tool in particular however, that is the exception: Shaper Origin, the portable handheld CNC router that has been making waves in the wood flooring industry for the past few years and quickly growing in popularity.
When industry leader Mark Scheller learned about Origin, he told Wood Floor Business, "The idea of having a CNC machine that you're able to bring to the site and work on, rather than a CNC machine bolted down in the shop, is a game-changer." Since then, he has had a chance to try Origin on a project he has wanted to pursue for years.
'Now I'm able to do things I've only imagined'
With help from Shaper Assist—the in-house design team available to all Origin users—Mark inlaid the first nine bars of Handel's Passacaglia in a sinuous 22-foot-long ribbon made from ebony in a solid maple floor. Despite initial reservations about the scale of the project, Mark found that Origin adapted well to the project dimensions: "Placing it on the floor using the Grid Tool was pretty straightforward. I made a line perpendicular to the courses in the floor and then registered the corner of the pattern to the corner of the layout line and just set the graphics on top of it. I liked being able to do it all—from concept to finish. As the artist, I want to have control over the whole process." Mark cut every component on-site and was able to make adjustments on-the-fly as needed, using the built-in Offset feature to dial in the perfect fit. "Now I'm able to do things I've only imagined," he says.
Shaper Origin has been a hit with flooring professionals across continents. Maximilian Messner is a joiner and flooring pro based in Fridolfing, Germany. His family's firm, Schreinerei Messner, combines the modern and traditional in their tools, techniques and designs. "In this company, we use traditional woodworking tools alongside high-tech machines like Shaper Origin." For a recent medallion installation, Maximilian had a mosaic idea in his head, but he wasn't sure how he'd actually pull it off on-site and which tools he'd use.
'This was the problem solver!'
When he first saw a video of Origin in action, he says, "It just clicked. Origin was the problem solver!" Working on a staircase landing, his space and maneuverability were limited. But there was more than enough room for Maximilian to bring this small and portable CNC to the job. He created a scan of the area where he wanted to cut and virtually "placed" his design exactly where he wanted it. Using the same cut file for both the negative and positive pieces of his inlay, he quickly pocketed out the area he needed, and then cut the positives to match on site.
Now Origin makes regular appearances with Maximilian, both in his shop and on job sites. When customers see him with Origin, they're always intrigued. "They ask, 'What is that?' They can't believe such a small machine has such a wide range of applications."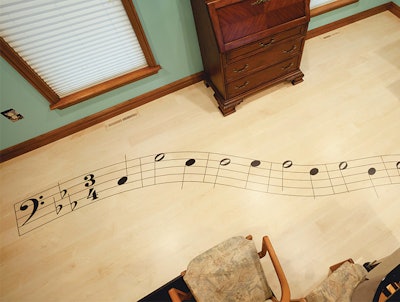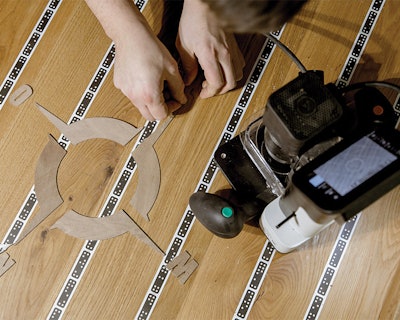 You can learn more about Shaper Origin by visiting Shapertools.com or following their YouTube channel at youtube.com/shapertools.