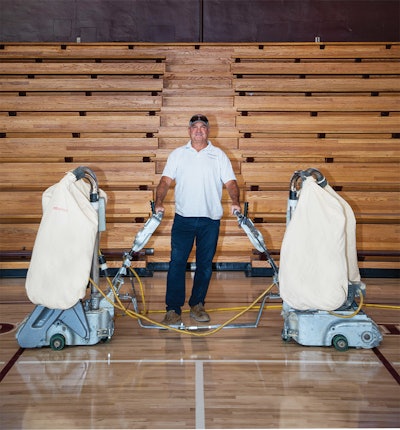 SPONSORED BY:
Whether it's considered a faithful companion on the job site or an awkward, bulky piece of metal, a wood floor pro's big machine inevitably has a story or two to tell. In the inaugural WFB Big Machine Contest—sponsored by American Sanders and Lägler North America—we wanted to celebrate those stories and the innovative customizations pros have put into their machines, whether to set them apart or simply keep them from falling apart. This year's winner categories include Best Customized, Nastiest, Oldest and Heritage Big Machine. American Sanders will give away a Compass Stair Edger to the winner in each of the four main Big Machine Contest categories. Lägler North America will award one HUMMEL and three $300 product credit vouchers, plus swag bags for each of the winners.
Submissions were so good this year that WFB decided to include more categories in addition to our four big winners. To see all the great machines and their owners, scroll down.
---
Best Customized Big Machine
With the Grain | California, Mo.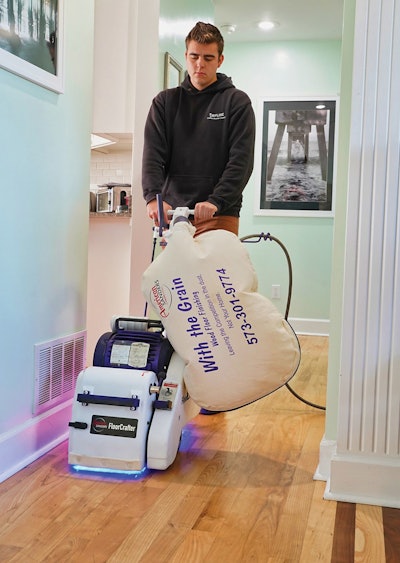 Tyler Stieferman goes the extra mile—both literally, on his dirt bike, and figuratively, when customizing his big machine.
The idea for his tricked-out purple and white FloorCrafter came in part from Stieferman's dirt bike, which features a custom powder coating. "Everyone customizes bikes, so I wanted to try it," he says. He bought a powder coating kit and when he completed his custom bike, he set his sights on his big machine.
"My dad had a cool, custom machine, and I just wanted to try something different on it," says Stieferman, who helps his father, Aaron, at With the Grain. His father also owns I Can Fix It, which repairs and customizes flooring machines.
For his own big machine canvas, Stieferman worked with an older FloorCrafter he purchased second-hand. The machine was in rough shape, but that's never a deal breaker for the Stiefermans, who break down and rebuild sanding machines daily.
"I completely stripped it down and powder-coated everything," Stieferman says. "I gave it new bearings and pretty much everything got rebuilt."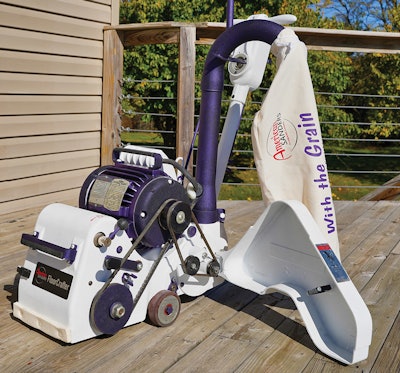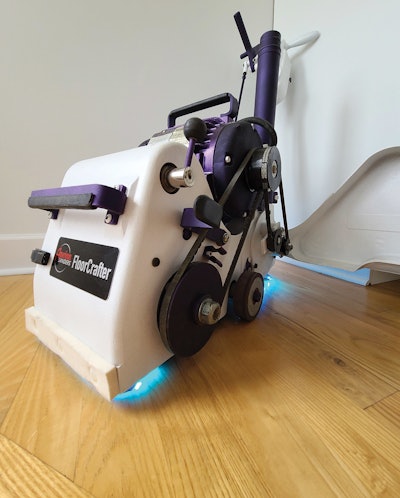 The white powder coating he chose was textured and featured rainbow sparkles in it, while the textured purple powder coating featured turquoise and purple sparkles. "It's also more chip- and wear-resistant, so it would be better for the machine," Stieferman says of the coating.
The powder-coating process was tedious, as Stieferman made sure every screw and bolt was coated. "I even did areas you couldn't even see underneath and on the sides and behind the side plate," he says. He went as far as coating the machine's motor, which required a call to a motor shop to make sure the process wouldn't melt it (powder coating needs to be baked at around 400 degrees). "We called the machine shop and they said it should be OK," Stieferman says. "So we went ahead and did it; it still runs, so that's good!"
When the coating was done, Stieferman added adhesive-backed lighting fixtures to the bottom and wired them to the machine. This extra lighting touch was inspired by yet another set of wheels: "I have them on my car, so I just thought it'd be a cool addition for the sander," Stieferman says. The customized dust bag was completed by his father, who also does embroidery.
"I wanted to make sure it was right," Stieferman says about all the detailing that went into the sleek design. And with the talent in the Stieferman family, the chances of getting the detailing right are good—whether it's for putting the pedal to the metal or the abrasive to the grain.
---
Nastiest Big Machine
Graff Floor Sanding | Fenton, Mo.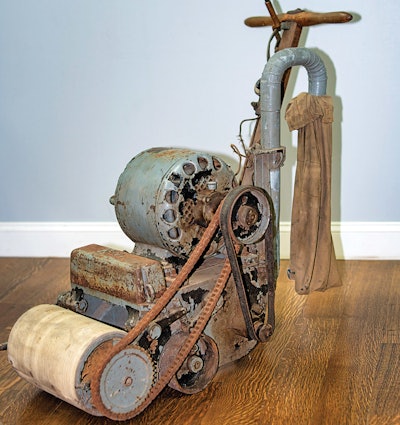 Keith Graff has long been a fan of vintage tools, but his online purchase of this century-old American Universal 12-inch drum sander a few years ago "started a craze." With the passion of Nicholas Cage's character in the movie "National Treasure," Graff has been carefully piecing together the history of this massive, bulky and undeniably "nasty" early sanding machine.
"The chain for the chain-driven motor is pretty gnarly," Graff says. "The way that machine ran with the open-face drum and no cover over it, it was a pretty nasty job." The antique dust bag that came with the sander is patched together with blue jeans and still had some dust in it when Graff purchased it. Thinking back to the early wood floor pros who used this machine tends to be a humbling experience.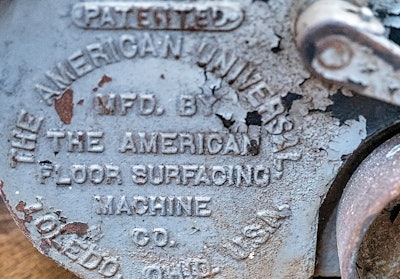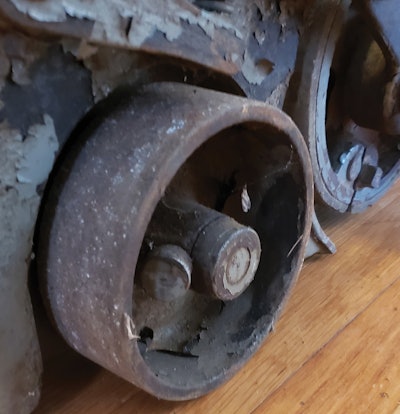 "They had to grease these things every day," Graff says. "Any part that rotated, they had to grease that up."
A breakthrough in Graff's research of the sander came last year when he discovered an auction selling paperwork related to the big machine. The paperwork, which included original diagrams and instructional booklets for the machine, answered a lot of questions. A common question Graff gets is how much the monstrous machine weighs. Now he knows: 360 pounds. "To carry that thing in every day ... whew!" he says. The papers also revealed the base price of the machine at the time: $325. But for $425, the brochure notes purchasers of the machine would also get much more, including polyurethane, wire sandpaper, an attachment for edging along the wall, letterhead, customized bid papers, printed plates for newspaper ads and 500 postcards, of which Graff has three originals. Graff has also found evidence that the machine may be even older than he previously suspected. "I'd been told it was probably from around the 1920s, so I was surprised when I saw it in an ad from 1917," he says.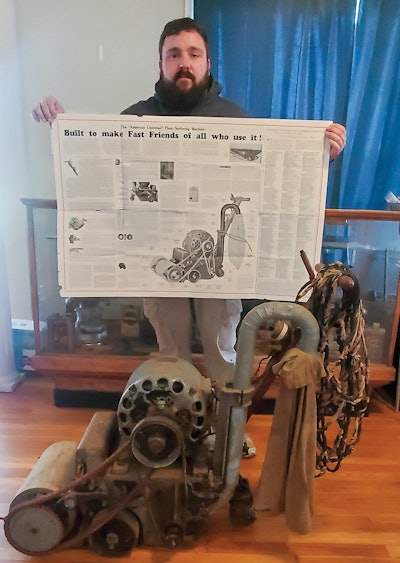 The historic sander still has its original wooden handles and, yes, it still runs. Graff hopes one day to try sanding a portion of a floor with it. "I want to hear it hit the floor and what it sounded like," he says. As for a full restoration of the banged-up machine, Graff has flirted with the idea, but ultimately decided to keep it as-is—rust, chips, grime and all.
"I like that dingy look myself and the way that looks," he says. "I don't know if that changes the value or not, but to me, it's priceless."
---
Best Heritage Big Machine
Restoration Hardwood Flooring | Borrego Springs, Calif.
Restoration Hardwood Flooring Owner Kevin Clough's grandfather, Jim Bodin, had a memorable approach toward wood flooring innovation. "My grandfather always felt as if, 'Damn—we could do that better!'" Clough says. Thus the Back-to-Back Duals—two 12-inch American big machines wired together and hooked up back-to-back—were born.
Clough's father, Charles, designed the machines with Clough's grandfather in the 1960s to rip old finish off gym floors up and down the California coastline. The machines were wired together by a company in San Diego and run on the same cord, but both have to be turned on separately. They also switched out the motor for a 3-phase 480 motor, which allowed it to go faster, run cooler and minimize chatter, Clough says.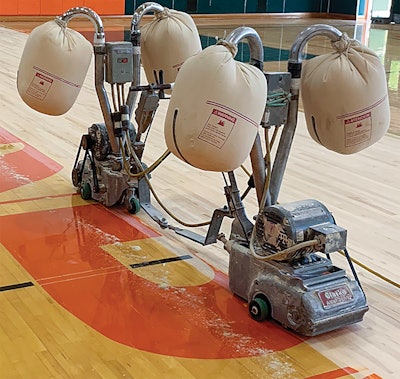 Because of the considerable dust the machines made while terrorizing old finish, Clough's grandfather also added wider dust pipes to the machines and branched them outward. "So instead of one machine having one bag, we had two bags per machine," Clough says. The added baggage didn't cause imbalance in the machines, Clough notes, as they are equipped with dual wheels originally designed for sanding bowling alleys.
The machines aren't the only thing Clough's father and grandfather passed on to him: Clough also likes to innovate and experiment and says occasionally he even thinks, "Damn—I could do that better." Other contributions to the Back-to-Back Duals include adding a U-joint on the connecting bracket for added flexibility, and adding polyurethane wheels for easier cleaning.
Clough understands the appeal of the dual rider sander for big gym projects—but he still finds himself coming back to the back-to-back when he's on a job.
"It was all based on trying to do it faster, better and just less labor," he says of his family's invention. "Just like the riders now, everybody loves the riders because you're not walking. But when I get to an old gym, I still like running the Back-to-Back Duals because I get the finish off faster."
Clough has also had the opportunity to train his son, Cody, a fourth-generation pro, on using the one-of-a-kind heirloom, which over the years has sanded gyms from USC to Berkeley to Pepperdine to San Diego State.
"It's a nice legacy," Clough says. "I'm really proud of it."
See a video of Clough's Back-To-Back Duals in action:
---
Oldest Big Machine
Leon's Floor Covering | Clifton, Texas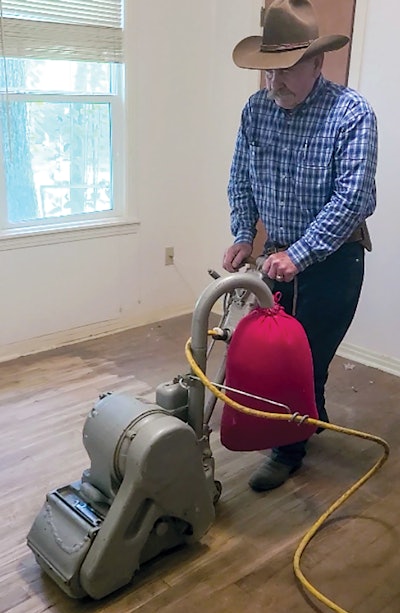 When Mike Prescher of Leon's Floor Covering started training at his father's flooring business at a young age, he didn't get to run the big machines. "I usually used the edger sander and went round the walls," he says. Eventually, Prescher was promoted to running the big machines—and, some 60 years later, he's still running the same ones.
Prescher's father purchased these two American Standard Eight machines when he started his business in 1948, the same year Prescher was born. To say they've been reliable for the first- and second-generation pros over the years would be an understatement.
"They don't make them like that anymore," Prescher laughs. "The motor will keep on going. The only thing you have to do is replace the motor brushes every now and then."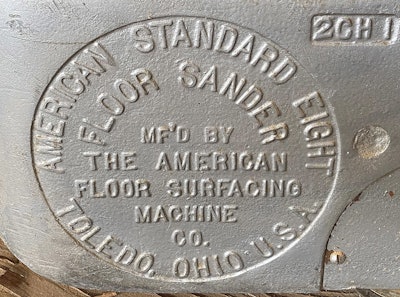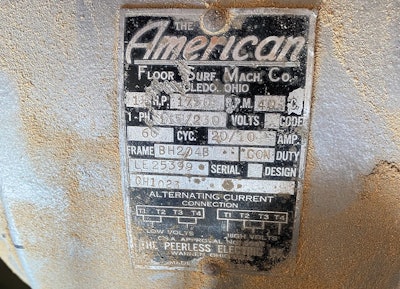 The machines have survived the decades thanks largely to a maintenance shop in Dallas and the continuing availability of parts. "Most of the parts are still available," Prescher says. "Some of them are a mix of newer, and others they just have parts from old machines that are still good."
Although the sturdy machines were obviously built to last, Prescher says newer machines do have their advantages, not the least of which are improved dust collection.
"It's nice that the new machines have a better vacuuming system on them," he says. "We never wore dust masks when I was starting out, and we just had to clean our nose out when we got through."
But while the American Standard Eights don't get the workouts they used to get in their heyday, they still come in handy frequently on the job site.
"We still use them on jobs to sand floors where the lightweight disc sanders aren't quite as strong at sanding as these are," Prescher says.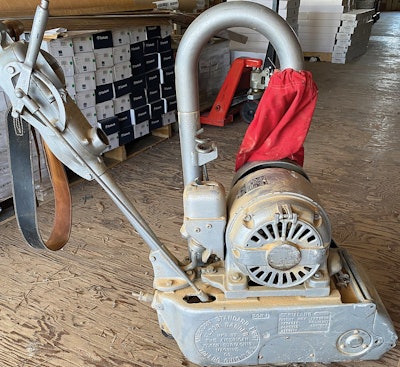 Prescher says it's more the continued usefulness of the machines than the sentimentality of them that has kept them around. But that's not to say they don't spur fond memories of times working with his father, which he started doing when he was around 13 years old.
"We traveled and did a lot of school gymnasiums," Prescher says. "We do less sanding and refinishing now because the machines are getting so old. But, with a little love, they are still doing their job."
Watch a video of Prescher using his 1948 floor sander:
---
Honorable Mentions
The following entries to our inaugural Big Machine Contest were just too good to not shine a light on. Check out the innovation, creativity and humor pros brought to the big machines below.
Best Resurrection
Robert Goldstein CFI LLC
Boca Raton, Fla.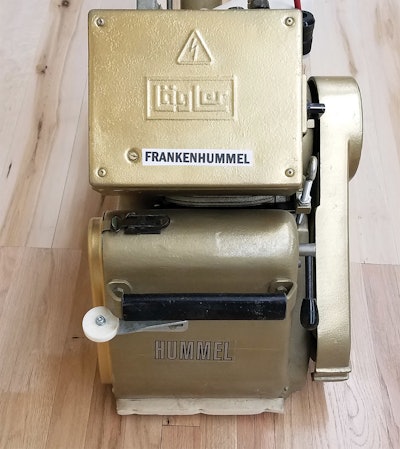 "It's ... alive!"
These were the words cried out when wood floor pro/mad scientist Bob Goldstein first started up what is now known as "Frankenhummel"—a big machine built using old or discarded Hummel parts. Starting in 2013, Goldstein gradually pieced the machine together with parts from Hummels dating from 1996, 1998, 2000, 2004 and 2019.
Goldstein collected the parts from all over the country—most were destined for scrap heaps. Some he found in shops, some he salvaged from a dust fire, and some he harvested from a 2000 Hummel that fell from a trailer on Interstate 35 and "had not bounced well."
"It was kind of fun," Goldstein says of collecting the parts to build Frankenhummel. "It's like making a buffet out of roadkill: it sounds disgusting but it can be pretty intriguing if you find the right animals."
Goldstein is no stranger to the intricacies of Hummels, having purchased one of the first models in the 1970s, learning its ins and outs and gaining a reputation in the industry as "a Hummel whisperer."
"The cool thing about Hummels, you can take literally a 1980 Hummel and buy new parts for it and completely rebuild it," Goldstein says.
The biggest challenge in the construction of Frankenhummel was a big hairline crack in the door over the drum. Goldstein had the machine stored in a small town in Vermont at the time, and finding a welder who'd do the work took awhile. But eventually a welder came through, and Goldstein spray-painted his completed creation a vibrant gold to match his name.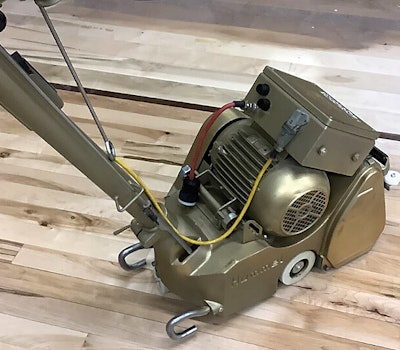 No lightning was needed for the resurrection—just a 220 outlet. "With upgraded wheels, drum and electrical parts I was able to reanimate the dead machines working in my 'laboratory' at night," he says. "It was a proud moment when the electricity was turned on and I exclaimed, 'It's alive!'"
Frankenhummel serves as a testament to the value in reusing parts, Goldstein adds—and one pro's trash can be another pro's monster.
"When you look at a beat up old Hummel, it's not just a big paperweight," he says. "There's still potential."
Most Innovative Use of Plexiglass
William Ennis
Godwin Flooring, Wyckoff, N.J.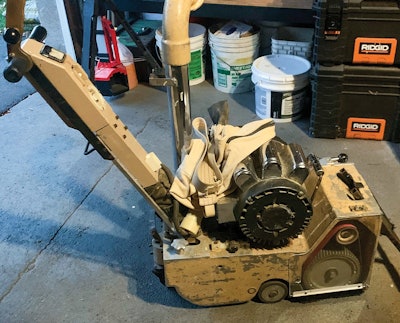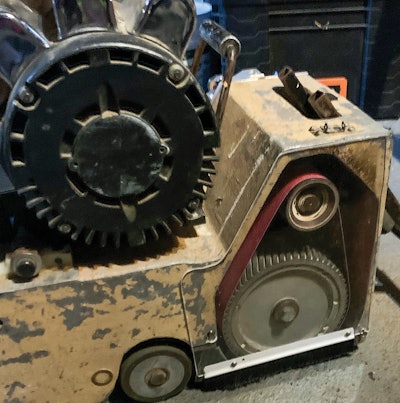 William Ennis's early-1990s Harvester sanding machine has its share of problems these days. "It's extremely heavy and I can't find parts for it," Ennis says. But some machines you just don't give up on. "It's a well-made machine locally to us and we just grew a liking to it over the years," Ennis adds. So, when the machine's door broke recently, Ennis decided to fashion a new one using plexiglass. It worked like a charm. "Necessity—the mother of all invention," he says. Now, the solid-cast, well-balanced machine can keep chugging, and Ennis's continued affection for it, like the plexiglass itself, is clear. "She's ugly, she's heavy, but I love her," Ennis says.
Best Big Machine Stickers
Andy Eicher
Wildwood Floors of Eastern Iowa Inc., Robins, Iowa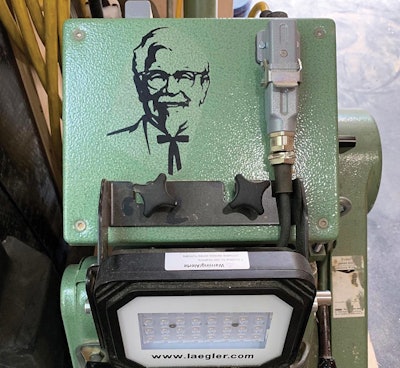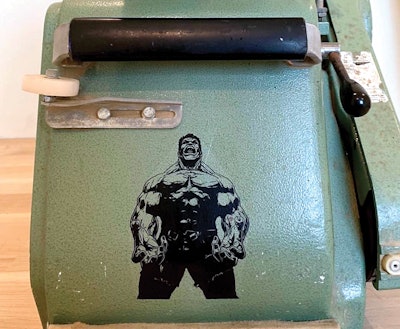 Andy Eicher's Hummels get smiles and not just for the floors they produce—they're also for the stickers. "We like to nickname our machines," Eicher says, and eventually, "The Hulk" and "Colonel Sanders" were christened and outfitted with stickers Eicher made himself. The "Colonel Sanders" name was an idea Eicher got pitched in a group chat, and "The Hulk" name came while Eicher "was trying to think of something green, like our Hummel, that is badass." The Hulk always gets a great reaction from clients, but sometimes it takes people a minute or two to make sense of the "KFC guy," Eicher says. "But whether or not it takes a little explaining, or they figure it out on their own, it always gets a smile," he says.
Best Reminder of Our Mortality
Adrian Molitor
Molitor Traditional Flooring, Madison, Wis.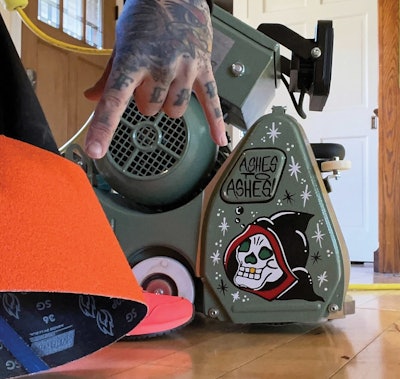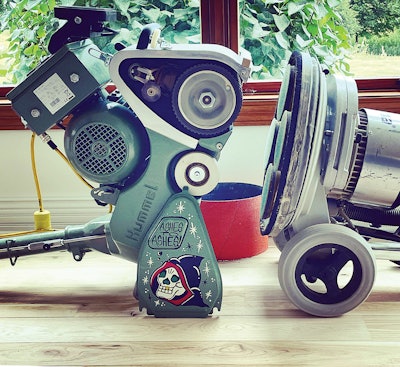 Adrian Molitor's Hummel sends wood dust to the afterlife in style—with its Americana-style gold-toothed grim reaper, hand-painted by tattoo artist Rev. Jon Bass. The "ashes to ashes, dust to dust" reference is a clear play on "wood dust," and also a reminder not to take things so deadly seriously, Molitor says. The epic artwork is also a great match for the Hummel and Molitor himself, who has multiple tattoos. "My favorite part of the design is the face of the grim reaper, because it's along the same lines as the tattoo work I wear: traditional Americana," Molitor says.
Best Pre-Big Machine Tool
Kalin Graff
Graff Floor Sanding, Barnhart, Mo.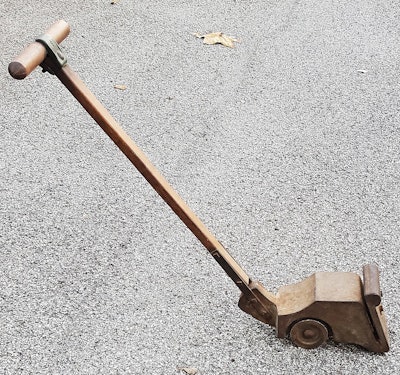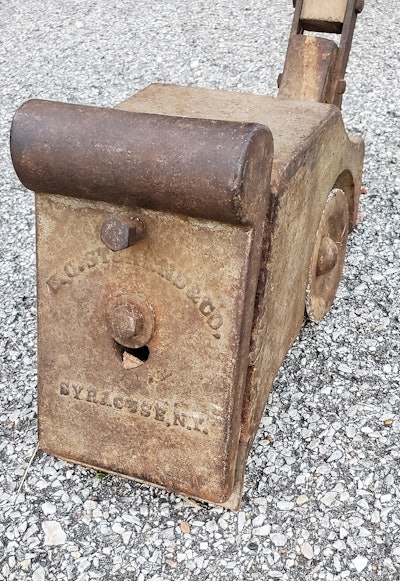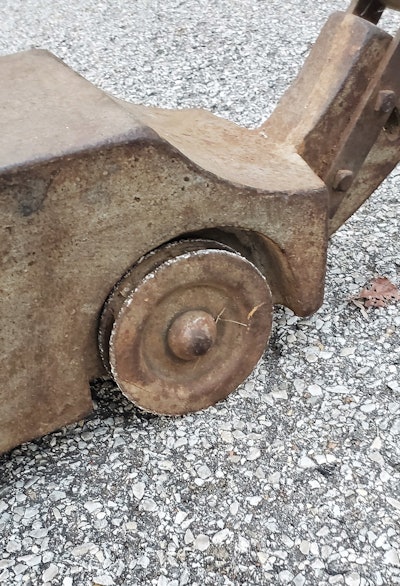 Big machine users today can be thankful they don't have to lug this antique floor scraper around to job sites. Kalin Graff found the floor scraper on eBay while searching for antique tools, a passion he shares with his father, Keith. The scraper weighs about 150 pounds—most of it hanging on the end of the pole, essentially making it so you have to carry it around by holding the blade. "They didn't have big machines and 220-power to grind the floor away, they just had a blade as good as they sharpened it and their pulling power," Graff says. As clunky as the scraper is to have around, it tells an important story about the history of the trade. "This tool helped evolve the floor sanding industry into what it is today," Graff says. "Just imagining it being on an old pine job, and the hard work that was put into this tool—it just fascinates me."
Most Unusual Big Machine
Dan Braucht
Coburn, Pa.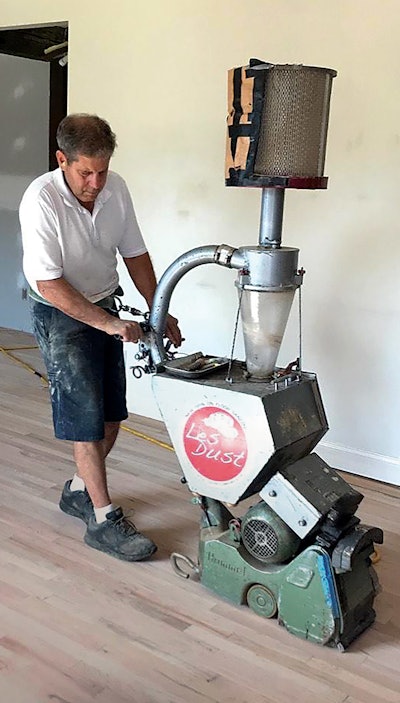 Chances are you've never seen a big machine quite like Dan Braucht's. The Hummel has been tricked out with an altered drum speed and a drum pressure increased to 70/80/90 pounds, Braucht says. It weighs 235 pounds with weights added to the front handle. When he concluded the machine continued to perform well with the improved weight, Braucht experimented with the dust collection on top, creating a dust collection box with a plastic bag that can hold 10–13 pounds on average. The experiments have been successful in creating a more efficient machine, Braucht said. But that didn't stop him from adding some "icing on the cake" for the unusually hefty machine; namely, "Soft, comfortable hand grips."
Best 'Mini-Me' Big Machine
Jamie Jordan
Jordan's Flooring Inc., Martinsburg, WVa.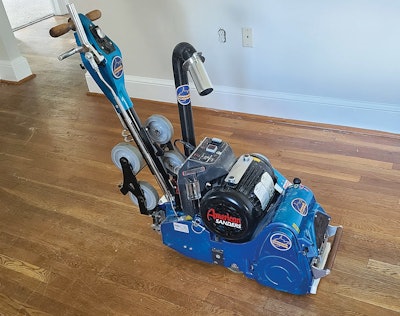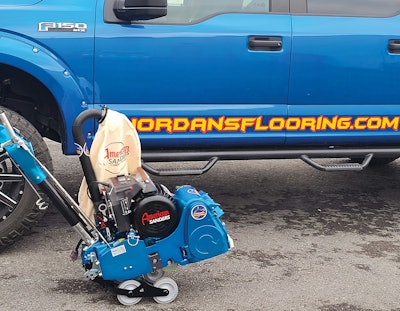 There's no mistaking what company this slick big machine belongs to. Jamie Jordan outfitted his American Sanders Legend with a crisp blue color and his company logo on the front, side and handle. "It has all the bells and whistles," Jordan says. And side-by-side with Jordan's similarly customized blue Ford F150, the company's big machine is the perfect Mini-Me.
Sparkliest Refurbishment
Chris Kritzer
Through the Woods Fine Wood Floors Inc., Tampa, Fla.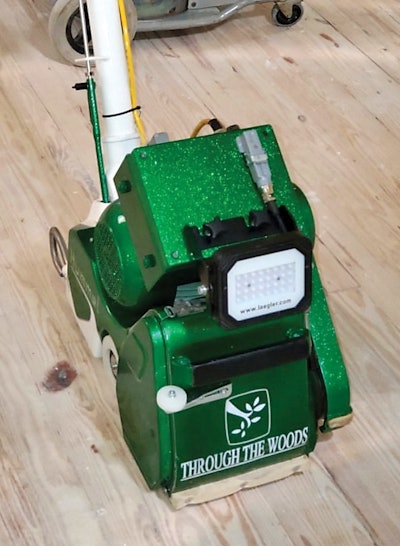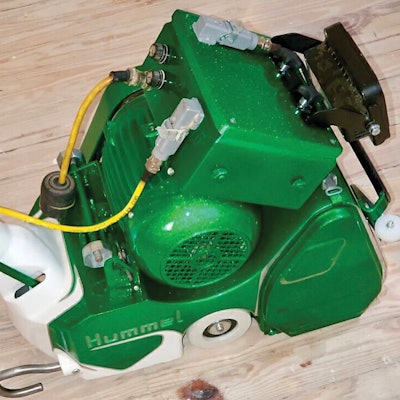 Chris Kritzer's 15-year-old Hummel's exterior was due for a refresh, so the pro went all out for it—and didn't hold back on the sparkle. The machine was completely stripped down and custom-painted with automotive metallic paint, Kritzer says. It was then clear-coated and rebuilt with a new light and multiple new parts. The sparkling final result ensured the sander will keep shining for well beyond the next 15 years, too.
Most Practical Use of Color
Angelo DeSanto
Dande West, Rancho Cucamonga, Calif.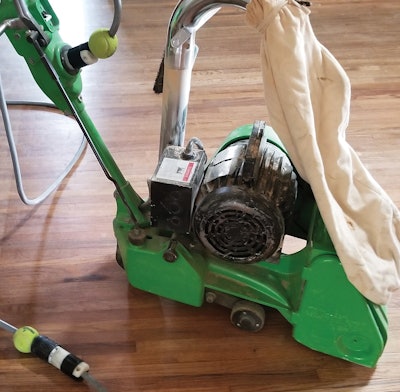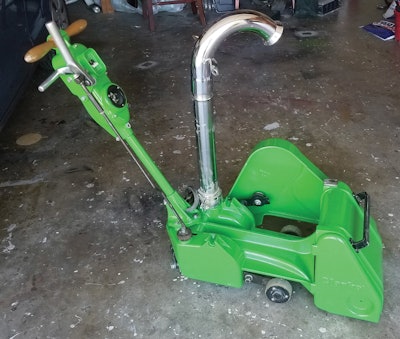 The "1972 Kawasaki green" color on Angelo DeSanto's big machine doesn't just look super—it's also super practical. Purchased in 1993, DeSanto decided to powder coat the machine in 2018 to spruce it up. He also made sure to get the most out of the color he chose. "I had it powder-coated in a unique color in case it ever gets stolen," DeSanto says. But the benefits of the color didn't stop there. "I also found out that color looks good in low light, too," he says. "So it's easy to tie it up in my work truck at the end of day." Add the durability of the powder coating itself, and this big machine makes it easy being green. "It makes my big machine look a whole lot better than it used to," DeSanto says.