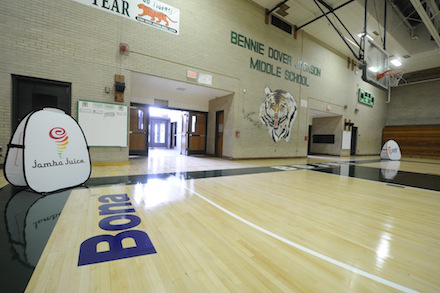 During the WNBA's All-Star weekend in Uncasville, Conn., Bona US (Aurora, Colo.) and WNBA Cares, the charitable arm of the WNBA, dedicated a middle school basketball court that had been resanded and refinished.  
The dedication was part of a series of special events from July 25-26 to promote healthy living, nutrition and the overall wellness of youth and families. Bona had worked with Connecticut-based Dalene Flooring to refinish the school gym at Bennie Dover Jackson Middle School in New London, Conn.
"It was a special honor to participate in this unique event. We were thrilled to bring a safe durable new floor to BDJMS," said Chad Nordhagen, director of marketing, Bona US, in a statement. "With WNBA Cares focus this weekend on promoting healthy living, it was a natural fit for Bona."
"We are absolutely delighted with and extremely appreciative of the donation made by Bona to refinish the basketball courts at Bennie Dover Jackson Middle School (BDJMS) and to the Connecticut Sun and the Mohegan Sun for selecting Bennie Dover for this community outreach initiative," said Dr. Nicholas A. Fischer, Superintendent, New London Public Schools, in a statement.