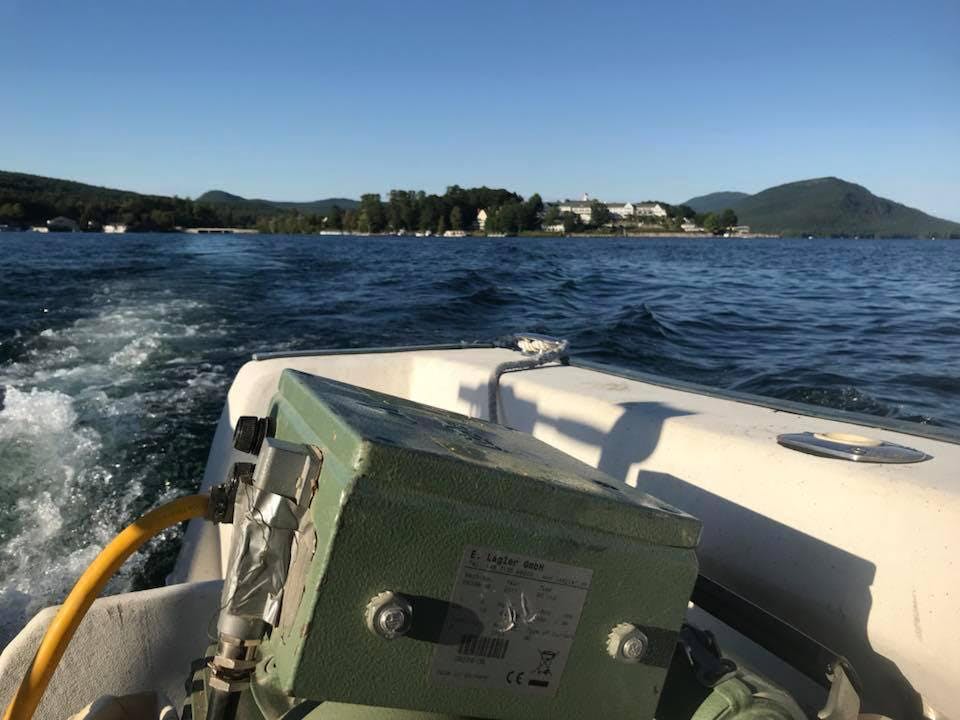 CB Hardwood Flooring transports its Hummel to Recluse Island for a sand and finish job. In the background is The Sagamore, the famous island resort. It turns out that even a secluded place like Recluse Island, located on Lake George in Upstate New York, has wood floors that need refinishing.
That's where Will Brown and his father, Chris, of CB Hardwood Flooring in Troy, N.Y., came in when they were hired to sand and finish a pine floor for a repeat customer with a house on the remote outpost. The first trick for the father/son team was just getting there; it required use of the customer's boat, which was docked at the nearby Sawmill Bay Marina in Bolton Landing, N.Y., and piloted by the customer's caretaker.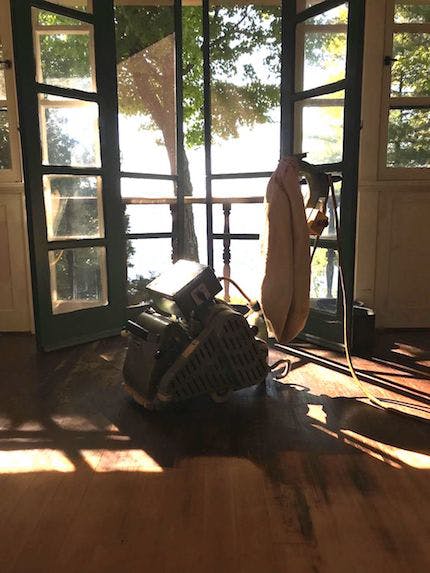 Because they were able to get their van close to the dock, it didn't take too long for them to load all their equipment on the boat, Brown told WFB in an email. The loading process was smooth sailing until it came to the Hummel, which posed a "slight challenge." "My dad and I are just a two-man crew, so we are used to moving the Hummel over all sorts of terrain in our career," says Brown. "But the boat did rock a bit as we were loading it, not to mention the slight gap between the dock and the boat itself."
Once they managed to get it into the boat without any incident, it was a slightly nervous 10-minute boat ride. "It wasn't a treacherous boat ride by any means, but the thought of something falling off the boat definitely crossed our minds," Brown says. "I wouldn't want to see how fast a big machine would sink out of sight!"
With all the equipment still intact, they made it to the island, happy to be back ashore. They stayed for the duration of the job on the island in a two-bedroom boathouse, which Brown's father had refinished several years before.
"This was my first time going out there, and it definitely added a vacation-esque feel to the whole job," Brown says.
They spent the Sunday afternoon prepping and then sanded the 1,000 square feet of pine flooring Monday, applying the first coat of Lenmar oil-based satin finish Tuesday afternoon. They gave the floor a second coat Wednesday morning and a final coat Thursday.
"We were going to stick around until Friday morning to do a final walk-through just to make sure everything looked good, but we felt confident on the last coat that everything was looking great," Brown says. "Plus, we were on an island for the past few days, so we were getting a little stir-crazy not being able to go anywhere!"
Suppliers:
Abrasive: Norton Abrasives | Finish: Lenmar Coatings | Sander: Lägler Hummel