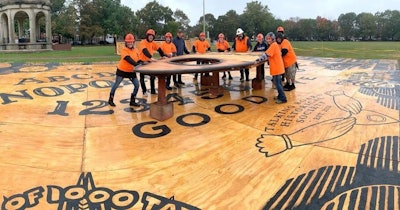 If you're going to contact the dead, either go big or go funeral home.
The folks at the Pinehurst, Mass.-based Talking Board Historical Society went big—really big—and set the record for the world's largest ouija board, according to Ripley's Believe It or Not!.
The board, located appropriately in Salem, Mass., the infamous location of the Salem witch trials, is made of 99 sheets of plywood and measures 3,168 square feet. Dubbed "OuijaZilla," the project was the vision of Rick Schreck, a New Jersey-based tattoo artist, who used 20 gallons of stain and paint to create the elaborate designs on the plywood.
The 9,000-pound board has been under construction since June 2018 and was unveiled in Salem Oct. 12. It has since been disassembled, according to the Talking Board Historical Society Facebook.
It may have the Ripley's world record, but the jury is still out on how it measures up in the netherworld.
If you can't get enough of ouija boards you can walk on, here's an actual wood floor with the classic ouija board design burned into it.