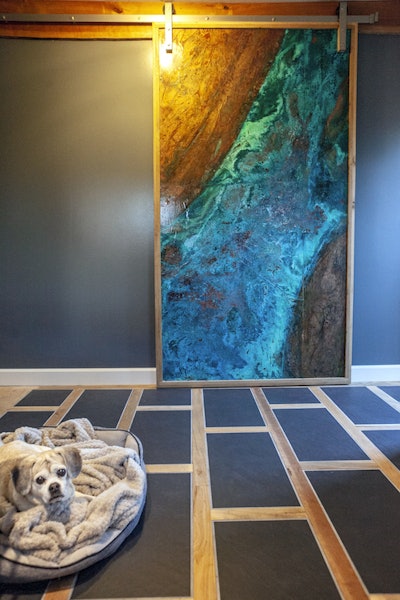 Wood floor pro Pat Goodman wanted to experiment with an out-of-the-box, tile-and-wood combination floor—and what better place to do so than in his own home?
"I had the freedom to do whatever I wanted to do," says Goodman, who owns and operates Goodman Custom Flooring in Fayetteville, W.Va. "It was kind of a test."
He began by milling raw cherry, maple and oak scraps he'd collected over time into flooring—the most time-consuming part of the job. All of the scraps originated from trees grown in West Virginia, and "some of it is really old—there's some antique oak in there," he says. He used a table saw and planer to create the boards for the approximately 100-square-foot floor.
After flattening the subfloor, Goodman glued and blind-nailed the planks, careful to keep everything centered and squared during the tricky layout. He hand-scraped the boards and coated them with a tung-oil sealer and two coats of polyurethane finish.
A couple days later, Goodman installed the tiles and then added grout between the tiles and wood. Part of his experiment was to see how the wood and tile would interact—as sometimes such a pairing can be a gambit due to wood expansion. So far, it is holding up well.
"As long as you have a stable environment, I think that it's fine," Goodman says.
Another arresting part of Goodman's customized room is the 4-by-8-foot door, the design of which he commissioned from an artist friend, Jenny Martos. The door was made by nailing rolls of copper to a cabinet-grade oak and treating the copper with an acid. The copper was then covered with a cellophane wrap, allowing the etching to form. After four coatings of a special urethane sealer, the door was complete. Goodman cut a cherry border for the door and installed it.
"The door is such a work of art—the texture is almost like a topographic map," Goodman says.
---
RELATED: Wood and Tile Marry in Former Church Floor
---
The experimental combinations in both the door and the flooring has opened up opportunities for other "wild" projects, Goodman says, and he has already had requests for similar designs since unveiling the floor. The test run is paying off.
"I look forward to hopefully taking on more of these jobs incorporating these doors and other concepts," he says.
Suppliers:
Adhesive: Bona US | Finish: Waterlox | Nailer: Bostitch | Nails: Grip-Rite | Scraper: Norton Abrasives