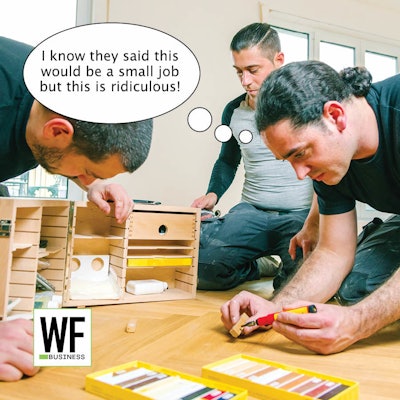 We asked you to submit your caption suggestions for this photo, and our online readers voted. Congratulations to winner Ron Gibson of Bellmawr, N.J-based General Floor Industries. Aside from fame and notoriety, Gibson will receive a Wood Floor Business T-shirt. Other favorite captions included:
"The homeowner says if you lay down on your belly at 2:43 pm on the summer solstice you can see a blemish in the finish. We have to get this right, fellas!"
—Jim Hyde of Marmora, N.J.-based Oldschool Hardwood Floors LLC
"I swear if Ryan is over there on his phone while we fix his screwup I'm firing him!"
— Mitchell Canter of Neosho, Mo.-based Elite Hardwood Floors
Keep an eye on WFB Facebook, Instagram and E-News for your next chance to enter.