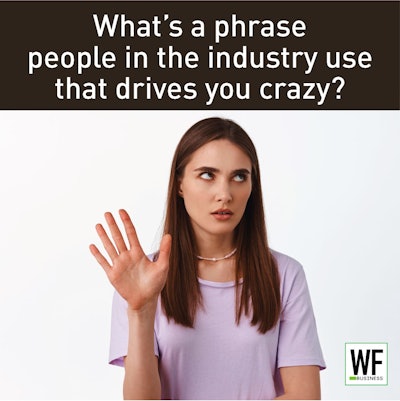 WFB asked readers on Facebook and Instagram to share the words and phrases used in the industry that drive them crazy. Here's what they said:
Josh Hansman
"I'd like a light brown color, like Jacobean maybe."
Bygnal Dutson Jr.
"Thanks for your bid but we are gonna just cover it with carpet."
Gregg Pierce
"Just needs a quick sanding... We're not that picky…"
Anthony Boccia
"What colour timber do you have?" and " I don't need the good stuff, it's just a rental."
Spencer Hulbert
"Resurface," "varnish."
Ken Ballin
"I've been doing it this way for 30 years and never had a callback."
Greg Alden
"I know it's a soft wood but is there a finish that will make it harder?"
Jason Mackintosh
"Game changer…"
Alfonso Urbano
"Do you guys strip down floors?"
Jarrod Mclaughlin Crawford
"Because that's how I've always done it."
Daniel Octavio Saucedo
"I can fix it."
Mark Wagner
"2.25 red wood, how much is that?"
Gregory Dozorec
"How much do you charge per foot in your area?"
Marc Ringel
"I'd like a light sanding."
Jordan Webb
"Thanks for making three trips with 20 samples out to our house, but we are gonna buy the material from (insert big box store)."
Wayne Walker
"We saw this on Pinterest."
Dean Milazzo
"Weave" or "lacing."
Keith Christopherson
"Refinish the preexisting floors."
Nathan Hourigan
"It just needs a quick sand."
Eric Herman
"Pre engineered."
Will Dennis
"I refinish for 2.00 sf."
Wesley Elliott
"It is what it is!"
Luke Biello
One word: "match." Let's use it in a sentence: "The contractor told us you could match this."
Andrew Cory Boyd
"Vinyl plank because it's waterproof."
Patrick J. Russell
"Engineered hardwood."
Lou Buono Jr.
"Big machine." We sound like children naming a machine based on its size.
Karla Contreras
"You do it quick; how come you charge too much?"
Jonathan Gramajo
"I googled it!!!!"
Jorge Perez
"Industry standards."
Stephen Diggins
"It's SO simple! Like a jigsaw puzzle … I should have had my husband put it in."
Josh Marques
"I need a waterproof floor."
Sean Michael
"Painter will get it."
Sean Tupper
"Installer error!"
Micheal Seeley
When replacing a large section of a floor and they call it a "weave." This isn't basket-making.
Joe Carter
"I want a neutral color."
Tadas Sadunas
"Do you do free estimates?"
Dave Byrnes
"Shellac."
Tim Garnham
"Waterproof laminate flooring."
John McAuliffe
"My bad!"
Jason Hicks
"Will you take some money off if I help you?"
scfllc
"My floors are perfect and not a scratch in sight!"
cmchardwoodfloors
"Staples or cleats?"
jameslobawakol
"Doing it this way for 30 years… Never had a problem."
habitatfloors
"Shit'll buff out." JK, I say that all the time!
mmcreavy
When the manufacturer's reps say, "The installer is the last inspector…"
mscsinc
"My product is the best on the market."
ds_hardwood_flooring
"Can you start tomorrow?"
popehardwoodflooring
"It's just like a puzzle."
isandnewyork
"I have a friend that says they can do it for this price."
arboriwoodworkdesign
"I heard it's a dollar per square foot." Lol.
johnnyrodriguez6791
"Oh my, it's actually done by hand." 
plankd_flooring
"Only a quick small job."
charliefraser2
"Hardwoods" instead of "hardwood." "Poly" instead of "finish."
adamshaebaby
Customers: "It probably just needs a light polish."
upwardflooring
"Waterproof."
rajflooring
"I checked YouTube; it's easy to do."
debra.kirschnick.hpco
"Swifter Wet Jet."
markmurphy1984
Anytime someone says "hardwoods."
corarinna1
"I don't like this board."
rios_flooring
"Mud it" instead of trowel fill it.
1legacy1life
"If it ain't broke, don't fix it."
twebb119
"My wife said she has another quote that is lower. Can you match them?"
rogeriousa79
"Vinyl flooring is very easy to install, 1-2-3."
imove_unseenn
"So I can walk on the floor after you coat it."
paul80arvidson
"If you guys can sand it, I'll finish it."
hardwood.concepts.inc
"What do you think about steam mops?"
emc_photo
Client: "What that right there in the finish???"
Me: "Oh that's just grain!"
woodyshardwoodflooring
"Is it comparable to laminate?"
stiefermankalen
"How much for cash?"
abstractfabrication
"I need my floors stained." "What color?" "Oh, just clear."
pdhardwood
"It's just you, or do you have a crew?"
redoakhardwoodfloorinc
"Oh, it's only 1,000 square feet, you'll be done in a day or so, right?"
onestopfloorsanding.co.uk
"Slinging oil." Mainly said by bearded people.
stevenshermanwoodfloors.com7
"Pop a few boards in." "Just needs a little sanding."
clough_hardwood_flooring
"How much do I owe you?" How about $1 million dollars.
exclusiveflooringinc
"This apartment only needs a deep buffing coat…"
blackdogsgram
"Acclimation."
woodfloorworkshop
"Perfect." "Flawless." "Quick." "Easy." "Dustless." "Bulletproof": this list goes on, but you get the gist!