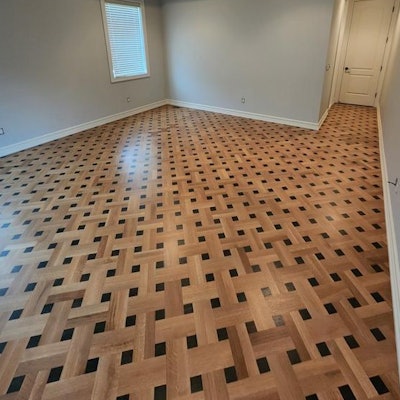 It came together in 48 hours.
The clients reached out to Javier Cardenas at Exotic Flooring and Designs LLC because they'd been told he was the one who could come up with something inventive for their wood flooring. "They were looking for something nobody else had," Cardenas says—and they needed it quickly.
Cardenas agreed to the job, which included flooring in the bedroom and walk-in closet of the Washington Township, Mich., home. He examined the approximately 400-square-foot space and noticed a basketweave tile in the bathroom connecting the bedroom and hallway spaces. "I said, 'Why don't we make that come out of the bathroom and into the bedroom?'"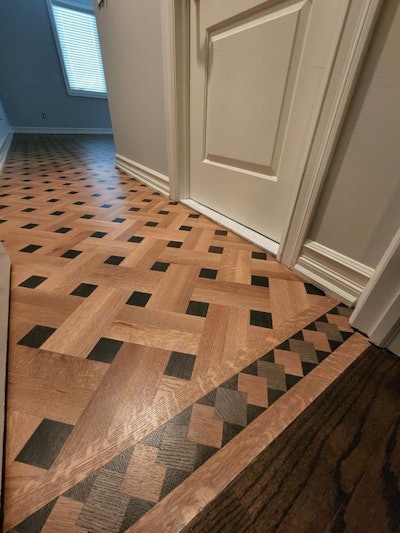 With no time to wait for pre-cut pieces, Cardenas picked up rift-and-quartered white oak for the job and, within 48 hours of the call, set about cutting it himself. Due to the time constraints, wenge wasn't available for the squares within the basketweave, and Cardenas didn't want to use walnut, feeling it wouldn't provide the "pop" he envisioned for a 3D effect. So, he planned to stain the squares dark after installation.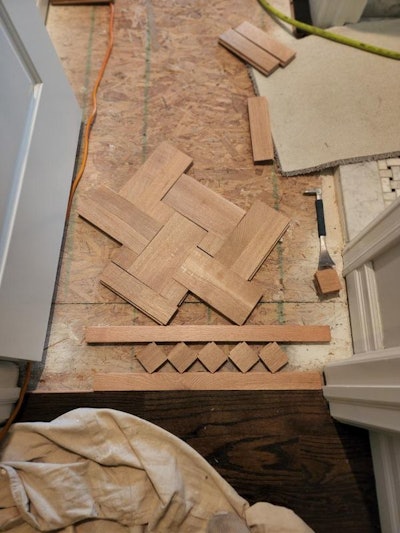 The hallway leading into the bedroom butted up against another wood floor in the home, and to ease the transition, Cardenas designed a border with diamond-shaped white oak pieces folded over on top of each other. Cardenas and a helper installed the border first, then trowel-glued the rest of the intricate flooring with a nail-assist, using spline to connect the pieces. They sanded first with the multi-head sander, then hand-scraped, followed by an orbital sander and hand-sanding. "It was really done by hand," Cardenas says. "I didn't want any scratches."
While the cutting and installation were meticulous, there was equal pressure when it came to staining the floor. They taped off the 1,000-plus squares they'd installed and used a mixture of Heritage Brown with a quarter of True Black, hand-scraping any bleedback. The diamonds in the border were stained gray and brown. They then stained the entire floor with a Weathered Oak stain. "The whole process was a bear," Cardenas says.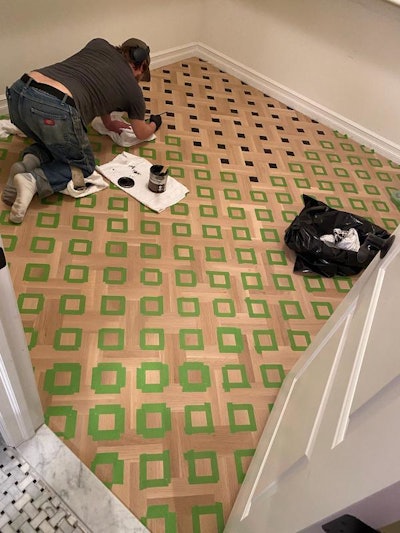 They completed the 3D floor, which was about three weeks of work, with a water-based sealer and two coats of finish. And although the intricate job and design came together in 48 hours, it was really the result of Cardenas pushing himself to improve on each project he's tackled over his decades in the industry.
"I started 27 years with a hammer and nail," Cardenas says. "I try to surpass myself on every job… What I've learned is to trust yourself, and trust you can overleap just a regular wood floor. Somebody has to do it, so why not you?"
Suppliers:
Adhesive, Finish, Moisture Membrane: Bona | Abrasives: 3M | Big Machine, Edger: Lägler North America | Palm sanders: DeWalt | Stain: DuraSeal