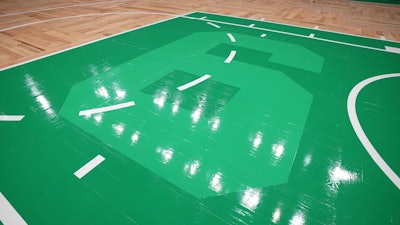 Boston Celtics
The Boston Celtics' iconic parquet court will take on a slightly new look this season as the team honors the late Celtics legend Bill Russell with a number "6" painted on both lanes.
The reason for that placement on the hardwood was to "pay homage to Russell's dominant play in the paint," according to the NBA. The NBA said it is the first time numerical text will be displayed within that area on an NBA court.
Russell died July 31 at age 88. A center, Russell played for the Celtics from 1956–1969. Along with the tribute on the Celtics' hardwood floor, every other NBA court will display a number 6 decal on the sideline near the scorer's table this season. The NBA will also retire the number 6 throughout the league.