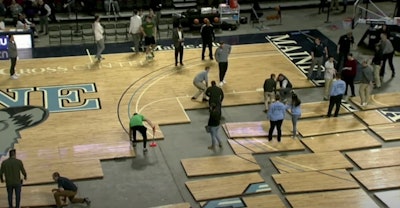 PSC Highlights / YouTube
A college basketball game between Vermont and Maine was delayed after it was discovered the portable basketball court was assembled incorrectly.
The court at Maine's Cross Insurance Arena was found to have a crooked baseline before the game began, prompting the start time to be pushed back an hour and 20 minutes so the issue could be addressed, The Spun reported.
The court was then disassembled and reassembled by arena staff, including Maine Athletic Director Jude Killy, according to a report shared by
PSC Highlights
.
"Our number one priority is the health and safety of our student-athletes," UMaine Athletics said in a statement addressing the delay. "It was determined that the playing surface was unsafe to begin our men's basketball game with the University of Vermont. Due to that determination, the game was delayed while staff addressed the issues with the court. We apologize for the inconvenience and would like to thank our fans, the America East Conference, and the Vermont staff and student-athletes for their patience and understanding."