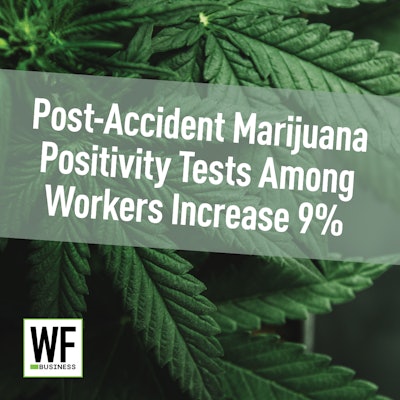 The percentage of workers who tested positive for marijuana following a job-site accident grew 9% in 2022 compared with 2021, from 6.7% of workers to 7.3%, according to Quest Diagnostics, a drug testing company and medical lab.
The increase corresponds with more states legalizing cannabis, according to the report. Since 2012, 23 states and D.C. have legalized recreational marijuana, CBS News reported. Medical cannabis has also been legalized in 38 states and D.C.
Since 2012, post-accident marijuana positivity has surged 204.2%, according to Quest.
Compared with five years ago, overall urine drug test positivity in the construction industry grew from 4.1% to 4.7%. Positivity in the retail trade increased from 5.4% to 7.7%, and positivity in transportation and warehousing increased from 3.9% to 5.3%. Positivity in manufacturing increased from 3.7% to 4.5%, according to Quest.
The construction industry recorded the highest year-over-year increase in cocaine positivity at 0.33%.
---
RELATED: Drug Testing In Construction: Tips to Avoid a Lawsuit
---