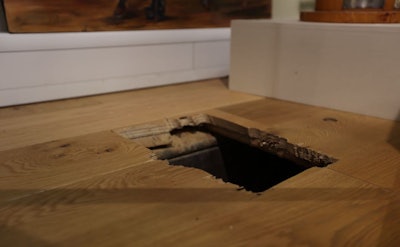 Nottinghamshire Police
In a heist that appears to be straight out of a classic caper, thieves cut a hole up through a wood floor in an English military museum in order to steal several silver antiques, the BBC reported.
The 10-inch by 12-inch hole in the wood floor at the Royal Lancers & Nottinghamshire Yeomanry Museum was discovered Oct. 29 by staff. The hole allowed the perpetrators enough room to reach into a display cabinet and make off with a number of silver statues and one gilt rosewater dish believed to be a sister piece to the Wimbledon women's singles trophy. The thieves drilled up into the room through an archway below. Detectives also believe a smaller hole was drilled first to allow a camera to go through the wood floor and survey the room and display case, the BBC reported.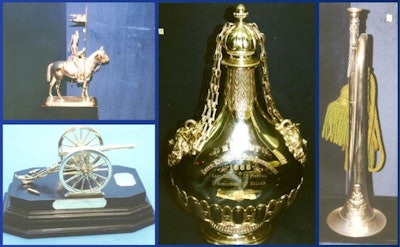 "This was an audacious crime and clearly well planned by the person or people responsible," Detective Sergeant Jackie Price of Nottinghamshire Police said in a statement. "The items taken are not just worth tens of thousands of pounds; they are also of significant historic and sentimental value to the military community."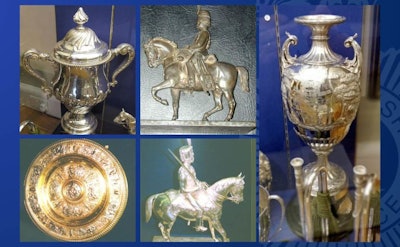 Detectives believe the burglary occurred between 2:40 a.m.–3:30 a.m.
The hole in the arch has since been covered by a steel plate.