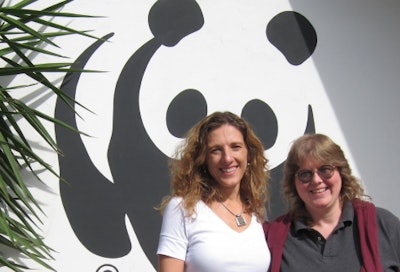 Last week, we looked at legality resources and I referenced the on-the-ground knowledge of the people actually working in the forests.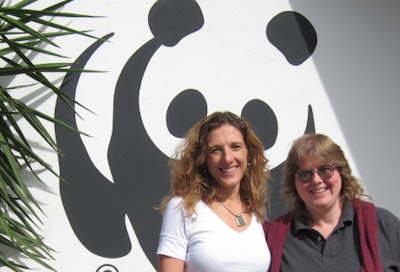 Speaking of which, last year I was able to spend a couple of weeks on the road, including some jungle time, with Amy Smith, senior program officer for GFTN-North America. Amy was a great travel companion and gave me some very important advice during our trip. She told me that she had been taught that if you saw a snake in the jungle that you should run away immediately. While running you should throw everything you can at the snake—your hat, your jacket, your camera, whatever you had handy. This would not deter the snake, but it would be likely to snap at these objects and hopefully use up some of its venom in doing so. And then, "when the snake catches you—AND IT WILL," she emphasized, "you have a fighting chance of surviving the bite."
I asked Amy for some more stories and to tell me more about her work with the GFTN. She agreed to tell me to answer my questions between battles with snakes and spiders and what follows is part one of an unknown number of parts of Jungle Tales with Amy and news from the GFTN.
Can you tell me a bit about the history of the GFTN?The Global Forest & Trade Network (GFTN) celebrates its 20th anniversary this year, so it's a great time to reflect on how we've evolved from our beginnings in 1991 in the U.K. At that time, WWF presented a plan to a small number of forest products companies to address the deforestation crisis-the plan wasn't the expected call to halt logging in tropical forests, rather it was a somewhat revolutionary idea to provide economic incentives to keep tropical forests standing.
These 20 companies bought into the idea, and joined together as the WWF 1995 Group, with the ambitious goal to phase out all wood and wood products not originating from "well managed forests" by the year 1995. It soon became clear that much more time would be needed to reach this target and that 1995 was overly optimistic, but the momentum created by the 1995 group was instrumental in changing the face of forest management and trade.
The work of the WWF 1995 Group laid the groundwork for the GFTN that exists today-an organization that spans across the globe, connecting forest products companies in value-building relationships as they work together to safeguard the world's forests, and the communities, economies and ecosystems that depend upon them.
So how big is the GFTN now?GFTN works with more than 280 companies in 34 countries. Together these companies represent 19% of the global annual trade in forest products with a combined $73 billion (U.S.) in sales. GFTN helps these companies achieve tangible business benefits through access to GFTN's network of technical experts, gaining a better understanding of their supply chains and driving demand for credibly certified forests.
Next week Amy and I will look at some of the current GFTN activities and how they work to protect all the forests and the inhabitants there—even the snakes.