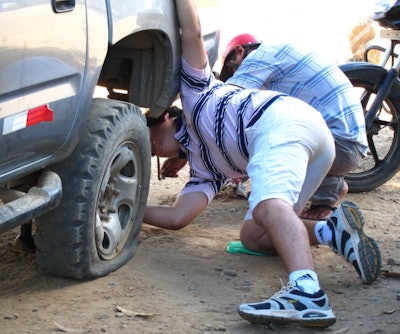 I'm talking with Amy Smith of the Global Forest & Trade Network (GFTN) about what their organization is doing in the producing forest nations (see last week's post about them here). I know from firsthand experience that one of the things they do is try to keep their jeeps running. See, last year, Amy and I headed to a little corner of Peru for a jungle trip. The night before we leave Lima for the jungle, she says to me, "Don't worry. We're absolutely organized this time. We have two trucks and we're taking a mechanic with us and lots of water. All will be OK."
You can guess how that worked out.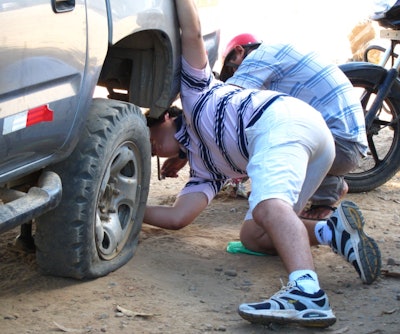 We arrived at the airport (hours from the jungle where we're going) and of course there are no trucks waiting for us. Eventually we discover that one of their trucks isn't running at all. The other eventually comes and we hire a taxi to take us as far as the small town outside the concession area, where we'll get another truck from the logging company. The taxi starts off with half our group and the truck (which I am in) follows, but we stop to run a short errand elsewhere in town. The car gets ahead of us and we don't catch up for hours because 15 minutes later, we have a flat.
An hour or two later, and a few other minor adventures, oh, and wisely taking the time to get the spare patched (yes, the spare was flat, too), we're on our way again. I'll tell you where we ended up next week.
The question is, why were we going off to the jungle? To see what the GFTN does on the ground, to help expand legal and sustainable forest trade. I asked Amy for more specifics:
What help do you offer to a producing company?GFTN has staff in 34 countries with technical expertise in forestry and trade issues, forest policy, and risks associated with particular regions or species. GFTN also provides up-to-date information on best forest management practices, credible certification systems, global forest sector trends, and information on lesser-known species.
We work with the forest managers in key regions where certification is difficult but essential to ensuring sustainability of both forests and supply - areas such as the Russian Far East, the Amazon, the Congo Basin, Borneo and Sumatra. GFTN forest managers have achieved 20.4 million hectares of FSC-certified forest and further manage 5.7 million hectares in progress to FSC certification through GFTN's "step-wise approach", which requires that forest participants achieve FSC forest management certification within five years.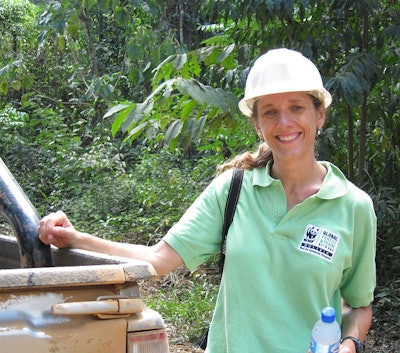 What help do you offer a buying company?More than two-thirds of GFTN participants are "trade participants": manufacturers, brokers, retailers and end users, both in producer countries and in importing countries such as North America and Europe. These participants span a wide range of products, including flooring, building products, furniture, paper, tissue and packaging.
GFTN works with these companies to help them identify and mitigate supply chain risk, and to progressively increase the amount of credibly certified wood in the supply chain over time.
Click here for a full list of GFTN participants.