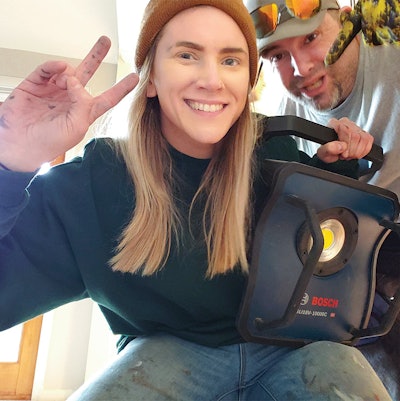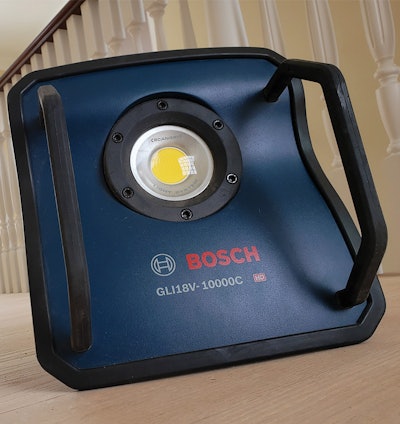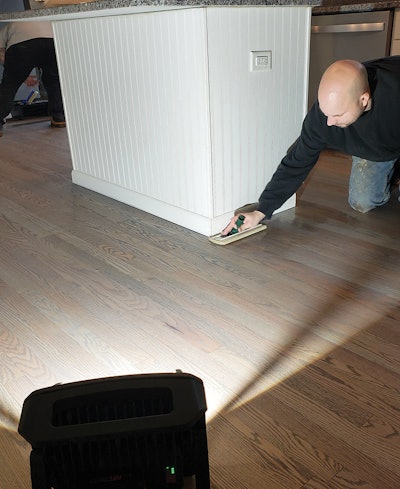 Amber and Sean Dodson of Bucks County, Pa.-based Sean Floors tried this Bosch light on their job sites:
We use lights on our job sites all the time. For extra light while we're using the orbital on the edges, our go-to lights are the Milwaukee M18 cordless job site lights. For a general light source when it's getting dark out, we pull out our Milwaukee M18 Rocket light, which is on a tripod and is big and bulky and can be run on a battery or plugged in.
This Bosch light is by far the brightest job site light we have ever used. It has a single LED and has three settings, and on its strongest setting it has 10,000 lumens (by comparison, our Rocket light has 2,500 lumens). By itself it can easily light up an entire room. We used it for general lighting but also found it was great to lay it on the floor and shine it as we were running our Hummel, because we could easily see our passes as we went.
The light is super easy to use; there's just one button and you keep hitting it more than once to change the setting. It also has Bluetooth connectivity with the company's Toolbox app. We didn't have a situation where we needed it yet with this light, but being able to turn off lights remotely when you can't access them would be extremely useful. We've been in that situation as we've been coating out a door and realized we forgot to turn off the lights, and we had to just leave those lights on until the battery ran out.
---
RELATED: Tool Review: DeWalt 12V/20V MAX Compact Task Light
---
Unfortunately, we struggled with battery life. We received the 4.0 amp battery kit, and if the light was on the brightest setting we only got between a half hour and full hour of battery life. If you have other Bosch cordless tools, this probably wouldn't be a problem, because you would already be set up with your entire collection of batteries to swap out.
This is one of the sturdier lights we've seen. It has rubber with metal framing around it, and honestly, I feel like you could probably drop it off a roof and it would be fine. It has a 5/8-inch 11-thread mount to use with standard tripods.
We definitely liked the light and will keep using it on our jobs. But, because we don't already have the full setup of Bosch batteries and chargers, we probably won't buy more. It's costlier than our current lights and (like with all cordless tools now), the batteries you already own play a big part in deciding which new tools to buy. For any cordless tools, buying enough batteries and charging kits are an investment in themselves.
Suggested retail: $299 (light only; battery/charger retails for $129 for the 4.0AH kit and $169 for the 8.0AH kit)
---
RELATED: Tool Review: Makita LXT Cordless Backpack Dry Vacuum
---