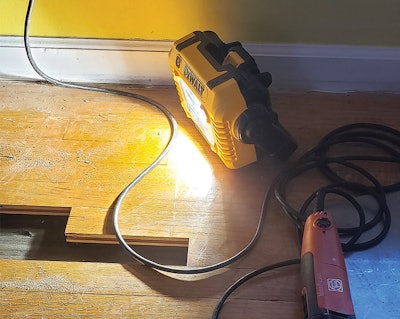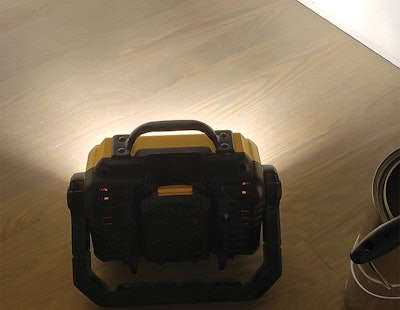 Kirk Dozek, owner at Kirk Dozek Wood Floors in St. Clair Shores, Mich., tried this new light.
We use multiple LED lights on every job we do, so I was looking forward to trying this new light from DeWalt. The light is very cool—it's small, compact, very bright and cordless.
The light has a big handle that adjusts 360 degrees around the light, which allows you to create the perfect downlight angle directly on the floor when you are doing things like edging or other work on your knees. You can mount it on a tripod, but we like using it right on the floor—it's the perfect illumination when you are looking for edger scratches, for example. It has three brightness settings, but we only used the brightest one.
As we worked with the light on the first day, we noticed that it's a little too wide to palm it to pick it up. Its handle creates the angle on the floor, so you can't grab the handle to lift the light. You could slide it across the floor, but we don't want to drag things across our wood floors. Our solution was to attach a cabinet pull to the top. After looking inside the light to make sure there weren't any electrical components or LED housing we would damage, we used four screws and two-way tape to attach the cabinet pull—problem solved (see the bottom photo).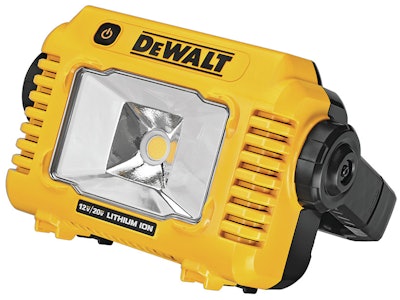 All of our other LED lights have cords, so this light is the easiest one for us to quickly grab in different situations, like on a recent job when we pulled a dishwasher out and put this light inside the cabinet to see where the power was. One thing to know is that although it is compatible with DeWalt's 12-volt, 20-volt and FlexVolt batteries, it does not come with a rechargeable battery and charger. If you use other DeWalt rechargeable tools, that's no big deal, but we don't. I ended up borrowing a battery and charger from a friend who had extras. I didn't think the battery lasted as long as I would have liked, but that might have been an issue with the age of that older battery. It was also one of the smaller batteries, and DeWalt has bigger ones that I'm sure last much longer. A nice feature with this light is that it warns you a few minutes before the battery is going to go out by blinking.
I would definitely spend the money to buy this light, even if it means spending extra money to buy the DeWalt batteries and charger.
Retail: $99 (light only; 20-volt MAX lithium-ion battery pack 3.0Ah with charger retails for $119)
---
RELATED: Tool Review: Skilsaw 12-Inch Worm Drive Dual Bevel Sliding Miter Saw
---