Tony Horsman of Creative Hardwood Floors Inc. in Rochester, Minn., tried out this new tool:
We are currently using corded Fein oscillating tools for repairs, sanding and under-cutting jambs and casing, and I was curious to try this cordless Bosch oscillating tool. My first impression was that it seemed to be a touch heavier than the other battery-powered or corded multitools I've used, although the battery is small and compact. After using this tool for a few different applications, I was impressed with the battery life—we got 1–1.5 hours per charge. We used it for board repairs on species from Brazilian cherry to maple and fir, and the tool and its 18-volt 4.0 Ah Li-ion battery performed great on all species. The adjustable speed was nice; it ranges up to 20,000 oscillations per minute, which is faster than other battery-powered multitools I've used. It goes down to 8,000 oscillations per minute, and ideally, I would like the capability to slow it down even more. The LED light is a nice addition and very bright. The tool height will fit nicely under most toekicks when doing those types of repairs. I found it was very comparable to the DeWalt version on power but weight-wise, the Bosch is heavier.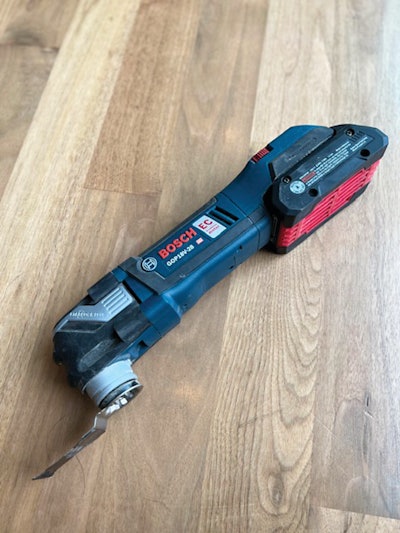 This tool has the company's Starlock System, which is compatible with Bosch, Fein, Makita, Milwaukee, Ridgid and Rockwell blades. It was nice knowing that the tool would accept our current blades, and there was no slack or sloppy fit. We found it had a very easy release when changing out warm, worn-out blades.
Overall, the biggest downside of this tool was the weight difference. It was also a little noisy and had an odd rattle at first until the battery was seated in place after a few charges. Our other cordless tools are running on a different battery platform, so swapping out for spare batteries isn't convenient. However, I can see more of these Bosch oscillating tools in our future, as this one has already been hijacked by one of our crews—they love the portability of it versus having a cord and dealing with extension cords. I'm seeing this tool available online for $149, and it's extremely worth it for that price.
Retail price: $199
---
RELATED: Tool Review: Cordless Bosch GLI-18V-10000C Floodlight
---