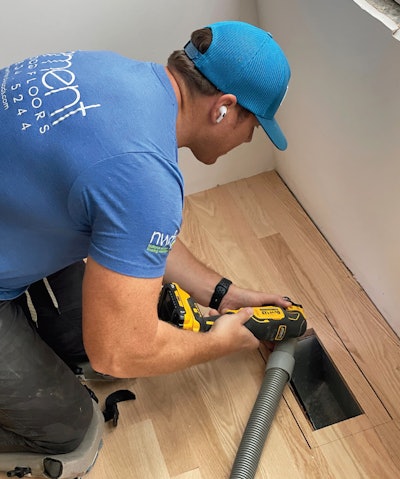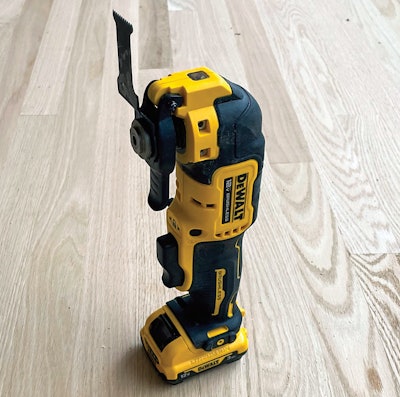 Kevin Reyes of Element Hardwood Floors in Seattle tried this new oscillating tool:
I love tools (of course!), and I've owned thousands of them. I've been all about the Fein tool since it first came out, before the patent expired in 2009 and everybody else came out with a junkier version of what Fein had. We use our Fein tool for everything from cutting new butt joints during lace-ins to dropping in vents and trimming door jambs. My first impression of this DeWalt tool was how compact and lightweight it is. It's super lightweight—even with the battery on, it's lighter than any other battery-powered or any other corded multitool we've had. We had the slimmer battery on this, so of course if you put the bigger battery on it would be heavier, but this smaller battery charges quickly and lasts a lot longer than you would think. I'd estimate we had about 45 minutes to an hour of use when we were using it to make cuts on a lace-in and doing plunge-cutting for the ends of vents. I was impressed, because it lasted a lot longer than our battery-powered Multimaster.
In particular, it was super easy to use when we had to make cuts up on a ladder while installing wood flooring on a ceiling. Unlike all other multitools I've used, the trigger has a super accurate pressure-sensitive real time adjustment, so the more pressure you use, the faster it speeds up, and as you release, it slows down. It took a few minutes to get used to, but then it feels like that's how they should all be designed.
The DeWalt blades clip right in, or you can use the bolt with the universal attachment for other brands of blades, like the Fein blades. It also has a light, which is a cool feature.
There wasn't really a negative to this tool. If anything, I would say maybe it's a little underpowered compared with the Fein saw's top-end power, but it's just as good as Makita, Milwaukee and all the other brands that have some version of this tool, and the power wasn't an issue for what we use this tool for—for that, it was perfect. This is one of those tools that you want to have around. Usually my guys and I are all fighting over the battery-operated Fein saw, but now I can't even find the DeWalt because we've all been grabbing it from each other. After using this for a few weeks, I'm going to have to buy one of these for every van.
Retail (without battery and charger): $119
See Kevin Reyes discuss this tool: