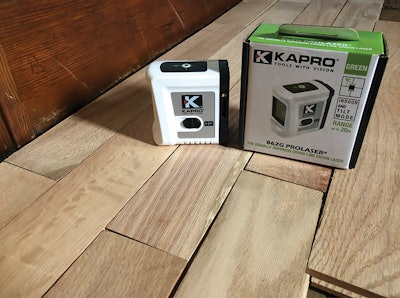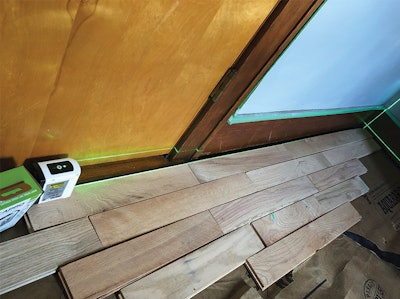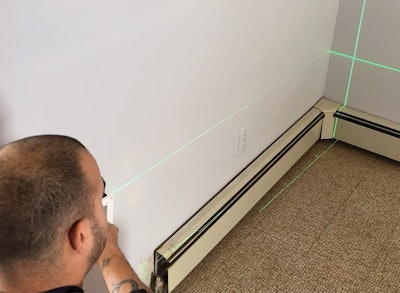 Angel Olalde of Angel's Wood Floor Restoration in Sterling, Ill., tried the Kapro 862G Prolaser Cross Line Green Laser.
I'm really anal about making sure my lines are straight on my flooring installs, but my only experience in doing layout with lasers before was with a tile laser I had bought for like $30, and when you get about 10 feet out with that one, you can't even really see the laser on it. It was pretty cheap and I had figured I would give it a shot, but now it pretty much collects dust. We usually do our installs the old-school way, with chalk lines and a tape measure, so I was really interested to try out this layout laser.
Out of the box, the laser was easy to use, even without reading the directions. The only thing I did have to read the directions for was to figure out how to take the dang battery cover off. It has a little button on the end of it and I couldn't get it off. I didn't want to break it and wanted to be sure I was doing it right. After two or three minutes I did get it off. It's probably a good thing it's difficult to get out, because if you dropped this you wouldn't want the batteries falling out. Once I got the batteries in, it was easy to turn it on or off.
---
RELATED: Tool Review: Skilsaw 12-Inch Worm Drive Dual Bevel Sliding Miter Saw
---
We used the laser to mark our straight takeoff lines and also to move our lines from one section to another, like going around doorways. On one of the installs, we had a checkerboard pattern that was about 30 feet long. The company says the laser goes up to 65 feet indoors, and we never tested it that far, but on our 30-foot job it did shine all the way from one end to the other and really helped us make sure we were straight. The company says it's accurate to within 0.4 mm, and we found it was very accurate. It was also bright enough to see easily, even on a job where we had a lot of direct sunlight beating right through the windows onto the floor where the line was.
Because it has the cross lines and can be mounted on a tripod, this laser would be ideal for pros who do other things besides just flooring, like hanging drywall, installing a dropped ceiling, putting up tile or things like that. If you're using it for that, something that's particularly cool about this laser is that is has a self-leveling feature (plus or minus 3 degrees) and will blink if it gets out of level. I'm definitely going to keep using it for our flooring jobs to make sure our lines are accurate.
Retail price: $129.99
See of video of Angel Olalde discussing the laser: