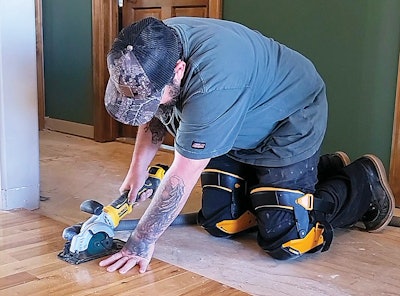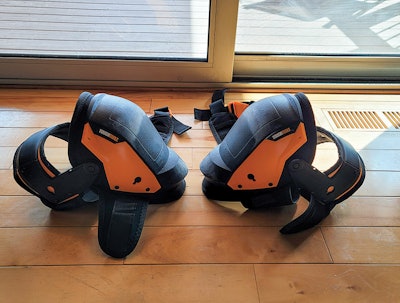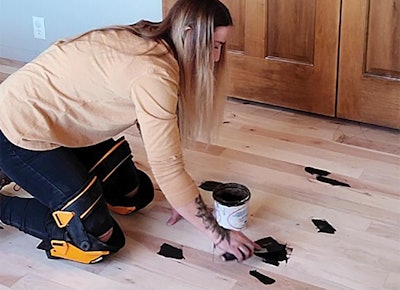 The husband-and-wife team of Joe and Staci Martinez of Phoenician Wood Floors in Sioux Falls, S.D. tried these new knee pads on their wood floor job sites; here's what Staci had to say:
Joe and I both work long hours on wood flooring job sites, so having good knee pads is extremely important for us. We typically use ProKnee knee pads, which we love, but we were interested to try these ToughBuilt GelFit Fanatic knee pads.
Out of the package, Joe's first impression was that they looked bulky and awkward. They have combination elastic/EVA/buckle thigh and calf straps that take a bit of work to get into compared with what we are used to—with my Pro Knees, I just click them on. Joe noted that he doesn't usually have a strap on his thighs when he wears knee pads, and that wasn't necessarily uncomfortable, but it would take some getting used to. Once adjusted, they fit Joe just fine, but I'm smaller—5'2" and about 135 pounds—and I couldn't adjust the thigh strap small enough to fit me so they didn't slide down a little bit.
---
RELATED: Tool Review: Makita LXT Cordless Backpack Dry Vacuum
---
The first impression we both had when we actually used them on a job is that they are kind of wobbly side-to-side; your knee rocks back and forth. Joe said that although they did feel comfortable on his knees, he felt like he had to have one hand planted as he moved around the floor in order to feel stable while wearing them. We both also immediately felt like we were pretty high up off the floor, which obviously isn't ideal for what we do.
First I tried the knee pads as I was moving around on the floor doing some knot-filling, and I felt like I was high up off the floor and a little unstable; I definitely felt like I couldn't make any quick moves without ending up face-first on the floor. I ended up putting one hand down to stabilize my body as I filled the knots. I also tried wearing them while I was edging. With one knee down and one knee up, they felt OK, but having two knees down was too unstable. Joe noted that with the hard plastic on the front, he thought they would be better for doing tearout work where we're on a subfloor instead of a wood floor.
Retail price: $54.99
---
RELATED: Tool Review: DeWalt 12V/20V MAX Compact Task Light
---