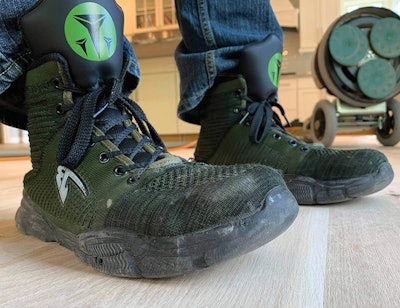 Mark Opperman and Jacob Hickling of Pro Finish Custom Wood Floors LLC in Portland, Mich., tried two pairs of shoes from Indestructible Shoes LLC.

My helper, Jacob Hickling, and I each ordered a pair of shoes to try on wood flooring job sites. I typically work at least 50 hours a week, and lately we've been so busy that I've been working 60 hours or more, so having comfortable shoes to wear on the job is important. Jacob ordered the Hummer Black shoes, which are sort of a black loafer/tennis shoe, and I ordered the J3s, which are high tops. When we opened the boxes, the shoes stunk like a terrible VOC smell. After airing them out, Jacob wore his shoes for a couple days and didn't like them, so he gave them to me. I wore them for a few days and stopped wearing them, too. They are comfortable and flexible but there's no support to them, so after walking on hardwood and doing stairs all day, my feet hurt, and the shoes seemed to slip on my heel. I felt like I was wearing slippers.
My high top shoes, on the other hand, I like a lot. I've been wearing them basically every day since I got them two months ago. There's a little bit more structure to the whole shoe because it's a high top, and the sole is a little better. They don't have a shank—if you were a framer or roofer climbing on a ladder, your feet would hurt—but walking around on hardwood, they are pretty darn comfortable and required no break-in time. Both shoes have a metal toe. Some steel-toed boots or shoes can dig into your feet sometimes, but I didn't notice that with either of these pairs of shoes.
---
RELATED: Tool Review: Skilsaw 12-Inch Worm Drive Dual Bevel Sliding Miter Saw
---
Usually when I'm working I wear my Red Wings or Irish Setter leather work boots for installing and running shoes for sanding. I've found that with these shoes, I don't need to switch between my heavy leather work boots and my running shoes. They have enough support for the installation work, but they are also flexible and comfortable enough for sanding, even when you're bending down edging and palm sanding. They are breathable enough to wear all day. The soles don't seem like rubber; they're more like some softer compound (the advertising says they are Kevlar, and it makes them appear to be puncture-proof, but I found they were NOT puncture-proof). They don't have much tread on them, but you don't slip because the soles are soft enough that you grip the floor. They haven't left any marks on the wood floors, and because they don't have much tread, I noticed they don't track in dirt and debris like my boots do.
Are these shoes "indestructible?" That's all marketing. I'd be surprised if I get five months out of them before the sole is completely worn off (the minimal tread they had is already worn off). But at only $79 a pair, they're cheap enough that I plan to buy two or three pairs and continue wearing them on my job sites.

Website price: $79 (get 20% off with discount code "AMAZINGINDESTRUCTIBLE" at wfbmag.co/shoes20)