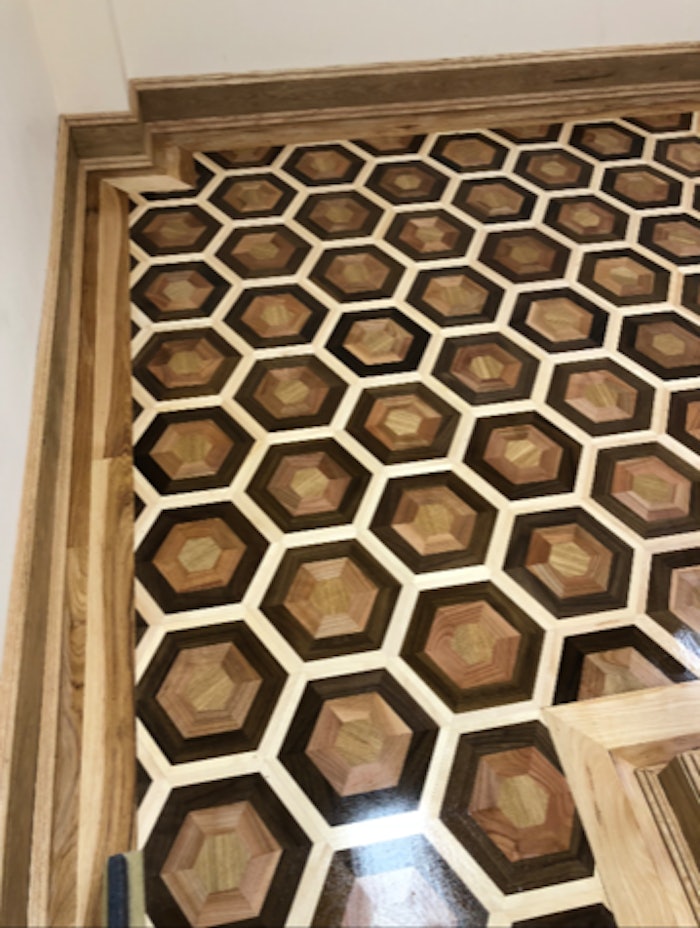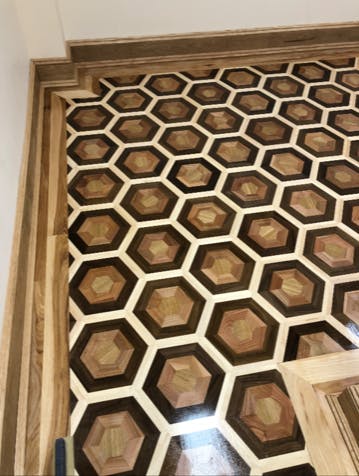 Maynor Herrera of Jersey City, N.J.-based Conquer Hardwood Floors takes pride in his custom wood flooring work, so when the owner of a bee farm came in search of something unique, the opportunity was as sweet as, well, honey.
"He wanted a honeycomb pattern, but he didn't think it was possible," Herrera says of the client, who was renovating his office. "A lot of flooring companies were trying to tell him that it didn't exist."
Referred for the project by his supplier, Linden, N.J.-based PC Hardwood Floors, Herrera grabbed a pen and began sketching some ideas with the client.
"I told him the kinds of species we could use, and he was blown away," Herrera recalls.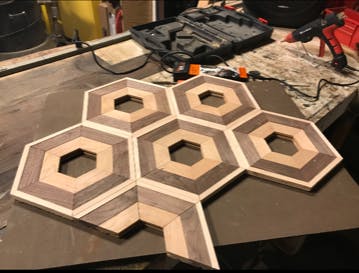 With the plans on paper, Herrera and his crew set to making the hexagon "honeycombs"—all 250 of them—by hand.
The combs are made of four species, starting with a maple border, followed by American walnut, American cherry, and quartersawn oak in the center. Conquer Hardwood cut all the pieces for the parquet with a miter saw and glued them together with carpenter's glue.
"It took us a while," Herrera laughs.
Five months later, with all the pieces ready, the crew packed up the 250 honeycombs and headed to the job site, where they squared-off the 250-square-foot room, which had an existing oak frame. Having mapped out exactly how the combs would fit together, they began the installation in the center of the room, using Bostik's Best adhesive over the plywood subfloor.
The crew worked in 4-foot-by-4-foot sections at a time, and when all the combs were down, they sanded with 60-, 80- and 100-grit before buffing with 120-grit and 150-grit screens.
When they were finished sanding, they gave the floor seven coats of Bona HD Satin Finish.
"Overkill, but the customer really wanted it to last," Herrera says of the number of coats.
Including some time dedicated to making custom moldings requested by the client, the honeycomb parquet installation took seven days to complete.
"I am an artist and I [consider] flooring as an art," Herrera says of the final result. "I like to always take it up a notch in everything I do."
The mentality is working out well for Herrera, whose business is as busy as, well, a bee.
"Everything is word-of-mouth referrals," he says. "And we're busy every single day."
Suppliers:
Adhesive: Bostik | Abrasives: 3M | Finish: Bona | Sander: Lagler