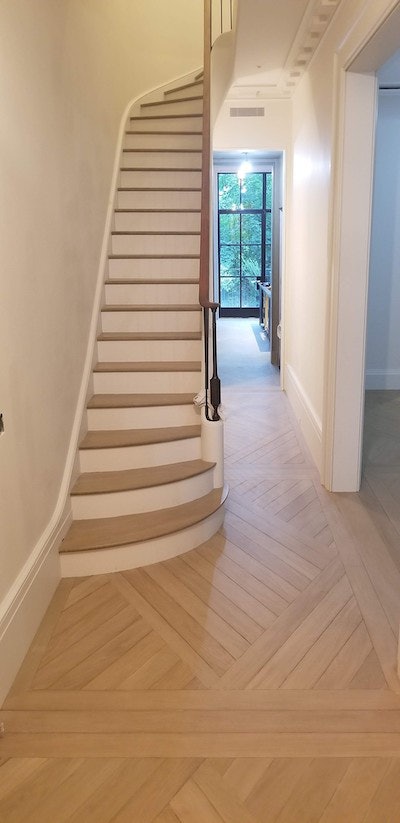 Based in the Big Apple, Eric Herman of State of the Art Wood Floor Gallery made his mark handling ultra-high-end wood flooring projects often located 70 stories above the bustling New York City streets. But every once in a while it's nice to get a break from dealing with elevators, as was the case with this private townhouse in a historic section of Greenwich Village.
"We were able to get boards as long as 15 feet in without worrying about elevator access," Herman says.
The complex project, located on Perry Street just a few doors down from the apartment the character Carrie Bradshaw used in HBO's Sex in the City, was managed by a GC Herman has worked with for roughly 15 years. After tweaking the architect's elaborate design slightly to make it more functional, Herman ordered the random-length prefinished American oak. When it came for delivery, although the elevator issue was absent in this project, a different New York City headache remained—no parking.

"We double-parked, and we had eight guys grabbing it off the truck as fast as they could," Herman laughs, adding that they delivered the flooring after business hours so the road was less hectic. "Then we stacked it on the street, got the truck out of there and brought it into the house."
Once inside, Herman and his team cut the prefinished flooring using a miter saw, careful to maximize the yield of each board.
"We cut them all to create what I call parallelograms, all these different quadrants or sectors," Herman says of the floor pattern. "It was just a slow, organized, arduous task to precut everything as we did in the field, especially when the floor came in random lengths."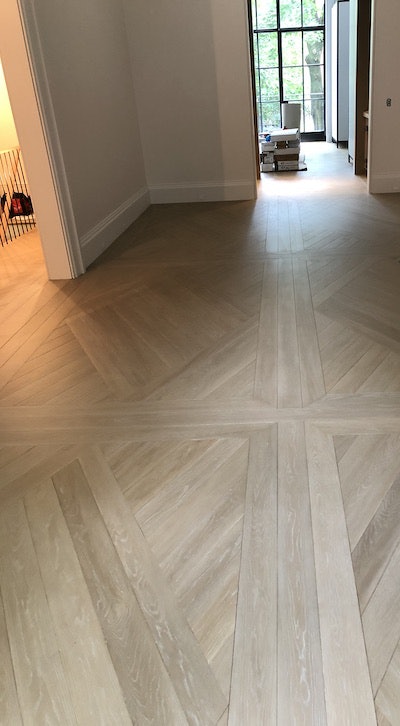 The 2,700-square-foot project was five floors, with the intersecting parallelogram pattern featured on the main floor, which was 1,100 square feet. The boards were nailed and glued over the house's ¾-inch plywood substrate.
No shortage of mathematics was required throughout the intricate installation, as the same design in the wide living room and kitchen areas was downsized to fit the 4-foot-wide hallway by the staircase, a feat Herman gives praise to his crew for accomplishing. "I tip my hat to them," he says.
After installation was completed, the team buffed the floor and applied a coat of Bona Naturale for extra protection, Herman says.
---
RELATED: Wood Floor of the Week: Tom Ourada's Own Elaborate Hallway
---
While being on street-level for a job was a bit of an anomaly for State of the Art, the magnitude of the six-week-long project was par for the course for the company. Herman says the detailed, uber-high-end projects he handles gives him an advantage not many working in the City That Never Sleeps have—time.
"It really allows us to do the right job," Herman says. "These projects are not solely focused on getting in and getting out. I marry myself to these projects."
Suppliers:
Abrasives: 3M | Adhesive: Bostik | Buffer: American Sanders | Finish: Bona | Moisture Meter: Lignomat | Nailer: Howard | Router: Bosch | Saws: DeWalt, Festool | Wood Flooring: The Hudson Company