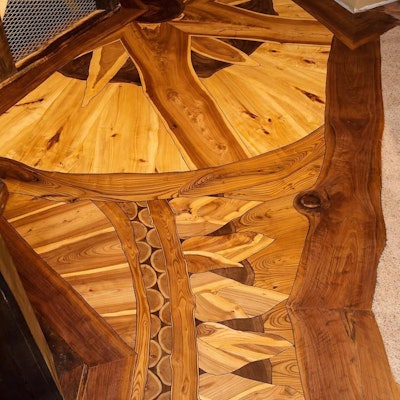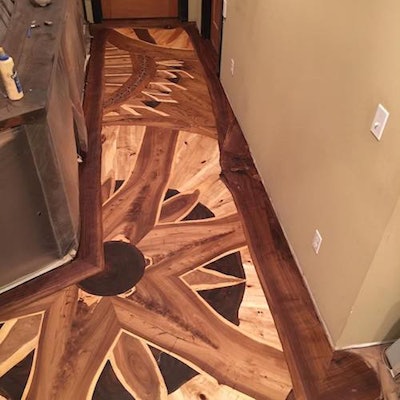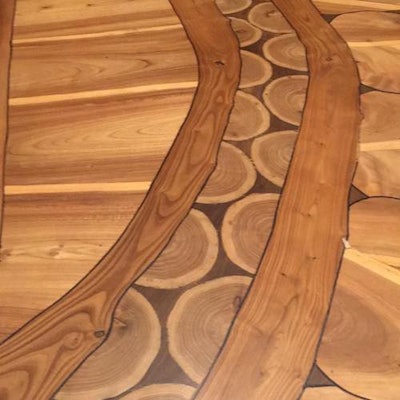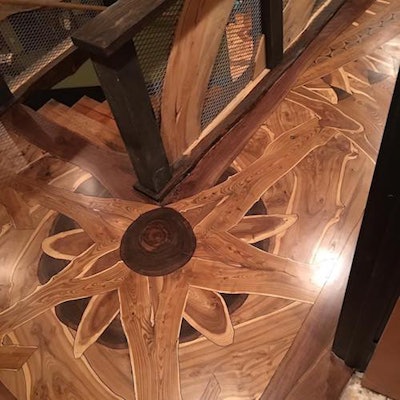 When Tom Ourada of Nine Mile Falls, Wash.-based Ourada Designs begins a wood flooring project, he always tries to find a personal angle as a starting point.
With his widely celebrated 2014 wildlife wood floor project, for instance, he created a deer inlay after learning the homeowner was an avid outdoorsman and hunter whose personal "white whale" was Moses, an elusive buck.
"I try to get a feel for the personality of the person," Ourada says of clients.
This elaborate multi-species hallway was no exception. The difference was that this time it was Ourada's family creating the inspiration for his own floor.
"There's definitely a family theme," he says of the floor. "It's my home, so it's a part of me."
The personal design began with the material, much of which Ourada gathered from areas throughout Washington over a span of two years. The Russian olive and walnut were harvested from felled trees near Lake Chelan State Park; the black walnut was purchased from a local tree farmer; the Japanese elm caught his eye while he was out driving one day, leading him to knock on the front door and purchase it from the 80-year-old landowner, who chops logs to stay young. Ourada also intertwined maple and poplar in the floor.
"It gives me a reason to meet people that I would never come across otherwise," Ourada says of his unconventional method for gathering wood in his home state. "And I hate to see stuff go to waste."
With all his material collected, the beginning of the hallway project involved substantial time on his knees with the jigsaw, Ourada says. An unabashed fan of circles, he created four radiating patterns in the floor, working outward from the center of the circles and choosing different species combinations to make them "pop."
When the circles were assembled and tacked down, he worked on connecting each of them, once again using the varying species to guide the flow of the design.
Packed into just 200 square feet of space, the wood floor's design says a lot about his family—each of the four radiating patterns represents a different member (him, his wife and his two children). He chose a poplar center for his son, who he says has a sensitive side.
"He's funny, he's smart, he's all these things, and he's got this really soft side, and I thought, hey, poplar would be perfect for him" due to the species' soft nature, Ourada says. "He's got this inner soft poplar part of him."
Ourada also created tulip shapes within a section of the floor, an homage to his mother's favorite flower.
Ourada uses his own mill to process his wood, with thicknesses varying from 5/8 inch, 1 ¼ inch and 1 ½ inch. During the cutting process for the hallway project, he had to cut the curved pieces extra thick in order to keep them from "washboarding" when drying in the kiln. So, after the whole floor was in place and tacked down, he went back to the thicker curved pieces and hand-planed them to the right height. He laminated pieces thinner than 1 inch thick with plywood.
"There's a point where after I've done like seven trips back to cut that I say, 'OK, that's enough, it's close enough,'" he chuckles of his cutting process.
Once he had everything relatively even, he used Bostik GreenForce adhesive to glue the floor down one small section at a time.
"If you pull all the pieces out, they just don't go back the same way," he says, a lesson he learned the hard way in earlier projects.
The next challenge was juggling the numerous different species during the sanding.
"Having multi-species, the hard stuff doesn't go down as fast," Ourada says. "So the poplar was really difficult, because it's super soft and I've got the Japanese elm right next to it. So you just can't do it conventional."
He used a Clarke Super 7R edger for the entire floor, beginning with 16-grit and ending at 150-grit. He then buffed it with a HydraSand.
---
RELATED: The Wow Factor: Winning Floor Inspires Stunning Wildlife Floor
---
"Every time I'm doing another floor I'm trying to learn how to do something better," he says. "So this floor is actually one of the flattest floors I've done."
Ourada applied three coats of Glitsa Max satin finish to complete the floor. The project, worked on during the evening hours, took four months to wrap up, says Ourada, who notes that it likely would have taken about one month if he'd been able to focus on it full-time. Still, he found having the ability to step away from the project was beneficial.
"Instead of being so close to it, you can come back and look at it with fresh eyes," he says.
Two years later, Ourada says he still loves waking up to the floor.
"Every morning I look at it, and there's always something that pulls me through," he says, noting the importance of the "flow" in wood flooring designs. There are a million ways to design a wood floor, and it can be overwhelming at times, Ourada says. But ultimately, it all comes down to the room and the flow.
"And if you can get something about the person in there too, it's even better," he adds.
Suppliers:
Adhesive: Bostik | Abrasives: 3M | Edger: American Sanders | Finish: Glitsa