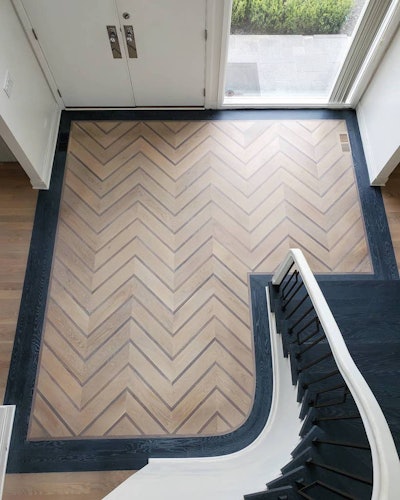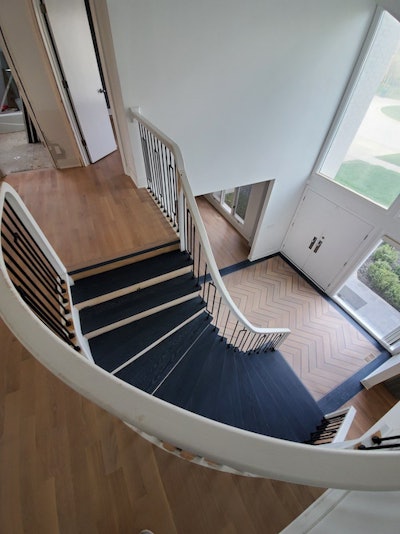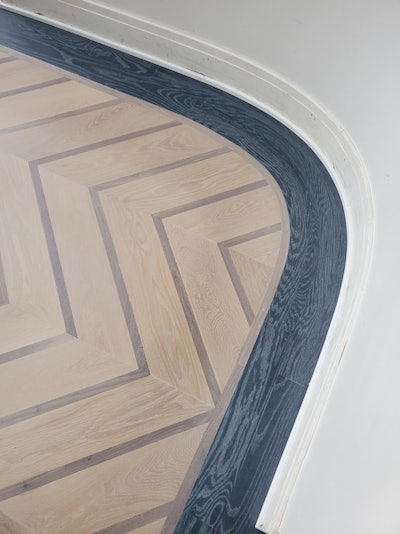 The homeowners planned to turn their entire home into "one huge piece of art," complete with decorative furniture and elaborate wallpaper, says Matthew Szyszka of Chicago-based FloorMaster US Company. So when they switched gears at the last minute and asked Szyszka to install "something cool" in the 110-square-foot foyer, Szyszka wanted to make sure the wood floor would hold its own among the elaborate decor in store for the home.
"I came back to my garage, scratching my head—I wanted to do something special," Szyszka says. "I thought, 'The floor needs to pop out among all those things.'" Szyszka spent half a night sketching out ideas and landed on a white oak chevron with a walnut combination for the space. He started off his pitch the next day by showing the clients a plain chevron, which they liked; then he said "Hold on," and busted out the walnut factor, and the homeowners were ecstatic. The rest of the house would feature regular 3¼-inch white oak to replace 1,000 square feet of ceramic tile.
Szyszka's supplier told him the chevron white oak boards and 1-inch-wide walnut strips would require a two- to four-week wait time. "I was like, 'No way,'" Szyszka says. He took some available 5-inch white oak and 2¼-inch walnut boards and milled them himself using a miter saw, table saw and router.
"Pretty simple, but a lot of cutting," he laughs. "Every single piece went through my hands."
With the tile removed during a grueling demo, the foyer thoroughly measured and the flooring cut, Szyszka and his crew began installing the field of walnut and white oak with glue and nails. Once the field was installed, they cut in the walnut and white oak border using a track saw for the straight lines and a router for a radius near the staircase. For the radius border, Szyszka cut ¼-inch boards, glued them together and clamped them overnight. "I really wanted the grain to match because of the ceruse," he says. "It was fun."
They sanded the floor with 80-, 100-, 120-grit, then treated the border and stair treads with a black pre-color. They wrapped up the floor and stairs with a coat of hardwax oil.
---
RELATED: Wood Floor of the Week: New Alabama Mansion Gets 150-Year-Old Chevron Floor
---
"The cool thing is that the grain color in the floor, border and stairs all match," Szyszka says. "It gives that a nice transition, nice flow." Szyszka and his team also upgraded all the baseboards in the home and installed the staircase's spindles.
When the foyer was completed, Szyszka walked away knowing he'd created a floor worthy of a home focused on art.
"It's gonna be beautiful," he says.
Suppliers:
Adhesive: Wakol | Big machine, Buffer, Edger: Lägler North America | Finish: Rubio Monocoat | White oak flooring: Graf Custom Hardwood