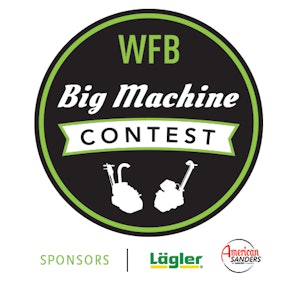 The deadline to enter the WFB Big Machine Contest is Friday, Oct. 15 at noon CDT.
The inaugural contest is a chance to show off your unique big machine for a chance to win big prizes from contest sponsors American Sanders and Lägler North America.
The big machine contest categories include:
Best customized: Whether it's got stickers or spray paint, flames or flowers, we want to see how you made your big machine yours.
Nastiest: Show off your nasty, splattered, banged-up big machine that runs on dirt and grime and yet—perhaps miraculously—still runs.
Oldest machine: Dust off your big machine dinosaurs—the older the better for this antique-big-machine category.
Heritage machine: This category is for the big machines that have stayed in the family—the ones passed down for generations and feel like part of the family themselves.
Prizes include: 
American Sanders will give away a Compass Stair Edger to the winner in each of the four Big Machine Contest categories.
Lägler North America will award one HUMMEL and three $300 product credit vouchers, plus swag bags for each of the winners.
To enter:
To enter your big machine, click here.
The rules are:
The WFB Big Machine Contest is free and open to all wood flooring professionals. Winners will be featured in the December/January issue and will have a chance to win prizes from contest sponsors Lägler North America and American Sanders.
Contestants must submit at least one image per entry and may submit up to three images per entry. The images must be high-resolution. Sending links to videos is encouraged.
Entries must be submitted online by noon CDT on Oct. 15. Entrants grant Wood Floor Business the right to use the photos in the magazine, online, and in promotions related to the contest.