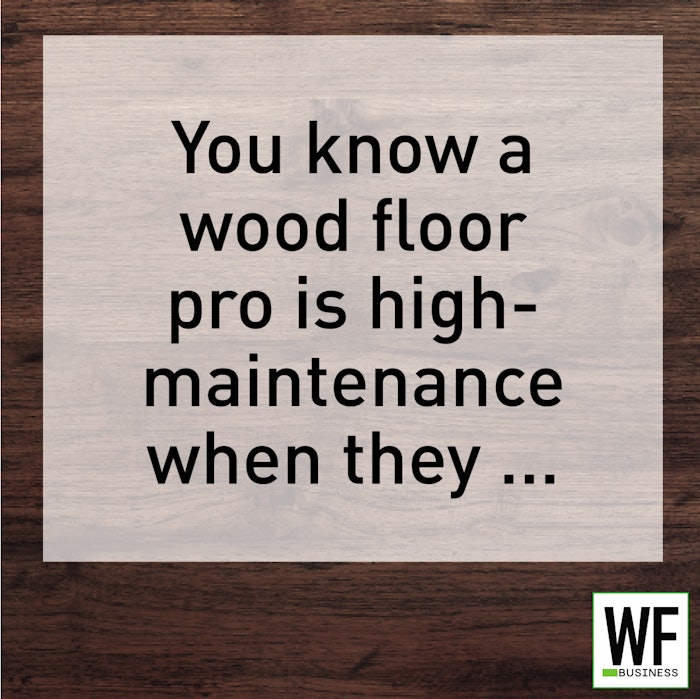 WFB asked followers on Facebook and Instagram to share the signs that a wood floor pro is "high maintenance." Here's what they said:
Clint Fudge
Expect pole position on any job site they pull their truck into.
Matt Garcia
Won't let clients choose flooring options that aren't stylish enough for them.
Joshua Wheeler
Buys new stain instead of mixing up whatever is in the back of the van.
Luke Biello
Want heat, electricity, and running water on every job site.
Jim Hyde
Walk off a job if there is a pile of $hit in the work area. I wouldn't call it high maintenance, though, just low tolerance for stupidity.
Anthony Boccia
Won't borrow a drum sander because they don't want to put the paper on.
Chuck Bailey
When they say they don't work weekends.
Benny Powell
Drive a convertible sports car, rather than a work van!!
Ken Hoffman
Require the toilet paper roll to be resupplied before the job is over.
Kenneth Varnes
I charge for estimates.
Donnansteve Ray
Say they are booked for 6–8 months!
Eric Nylin
Uses big words like "theorem" and "hypotenuse" when telling employees to square a room.
William Covington
Seldom seen on Facebook.
Josh Hansman
Wears a scarf.
Dan Portu
"This is good!! But I'm going to need you to be out of here by 9 a.m." (Talking to the other trades.)
MyKall Son
Uses three different grits on the Hydrasand.
Jordan Hall
Changes belts every 50 square feet.
T.J. Haas
(Literally anything I do.)
limitless_hardwood_co
Working their way up grits, and do two passes with 120-grit on different plates/paper mineral, just for that extra security.
bbflooringinc
A solid amount of Festool equipment...
habitatfloors
Ask other contractors if they "use two-component finish for all the build up coats, or just the final coat?"
mrboards
They will give you an ongoing strict program to look after your floor once they have completed their work.
soulbrotha09
Will cry if they don't have the Flip corner attachment for AO.
robjohnson9663
Six different T-bars. Heavy medium light—12-inch and 18-inch.
franjana147
The guy that wants to measure the room twice so he can figure out his backcut to make sure his last board is a full board.
gliebhard
When they have their helper vacuum off their vacuum hoses.
woodyshardwoodflooring
…Complains about every job that it's not going to turn out perfect before he starts (but ends up perfect every time).
Karla Contreras
Charge what you're worth, not what they can afford.
Beaver Hardwood
When all of the panels on their vehicle match. And wheels.