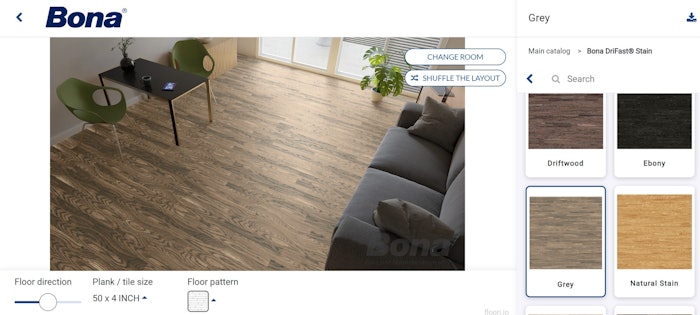 Bona launched the Bona Floor Visualizer, which allows users to choose from the company's different coloration products to see how they would look in uploaded photos of existing spaces.
The visualizer also offers customizable room spaces, where plank sizes can be adjusted from 2.25 inches to 4 inches, floor direction can be changed and floor patterns can be changed to herringbone, chevron, basket and more.
"The visualizer also facilitates narrowing down a color selection, helping to expedite the decision process ultimately making floor renovation projects easier," the company stated.
The visualizer uses property machine learning and AI algorithms that are five years in the making; the visualizer has been trained on hundreds of thousands of room scenes, the company adds. It can also function on any device without an app.
Bona coloration products include the Bona DriFast Stain Collection, Bona Craft Oil 2K and Bona Waterborne Sealers.