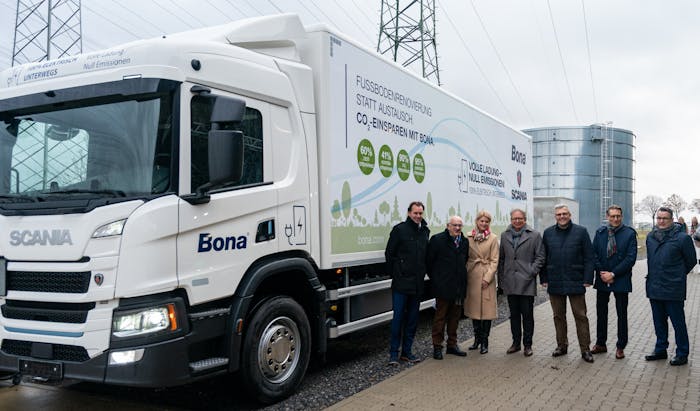 Business Wire
Bona (Malmö, Sweden) introduced its first electric truck at its facility in Limburg, Germany.
The battery-electric truck, produced by Scania, a Swedish manufacturer, will be an emission-free transport system for shuttling products from the production facility to a distribution center. The truck is also the first of its kind to be operated in Germany, according to the company.
"Bona is committed to incorporating and pursuing sustainable products, systems, and practices throughout the company, and the new Scania electric truck is an important milestone in our journey to a greener future," stated Dr. Thomas Brokamp, managing director, Bona Germany.
The Scania P series truck can hold 21 euro pallets in its loading area and travels up to 230 kW (312 hp) rated engine power, "which is enough power to move the three-axle truck's permissible weight of 26 tons with ease," the company added.
Under optimal conditions, the truck's batteries are designed for a range of up to 110 kilometers (68.3 miles), and 70 to 90 kilometers (43.4 to 55.9 miles) can be expected for typical driving conditions.
"For Bona's use in the city of Limburg, which will average approximately 50 kilometers per day, the power is completely sufficient for the planned operating profile," the company stated.