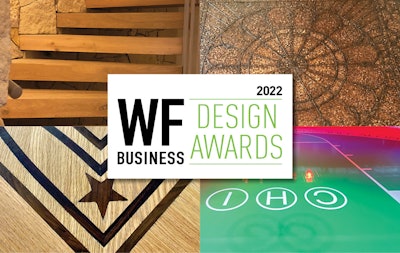 The deadline to enter your favorite wood floor project from 2021 to the WFB Design Awards is Tuesday, Feb. 1, at 5 p.m. CDT.
The annual contest is free to enter and open to the entire wood flooring industry, including companies outside the U.S.
The contest recognizes floors in six categories, including:
Best Residential Floor: wood floors, finished on-site or prefinished, installed in a residence.
Best Commercial Floor: wood floors, finished on-site or prefinished, installed in a commercial building.
Best Gymnasium Floor: wood floors installed inside gymnasiums.
Best Stairs: stairs that feature wood as the main material.
Next Generation: the best wood floor project by a company owned by someone age 35 or under.
Readers' Choice: the readers of Wood Floor Business will vote for their favorite floor online.
To begin your submission, go here.
The rules are:
The Wood Floor Business Design Awards is free and open to all wood flooring professionals. Winners will be featured in the magazine, and one of the winners will receive a Visa gift card worth $500.
Floors entered into the contest must have been installed between February 1, 2021, and January 31, 2022.
Each company may enter up to two floors per category. Contestants must fill out an online entry form for each submission.
Contestants must submit at least one image per entry and may submit up to three images per entry. The images must be high-resolution. Images that include logos or that have been digitally altered in any way will not be accepted.
Entries must be submitted online by 5 p.m. Central time on Feb. 1, 2022. Entrants grant Wood Floor Business the right to use the photos in the magazine, online, and in promotions related to the contest.
All awards except the Readers' Choice will be selected by a panel of wood flooring professionals.
View the 2021 Design Award winners here.