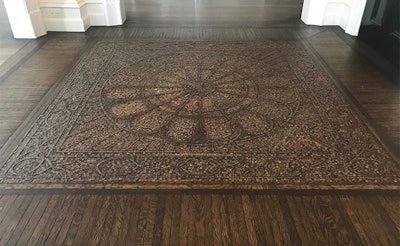 SPONSORED BY:
Perseverance. It's a quality exhibited by every great wood floor pro, and given the tumultuous past year, it's perhaps never
been more relevant or meant so much. Each year WFB honors the best wood floors around the world with the Design Awards, but never before have such projects been accomplished in a time of such uncertainty. All of the winners featured this year exhibit mastery not only in their craft, but in persisting through the unexpected.
We're honored to be able to showcase that perseverance with awards for Best Residential, Best Commercial, Best Stairs, Best Gym, Readers' Choice and Next Gen (for companies owned by someone 35 or younger).
Congratulations to all of the winners (chosen by an independent panel of wood flooring experts and, for Readers' Choice, via an online survey). Prizes include a $500 Visa gift card and a prize package from this year's Design Awards sponsor, Bostik.
Thanks to all who submitted to the 2021 Design Awards and to those who continue to uplift the industry with their perseverance in the craft. We want to hear from you again next year—to enter our 2022 contest, which is open to all wood flooring professionals, go to wfbmag.co/da22enter. To see this year's winners, scroll down.
---
Best Commercial + Readers' Choice
Craftsman Hardwood Flooring | San Angelo, Texas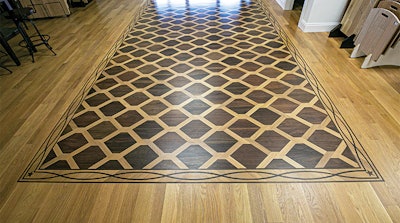 Matthew Garcia is a third-generation wood flooring pro, but when he moved from his native California to west Texas five years ago, he had to restart on his own, forming Craftsman Hardwood Flooring. By 2020 he decided it was time to open his own showroom, and one thing was certain: It had to have a wow factor that would showcase his company's capabilities.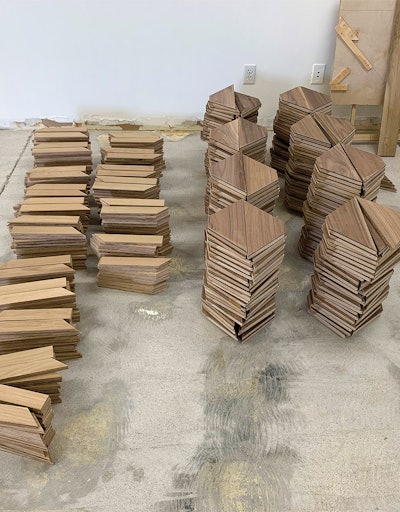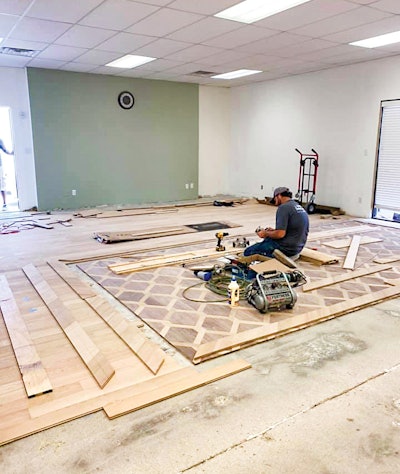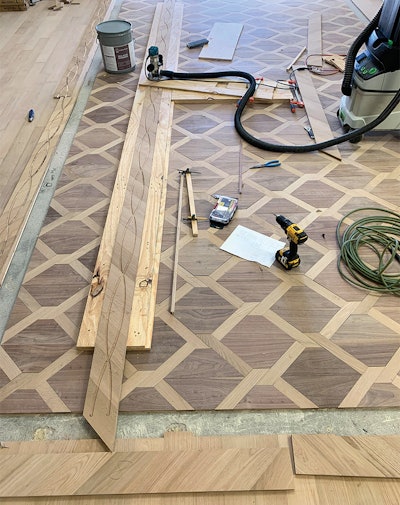 "I wanted to do something that wasn't commonly seen; to really kind of push the limits on my abilities and something that people would enjoy seeing," he says.
As he was mulling ideas, his brother sent him a picture of an uncommon parquet pattern that got him thinking. "I had never seen that pattern in mixed species ... I was like, 'It is just begging to have a contrasting weave pattern with those diamond shapes.'"
Garcia chose unfinished engineered walnut and white oak for the parquet and border. He knew how to tackle cutting the parquet using table saw sleds, but when it came to the border, he was unsure how to go about creating the double helix he envisioned. He posted a drawing on a wood flooring Facebook group, and wood flooring guru Lenny Hall of Endurance Floor Company in Miami reached out to him. "We basically did kind of a virtual training. He laid out all the steps I had to take to make it happen," Garcia says. "I felt really honored that he would take the time to walk me through the whole process … he saved me a decade's worth of trial and error."
The key piece was a jig that allows the router to cut the groove on an arc, with each increment ending at the right spot. A critical factor was adjustability—if the jig became a fraction of an inch off, it could be loosened and tightened back up instead of Garcia having to make it all over again. "That really was a key to pulling it off without pulling all my hair out," he says.
Adding to the complexity, the white oak background of the border is on a 45-degree angle; at the midpoint of each side the angle flips to the other direction so each corner aligns perfectly. He built the border sections by cutting the 4-inch plank on a 45-degree angle. Then he glued the tongue and grooves, laying them upside down into his router jig template to keep them straight and fastening them together from the bottom using a nailer to hold them tightly together; that way he could immediately remove them from the jig to start another section.
Once the parquet center was glued, Garcia cut the perimeter with his track saw and installed the surrounding plank flooring. Next, Garcia used his router jig to cut the double helix pattern into each border section, then cut the surrounding field with his track saw so he could insert the border sections. With those installed, Garcia used his router on the track to cut the space for a feature strip to outline each side of the border.
The walnut helix pieces had to be bent. "When I was making adjustments with my router jig, I was using plywood as test pieces until it was fully dialed in to cut a ½-inch-wide-by-¼-inch-deep groove border, and I set the depth of the cut on the test plywood to cut all the way through to make forms to bend the walnut," he explains. Then he cut the walnut into ½-inch-wide-by-¼-inch-thick pieces, soaked them overnight in water, and clamped them into the form to dry overnight and set. In total, he bent 77.
In the corners he added walnut stars as a nod to the Lone Star State, cutting perfect stars using a star router template. He hand-cut the corners into sharp points using a combination of chisels, a utility knife and an oscillating multi-tool.
With the arduous installation complete, Garcia dove deeper into the complexity with the coating process. "I really wanted the white oak to have a subtle cerused look and the walnut to have a deep color contrast," he says. "I coated the whole floor with Bona Craft Oil Air. This gave the white oak a subtle cerused look that I was going for, but it made the walnut have a milky look to it." He decided to tape off the white oak and use Bona Craft Oil Charcoal as the second coat on the walnut to give it a dark ceruse and deepen the color. "I thought it would take me four hours to tape it off ... nope, it took about 13 painstaking hours to tape," he says. "I was deeply regretting the process after hour nine, but when I got it oiled with that deep color and pulled the tape, all regrets didn't matter anymore; it was more stunning than I had imagined!"
Both the Design Awards judges and Garcia's wood flooring peers agreed, delivering the culmination of his hard work both the Best Commercial and the Readers' Choice awards. And it also delivers on his ultimate goal of showcasing his skills to customers the moment they walk in the door.—K.M.W.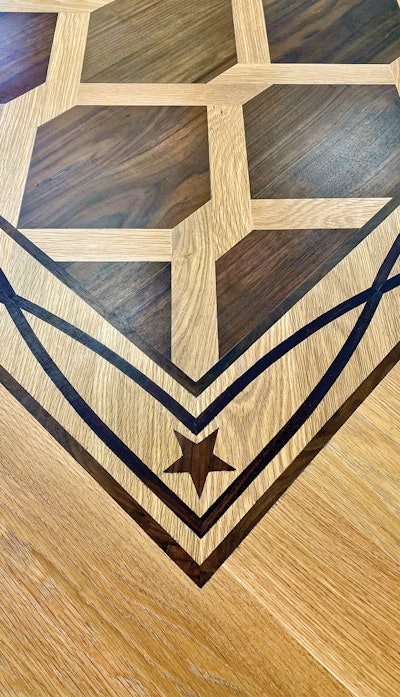 Suppliers: Advertisers appear in bold. Abrasive: Bona US, Norton Abrasives |Adhesive: Real Wood | Dust containment: Bona US, Festool | Finish, Sanding equipment: Bona US | White oak flooring: Teckton | Walnut flooring: Graf Custom Hardwood | Distributor: The Master's Craft
---
Best Stairs (TIE)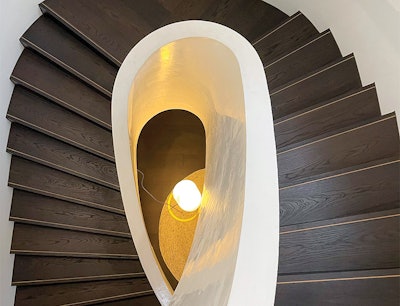 Scribed Flooring | Brisbane, Australia
Just as the sun rises over Cape May in New South Wales and sets over Steep Point in Western Australia, another certainty on that island continent is that Scribed Flooring will be working on some out-of-the-box "timber" stairs. For this winning entry, the company actually tackled two sets of stairs in the same home: one sinuous ribbon and one that goes straight down but then splays out after the landing—and includes a glass wall.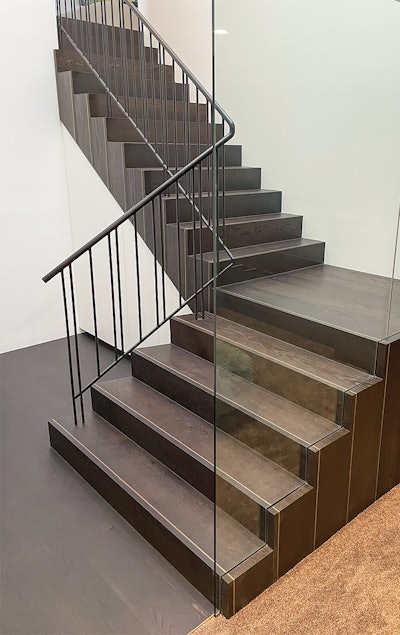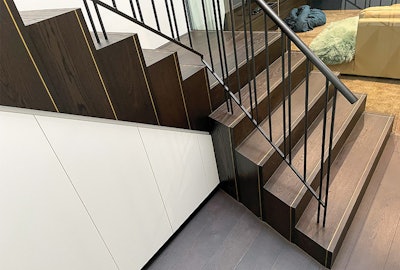 When Scribed Flooring's Greg Ceglarski met with the homeowner, the skeletons of the stairs were in place, but that was all. "They were just concrete; he had no clue what to do with them," Ceglarski says. "He just knew he wanted timber." Ceglarski showed him treads they had done with metal inlays, and the homeowner said he liked brass, so that design decision was made. For the straight stairs, the homeowner was considering a glass wall. "The idea popped in my head: What if we do it so it looks like the timber is going through the other side and make fake stairs on the other side—so it looks like the glass is sliced through the stairs?" Ceglarski recalls.
With that decided, for the other side of the stairs they chose to do Scribed Flooring's signature "waterfall" stairs, where the same piece of wood used for the tread appears to fold down 90 degrees and continue down the wall. But the widening shape of the stairs below the landing presented an obstacle that Ceglarski's partner, Cairo Chapman, noticed. "She sees different things than I do," Ceglarski says, explaining that because of the shape of the tread, the same piece of wood couldn't simply be cut to "fall over" the edge—there wouldn't be enough wood. So, they had to carefully select pieces of wood that were wider but gave the exact same appearance.
The upstairs ribbon stairs presented their own challenges. Each tread had to be unique, as it had to be scribed on each side to the curved walls. The inside was already polished Venetian plaster, meaning it couldn't be touched up after the stair installation, but the outside was still sheetrock. "You get it close on one side, close on the other, then you can cut it neat to that Venetian plaster—and do that over and over till it's right. It's just tedious," Ceglarski says.
At the bend in the ribbon, the landing presented its own design challenge: How to lay the plank flooring? Should it be straight with the tread below? Or the one above? The solution was a herringbone pattern at an odd angle that marries the two.
Ceglarski says completing such tricky jobs simply wouldn't be possible without the teamwork of himself, Chapman and installer Rodrigo Dias, who handles the majority of the complicated stair installations: "Without the three of us, I'd probably be lucky to do a tenth of what we do. We all love each other and argue and love what we do."—K.M.W.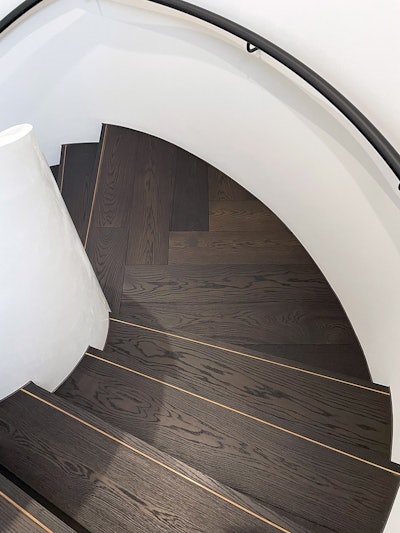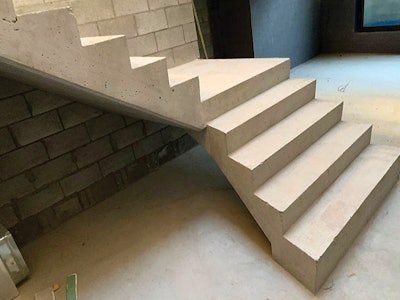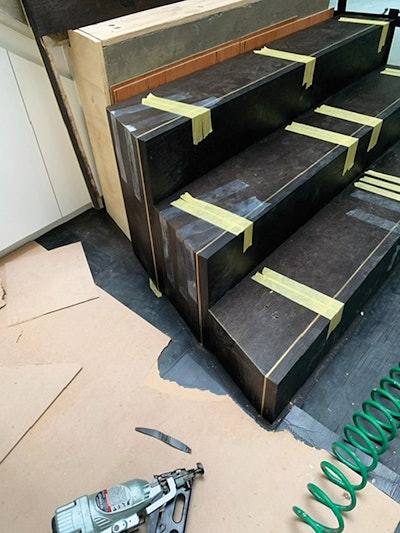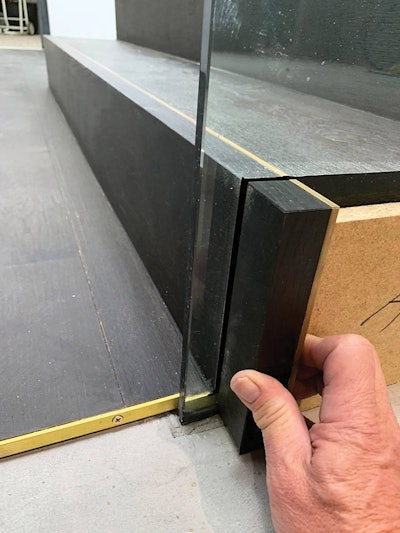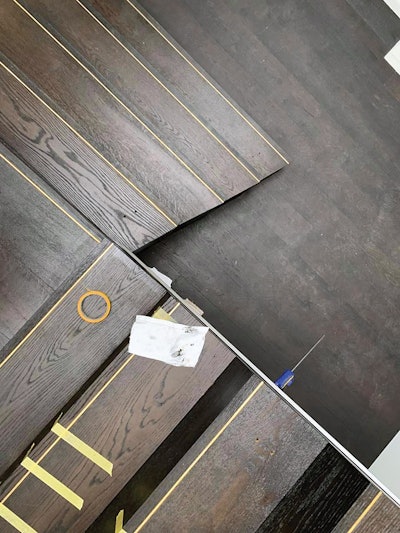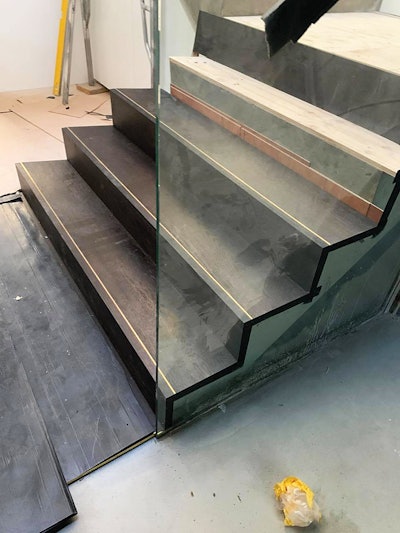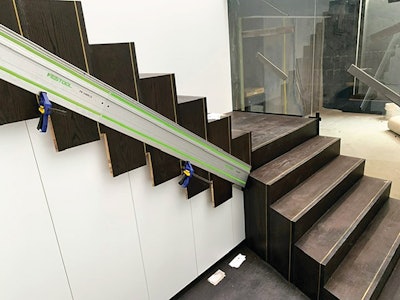 Suppliers: Advertisers appear in bold. Adhesive, Moisture Barrier: MAPEI | Buffer: American Sanders | Finish: WOCA | Moisture meter: Lignomat | Nailer: Primatech, Powernail, Hitachi, Basso | Palm sander, Router: Festool | Saws: Festool, Laguna | Wood flooring: Tongue N Groove
---
Best Stairs (TIE)
Creative Flooring Solutions | Grovedale, Australia
These winning stairs built by Creative Flooring solutions weren't originally intended to done by Creative at all. They are in a new home that was under construction on a rocky outcrop at the southeastern tip of Bellarine Peninsula, overlooking the entrance to the port of Melbourne, and the highly sought-after builder had chosen engineered European white oak plank for the flooring throughout. Initially it was to be unfinished, but when the decision was made to put it on the ceilings, too, "prefinished began to be considered, as it would be much easier, and sanding and staining the ceilings throughout didn't sound like much fun to anyone," says Chris Stringer at Creative. Still, the main staircase that winds around a curved sandstone wall was to be solid flooring stained to match the flooring, but as things progressed, it was decided to wrap the main staircase with the prefinished flooring.
"The builder firstly said leave it with him, and he'd get one of his 22 carpenters that were working on the job to build the staircase," Stringer recalls. All the flooring was delivered to Creative's warehouse, and the builder sent someone over to pick up material to make a "trial step." "It turned out it wasn't one of his carpenters but someone that was referred to him to do the job," Stringer says. "I spoke to him about these steps, because they were all wedge-shaped, and each one was going to be slightly different from the other. He expressed how he would go about the job and headed off with a few boxes to get started on it."
One imagines many wood flooring pros can see where this story is heading. Chris' brother David was managing the flooring job, with subfloor prep and gluing and nailing the 220-mm-wide (8 21/32 inch) plank, when the builder asked if they could take over the complicated stair installation simultaneously with the flooring and two straight staircases. Knowing the work would be considerable, Chris called fellow friend and local pro Joshua Triplett. "I asked him if he was busy and could fit in a small staircase that week," Chris says with a wink.
After meeting on-site to create a plan of attack, Triplett took the flooring to his workshop to cut and profile it. With the profile routed into the boards, they could be tapped and locked together. Then all were taken to the site to be test-fitted for the specific tread. After dry-fitting, each was marked and scribed to fit in around the stone. "It was also important that when the treads were constructed and then scribed, they all still finished at the same length, as the square steel tubing that was to be fixed into the ends drops straight down from the wall above," Stringer explains. The staircase is supported by a steel spine in the wall behind the stone, with a piece of hollow steel welded as the core of the tread. The steel was then supported by 2-by-4 structural pine wrapped in form ply, and the engineered oak flooring was glued to that—no nails or screws were used. "Josh deserves so much credit for what he was able to achieve using the prefinished flooring—and it being last minute, too!" Stringer says.
Between the floors, walls, ceilings and stairs, just under 600 square meters (6,400 square feet) of the prefinished flooring was used in the house, but it's this artfully crafted staircase that steals the show.—K.M.W.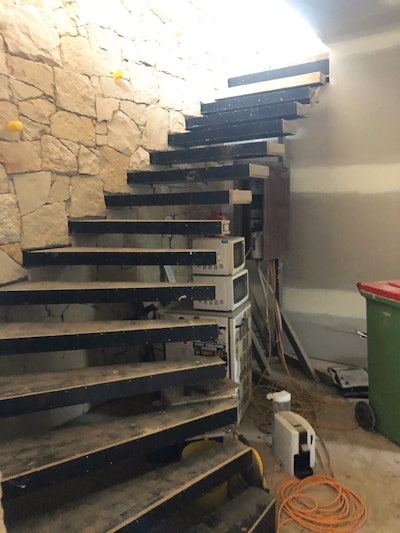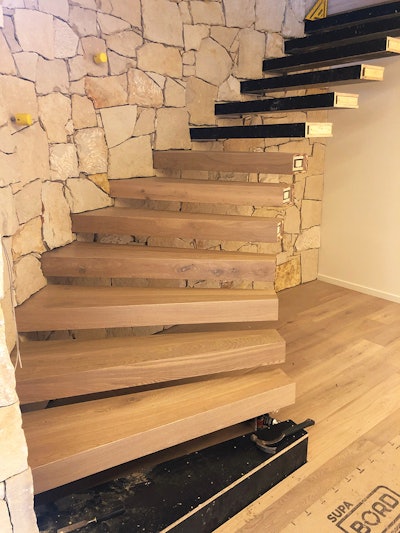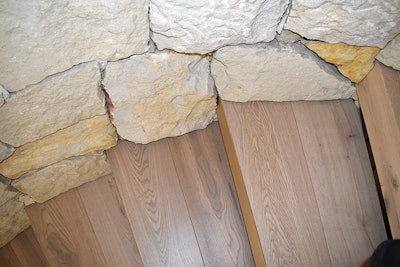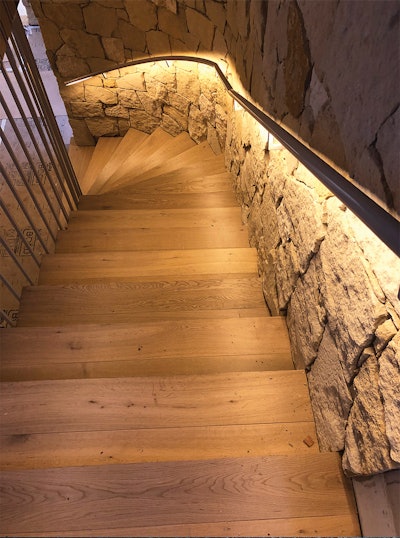 Suppliers: Advertisers appear in bold. Adhesive: Loba-Wakol | Moisture meter: Tramex | Nailer: Powernail | Router, Palm sander, Saws: Festool | Wood flooring: Preference
---
Best Gym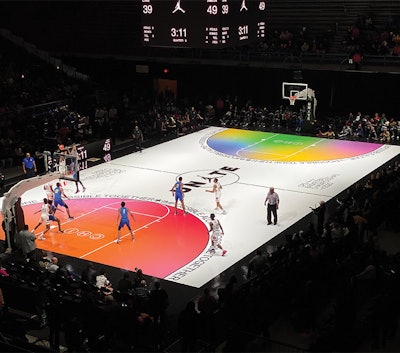 Praters Inc. | Chattanooga, Tenn.
To keep up with the insane designs and demands of gym flooring these days, you've got to be versatile, and for decades, Praters Inc. has proven itself one of the most versatile in the biz—particularly with the introduction of its patented "playon" decals.
The finishable vinyl decals have added "wow" factors to courts across the country, but one of the company's latest full-court wraps—done for Jordan Brand's NBA All Star Weekend court in Chicago—managed to surprise even Praters.
"The lighting effects are what made this one neat," says Mark Frainie, Praters COO. "We didn't know what we were in store for—they didn't let us in on that effect until it was in place and they started doing it."
Before it dazzled under the lights, the wrap design went through several variations, ending up as an homage to Michael Jordan's performance in the 1988 All Star Weekend—the last time the event was held in Chicago.
Praters printed and prepped all of the vinyl for the 7,200-square-foot court at its Chattanooga location. While they make hundreds of decals annually, a full-court wrap usually comes along about once or twice a year.
"We've got tables that are 140 feet long that we coat on in our shop," Frainie says. "We coat them, let them dry, let them cure, and then they roll up and we pack them in tubes or boxes and ship them to Chicago."
The design flexibility decals offer is key, particularly at pop-up events such as this one, where the portable court is rented. "At the end of it, we pull it off and it's a blank court that we can rent to someone else and it can be anything," says Frainie.
Installing the vinyl can be tricky, and Frainie has developed two main rules: stay straight and don't stretch it. "If it doesn't go down straight, you're going to have issues all the way across installation," he says.
As important as speed is in a project like this, attention to detail is even more crucial. "We've got a great team that looks at all the details closely," says Frainie. "It takes the time to make sure that everything is labeled properly and everything is put together in a way that when we arrive on site, we're able to be efficient with what we do."
And in the style of Jordan himself, the resulting floor was a slam dunk—and appeared to be a completely different floor after the lights went on, with different colors reflecting off the gloss finish on the white vinyl. It goes to show how true innovators never stop surprising—even themselves.
"The different lighting effects could change the look of the court throughout the event," Frainie says. "It was pretty cool."—R.K.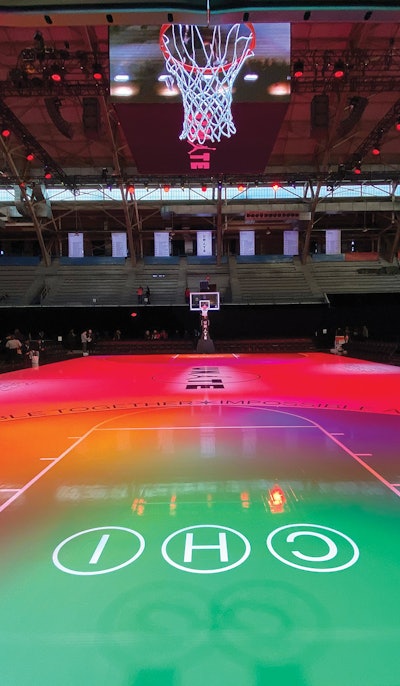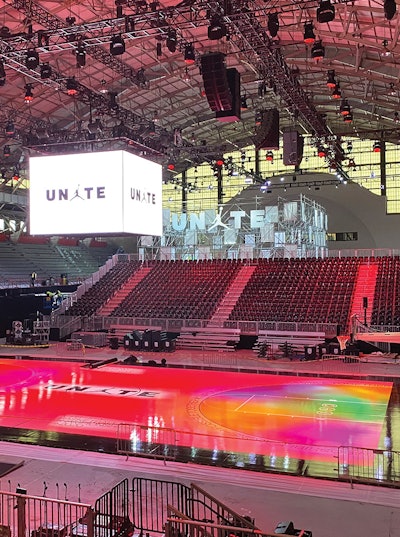 Suppliers: Advertisers appear in bold. Finish: Bona US
---
Best Residential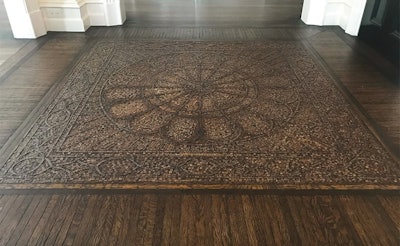 Archetypal Flooring | New York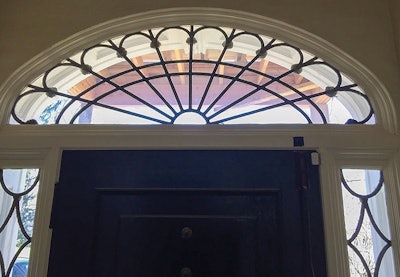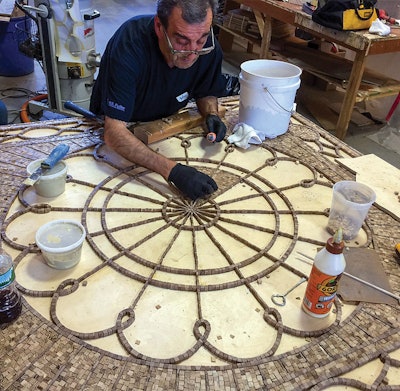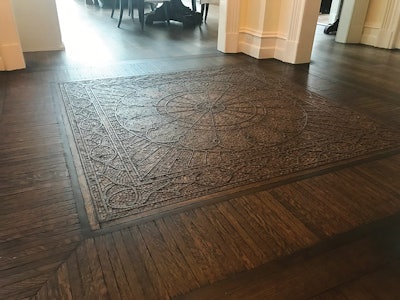 The duo of Avedis Duvenjian and Vartan Arutyunian from Archetypal Flooring hardly need introduction. They're the artistry behind award-winning floors around the globe, including their most famous work, a gigantic mosaic crocodile. Their latest mosaic creation, while less menacing, is also a marvel of wood flooring artistry.
The job began when the homeowner walked into Archetypal's New York City showroom. She had purchased a historic home in Princeton, N.J., and the wood flooring was in dire need of repairs and refinishing. In one area where several areas converge, the flooring was missing. The surrounding styles varied from a new kitchen to the antique parquet. "She said, 'I don't know how to find a solution ... Can you do some kind of medallion?'" Duvenjian recalls. "Vartan said, 'We can mix old world to new world, but I need some element, something you like about this house.'" She showed them windows at a door, and Arutyunian, a fine artist, created sketches.
The homeowner, unaware that Archetypal is renowned for creating complicated effects using many techniques and layers of coatings, was concerned about blending new material into her antique flooring. "She asked, 'Can it look old and match?'" Duvenjian says. "Vartan smiled and said, 'Don't worry.'"
The resulting medallion, comprised of white oak and walnut, was created in Archetypal's shop and took two to three workers about three weeks to complete. They knew they wanted the walnut pieces to be more prominent than the white oak in the final design, but they left all the pieces taller than their final height so they could be hand-scraped on-site. Once installed, the floor was scraped so the pieces have the effect of how natural wear from foot traffic patterns would have appeared over generations.
Surrounding the medallion are soldier rows that create the transition between the spaces. "It's kind of a border that will connect any design together, and they had soldier borders upstairs with their parquet, so with the soldiers we connected not only the first floor to that medallion, but we brought the upstairs to the downstairs," Duvenjian explains.
The flooring was aged with vinegar, and layers of colors of oil finish were applied between scraping and sanding the flooring. The layers being applied and partially removed mimic what would have happened to the existing flooring over years, with darker colors appearing in the cracks and joints. The result is that the new flooring is indistinguishable from the existing flooring.
Archetypal's involvement in this renovation went far beyond the floors, growing into building furniture and a mantel, creating a complicated staircase, using LED oil finishes to adjust the color of custom bookshelves and armoires when they arrived with the wrong color, and much more. Along the way, they built a close relationship with the customer. "It makes it more fun and more interesting for us when we feel the customer understands and appreciates that level of work," Duvenjian says. "For us, it isn't work anymore, it's more enjoyment."—K.M.W.
Suppliers: Advertisers appear in bold. Abrasive: 3M | Adhesive: TEC | Buffer, edger: American Sanders | Finish: Vesting LED | Moisture meter: Tramex | Nailer: Bostitch | Router, Palm sander, Saws: Festool
---
Next Generation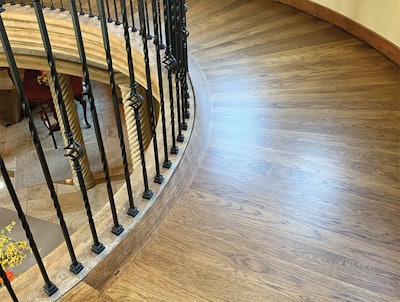 DeGrange Hardwood Floors | Nampa, Idaho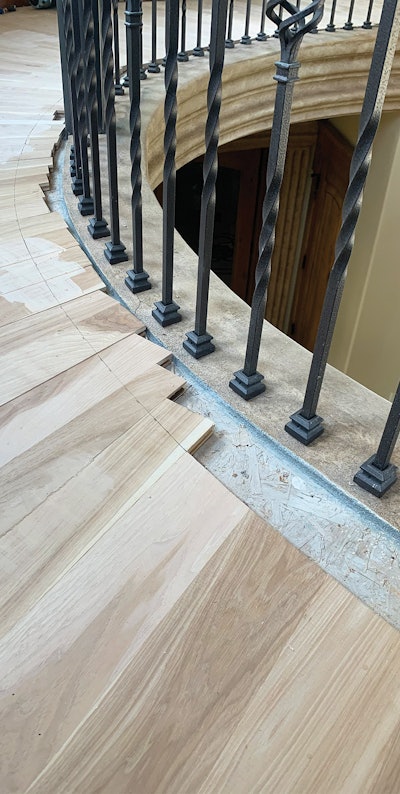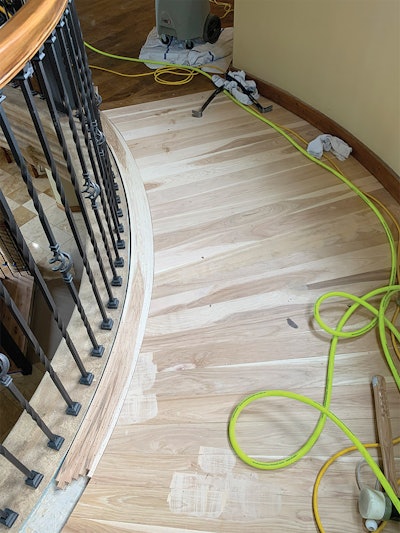 When Ryan DeGrange finally completed this project, the 32-year-old pro had thoughts of hanging up his scraper for good.
"I told my wife that this was going to be the one that made me go work at [regional coffee shop chain] Dutch Bros and serve coffee," he says. In a job impeded by supply challenges, demanding clients and the dark cloud of the pandemic, DeGrange says the patience he learned when he worked in call centers was probably the only thing that helped him maintain his sanity. But amid the unsavory conditions, a shining light persisted: an impeccable work of craftsmanship.
"From a technical perspective, it was probably one of the most difficult floors we've done," DeGrange says of the 120-square-foot hickory "pinwheel" around the home's catwalk. The deceptively simple design wasn't in the original plan. His foreman, Cameron Young, pitched the idea of boards going around the area. They used a DuraSeal stain color fan deck to visualize how the boards could radiate at an angle, and they were hooked.
DeGrange measured the area, took the circumference, cut it in half, then in half again and divided that by 4, 5, and 6 inches to get an idea of how many boards would be across the top. He then did the same around the bottom with 1, 2, and 3 inches. The resulting boards measured 2 inches wide at the bottom and 5 inches wide at the top. Each piece was cut and re-grooved and splined. "Every time I would get four or five boards in, I would remeasure and draw it again, just to make sure I was on the same path," DeGrange says.
Due to shortages caused by the pandemic, there was a two-week delay on getting the hickory he needed to complete the pinwheel, during which time he refinished the home's American cherry stairs and walnut floors.
When the additional hickory was delivered and acclimated, DeGrange completed the install only to be hit with another twist: The homeowner wanted a radius header added. DeGrange measured and drew out the radius in the installed pinwheel floor, cutting the flooring by hand before ripping ¼-inch strips to bend, glue and nail in place.
With the header installed, DeGrange used an edger and orbital sander on the floor. He then proceeded to experiment with stains to match the hickory, American cherry and walnut floor together. When he finally struck the right mixture after 10 stain samples, he applied the stain and coated it with water-based finish.
Although the job conditions were demoralizing at times, DeGrange's only future plans with Dutch Bros involve grabbing a quick java on the way to the next job site—or to a wood flooring class, as the challenging project inspired both DeGrange and Young to push themselves even further in their craft. "All in all, even with the circumstances, I was super, super stoked with how it turned out," DeGrange says.—R.K.
Suppliers: Advertisers appear in bold. Abrasives: Norton Abrasives | Adhesive: Bona US | Big machine, Dust containment: American Sanders | Edger: American Sanders, Lägler North America | Finish: Loba-Wakol | Nails, Nailer: Powernail| Orbital sander: Bosch | Stain: DuraSeal | Wood flooring: Hillsboro