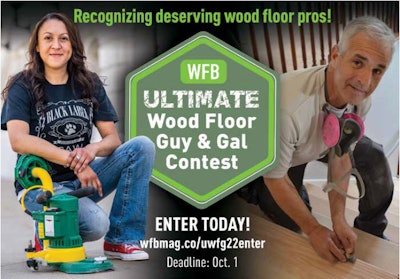 Wood Floor Business is launching its search for the 2022 Ultimate Wood Floor Guy and Ultimate Wood Floor Gal.
This contest, first begun in 2021, is designed to shine the spotlight on contractors who are extraordinary in their work ethic, their integrity and their professionalism. They must have qualities that make them The Ultimate.
Potential Ultimate Wood Floor Guys or Gals may submit themselves for nomination, or they may be nominated by a coworker, a spouse, a friend or a customer. Read about our 2021 Ultimate winners here.
The deadline to submit nominations is Oct 1. Once all entries have been submitted, one Ultimate Wood Floor Guy and one Ultimate Wood Floor Gal will be chosen as the 2022 winner.
Lägler is again the sponsor for the contest, and each Ultimate winner will receive a trip to Lägler's headquarters in Germany for the next Lägler Fly + Sand training. Winners will also be featured in the December 2022/January 2023 issue of WFB.
The nomination form is available here. The more extensive the information included, including video submissions, the better the chances of winning. Multiple nominations from different people also increase chances of being selected.
Rules:
Nominees should work in the wood flooring industry in a contracting capacity: installing, sanding, finishing, refinishing, etc.
The deadline to submit is Oct. 1 at 5 p.m. CT.
Only complete entries will be considered.
One wood flooring guy and one wood flooring gal will be chosen by a panel selected by WFB.