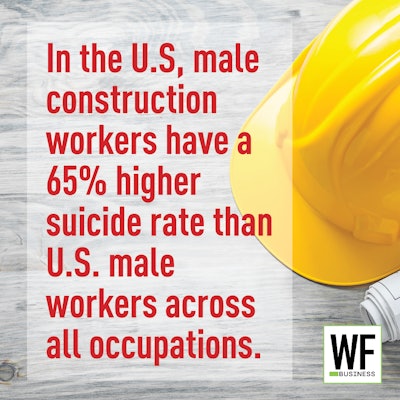 September is National Suicide Prevention Awareness Month, and no occupation is more at risk than construction workers, where male workers have a 65% higher suicide rate than U.S. male workers across all occupations.
The national average rate of suicides is 27 per 100,000. For construction workers, the CDC estimates the average to be 45 per 100,000.
In an effort to understand the high rate of suicides among workers in the construction field, Workwear Guru worked with mental health experts to determine contributing factors, including:
A high work-pressure environment: The report notes that tight deadlines, long physical working hours, budgets and quality expectations can lead to high stress, which can contribute to mental health problems.
Work at remote locations: Long hours or days away from home and support systems—on top of an already high-stress job—can lead to family problems, according to experts Workwear Guru spoke with. Being alone for such periods can also lead to substance abuse or mental health issues to go unnoticed.
A "tough-guy" mentality: The report states that a sense of masculinity within the male-dominated industry deters many within it from acknowledging mental health problems, and many work environments have a "tough guy" taboo that can discourage openness.
Opioids: As the industry with the highest occupational hazards every year, construction also has the highest use of prescribed opioids, according to the report. The result is an increased risk of opioid dependency, as research has found that 15% of construction workers abuse opioids.
The report also listed some of the common suicide warning signs, including:
An increase of lateness and absenteeism at work

Lower productivity

Lower self-confidence

Decreased communication with co-workers

Shows signs of substance abuse

Shows frequent signs of agitation

Lack of protection in the workplace

Segregation from the group (i.e., eating lunch alone)
For professional advice on the next steps, the National Suicide Prevention Lifeline can be contacted at (800)- 273-8255 or via the Crisis Text Line (text "TALK" to 741-741).