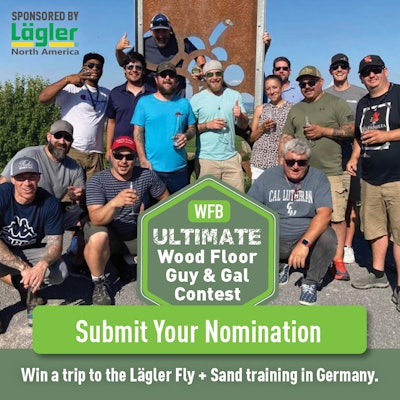 The deadline to nominate your co-worker, employee, boss, friend or yourself in WFB's Ultimate Wood Floor Guy/Gal competition is Oct. 1 at 5 p.m. CT.
This contest is designed to highlight stellar contractors who go above and beyond in the work that they do. Once all entries have been submitted, one Ultimate Wood Floor Guy and one Ultimate Wood Floor Gal will be chosen as the 2022 winners.
Each Ultimate winner will receive a trip to contest sponsor Lägler's headquarters in Germany for the next Lägler Fly + Sand training. (Read all about 2021 Ultimate Wood Floor Gal Jessica Peterson's Germany experience here.)
Winners will also be profiled in the December 2022/January 2023 issue of WFB.
The nomination form can be found here. Competition can be stiff, so please be as detailed as possible in your entry!
Here are the rules:
Rules:
Nominees should work in the wood flooring industry in a contracting capacity: installing, sanding, finishing, refinishing, etc.
The deadline to submit is Oct. 1 at 5 p.m. CT.
Only complete entries will be considered.
One wood flooring guy and one wood flooring gal will be chosen by a panel selected by WFB.