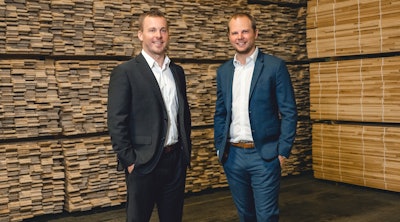 Ownership of Mercier Wood Flooring (Montmagny, QC) has passed on to the third generation of Merciers, Sébastien Mercier and Jean-Philippe Dumas.
Jean-Philippe Dumas is the son of Marielle Mercier, who retired from the company in June. Sébastien Mercier is the son of Marielle's brother Richard Mercier, who stepped down from his ownership role at the company but will continue on as company president.
Sébastien and Jean-Philippe have worked in the family business for more than 12 years, most recently as VP of operations and VP of sales and marketing, respectively.
"Continuing the work of our grandfather and our parents is a great honor and a mission we take very seriously," the two new owners said in a joint statement.
The company has close to 300 employees and two plant locations in Montmagny and Drummondville, with retail partnerships across Canada and the U.S.
"It's up to us and the entire team to continue growing the business by listening to our customers' needs and making the most of this rich natural resource that has sparked so many innovations over the past 40 years," owners Sébastien and Jean-Philippe added.