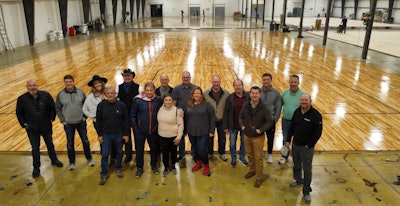 A group of sport flooring contractors have organized as the Indoor Sports Surfaces Division of the American Sports Builders Association, with the intention to provide training and networking opportunities for professionals who do sports flooring installation, sanding and coating for a living.
The impetus for the new organization started in 2018 when the Sport Floor Contractor Facebook group began, says Paul Nelson, sales and operations manager for Western Sport Floors and Wyoming Wood Floors in Clinton, Mont. "It was interesting how quickly that thing exploded," he says. The group now has more than 1,100 members around the world.
There was an initial meeting to discuss forming a group specifically for sport flooring contractors in the fall of 2019, but that work stalled due to the pandemic and began again in October 2022 when a group met in Missoula, Mont., and continued to meet, resulting in the decision to have their group be a division of ASBA.
One goal for the Indoor Sports Surfaces Division is to create a collaborative platform where sports flooring contractors can meet with other pros. "Larry Wade with Ohio Floor Company said it as well as anyone," Nelson says. "He said that we work on these little islands because everybody in our area doesn't do what we do—we are such a specialty business. All of a sudden now we have an opportunity to get together."
The other goal for the new group is to provide sports flooring education. "Currently, if someone wants to learn, as one example, how to paint pickleball lines on a gymnasium floor, I am unaware of somewhere they can do that," Nelson says. This organization intends to fill that void.
To begin, the group will hold an Indoor Sports Surfaces Summit Dec. 1–4 in Houston (concurrent with the ASBA Technical Meeting at the Marriott Marquis Houston. The summit will have training sessions with industry experts specific to maple sports flooring. "We have the goal of bringing the best people in the industry together to talk about how they do things and share their wealth of knowledge," Nelson says.
Those interested in joining ASBA as a member of the Indoor Sports Surfaces Division can currently join for 50 percent off of regular ASBA dues: as a Builder for $512.50, as a Professional for $300, or as a Supplier for $675.
Registration for the inaugural Indoor Sports Surfaces Summit is $680 for the first delegate and $630 for additional delegates. A tentative schedule for the summit is available here.
---
RELATED: How They Do It: Pulling Off Today's Bold Basketball Floors
---
---
RELATED: What I Learned Going From Residential to Gym Work
---